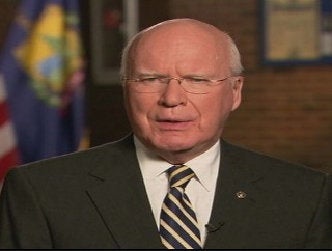 Senate Judiciary Committee Chairman Patrick Leahy (D-V.T.) on Sunday threw a bit of cold water on chatter that the administration would seek a legislative fix to expand the amount of time a terrorist suspect could be interrogated without reading Miranda warnings.
Congressional action isn't out of the realm of possibility, Leahy said. But the scope of what lawmakers could do is limited by the fact that the Supreme Court has ruled Miranda warnings to be a constitutional right.
"I sat down and talked with the president about this," Leahy said during an appearance on ABC's "This Week." "The question is not so much whether I'm concerned about the civil rights one way or another, it is what a court will agree to. After all, it was the Supreme Court that set down the rules of Miranda. Whatever changes might be made, have to made within the confines of what the United States Supreme Court has already said.
"I think the president and [Attorney General] Eric Holder understand that," he added. "Certainly there is an emergency doctrine that allows you -- if you have taken somebody in custody who is a terrorist -- to continue to question them for a period of time without them being presented to a magistrate or being given the Miranda warning. And certainly in the last several cases of people who have been apprehended we have gotten tremendous -- and are continuing to get tremendous -- information from those people...I think you have to have maximum flexibility within the rules, but the idea that you're going to be able to pass a statute to change a Constitutional ruling of the Supreme Court, you can't do that."
Leahy's reading of the political leeway available to alter the construct of Miranda warnings seems to echo that offered by much of the legal community. There is, quite simply, not much the Obama administration can do to expand the "public-safety" exception that allows it to question suspected terrorist for relatively lengthy periods of times before reading them their warnings.
Nevertheless it seems clear that the administration wants some room to maneuver. Attorney General Eric Holder expressed hope for a legislative fix to the Miranda construct during an appearance on ABC's "This Week" last Sunday. White House spokesman Robert Gibbs said the president wanted "limited flexibility" on this front. This Friday, meanwhile, the New York Times' reported the following:
President Obama's legal advisers are considering asking Congress to allow the government to detain terrorism suspects longer after their arrests before presenting them to a judge for an initial hearing, according to administration officials familiar with the discussions.
Watch Leahy's appearance:
Popular in the Community