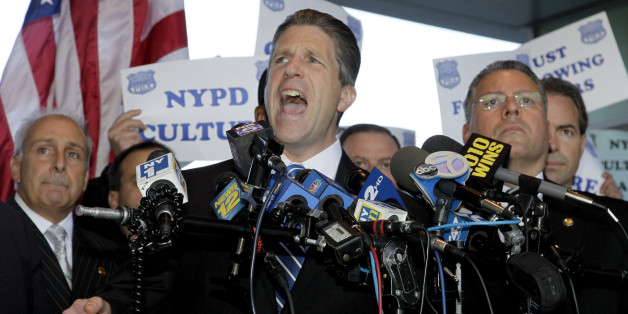 The president of the NYPD's largest police union said Thursday that the officer who put Eric Garner into a fatal chokehold is an Eagle Scout who shouldn't be blamed for the death.
Pat Lynch, president of the Patrolmen's Benevolent Association, did fault one person for the death: Eric Garner.
"We believe Mr. Garner made a choice that day to resist arrest," Lynch told reporters during a press conference Thursday, according to NBC New York.
"You cannot resist arrest," Lynch said, adding that doing so often leads to dangerous confrontations.
Lynch commended the Staten Island grand jury for voting Wednesday not to indict NYPD Officer Daniel Pantaleo in Garner's death. He thanked the panel members for "not looking at just one snippet of a video that doesn't tell the whole story, but listening to every bit of evidence."
Garner died on July 17 after Pantaleo put him into a chokehold during an arrest for allegedly selling untaxed cigarettes. Chokeholds are prohibited by NYPD guidelines.
Lynch argued Thursday that Pantaleo did not actually use a chokehold on Garner, DNAinfo reported, but rather used "textbook training" to subdue the 43-year-old father of six.
The video shows Pantaleo with his arm around Garner's neck as a prostrate Garner screams "I can't breathe!" 11 times.
"If you can speak, you can breathe," Lynch said Thursday, according to DNAinfo, practically parroting a comment made by Rep. Peter King (R-N.Y.) Wednesday night. Like King, Lynch said Garner's poor health partly contributed to his death.
Lynch emphasized that Garner's death was a tragedy for Garner's family, and added, "It's also a tragedy for a police officer who has to live with that death."
Pantaleo, Lynch said, "is literally, literally an Eagle Scout, and I think that story isn't being told. That a New York City police officer went out and did a difficult job, a job where there's no script, and sometimes with that, a tragedy comes."
Lynch added that Mayor Bill de Blasio hadn't shown enough support for the NYPD after the grand jury decision. "What police officers felt last night after that press conference is that they were thrown under the bus," he said.
Lynch said he welcomed the federal probe into Garner's death announced by U.S. Attorney General Eric Holder.
Pantaleo has made only one public statement since the grand jury decision Wednesday.
"I became a police officer to help people and to protect those who can't protect themselves," the officer said in a statement Wednesday. "It is never my intention to harm anyone and I feel very bad about the death of Mr. Garner. My family and I include him and his family in our prayers and I hope that they will accept my personal condolences for their loss."
(Garner's widow did not accept the condolences.)
Meanwhile the Rev. Al Sharpton and a group of civil rights leaders Thursday announced that they are organizing a massive march on Washington. The march, Sharpton said, will take place on Saturday, Dec. 13, and Eric Garner's family, as well as the family of Michael Brown, will be in attendance.
Sharpton is calling for the federal government to press charges against Pantaleo and Darren Wilson, the officer who fatally shot Brown in Ferguson, Missouri.
REAL LIFE. REAL NEWS. REAL VOICES.
Help us tell more of the stories that matter from voices that too often remain unheard.
BEFORE YOU GO