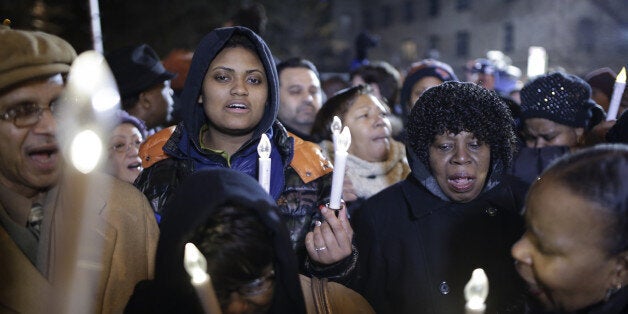 The horrific murder of two New York City police officers and the attempted murder an innocent woman over the weekend has challenged our collective humanity. There are not enough prayers and condolences we can send to the family of the fallen and the injured, so the best we can do is keep putting them in our thoughts and prayers for as long as they need us. While many are hurt, including me, by the terrible actions this weekend, we must not make the mistake of dismissing those who have been hurting for a long time. There is no pause button on grief. There is no pause button on sorrow. There is no pause button on repairing one's soul. This isn't about politics or protests. This is about compassion and respecting everyone's individual healing process, including those of the families of Officer Liu and Officer Ramos.
Sadly, it has become apparent that there are some so-called leaders who are abusing this moment to further grab power within their base. Clearly, one of them is the president of the police union, Pat Lynch. As I have listened to the rhetoric and vicious divisive comments made by this man over the past few weeks, I have done everything to hold back. But, after this weekend, I have no choice to address him directly. Pat, there is no "war" that will be waged upon our communities by your, I mean OUR officers, there is no blood on anyone's hands except those of the killer, and there is no demonizing hundreds of thousands of people who have peacefully exercised their first amendment right marching in the streets for an end to violence. It is disappointing to witness how disrespectful Pat Lynch has been to Mayor de Blasio for trying to reform a department in much need of transformation, yet he was SILENT when the leader of his police department was far more direct in his criticism.
On Thursday, October 2, 2014, NYPD Commissioner Bill Bratton challenged his officers to take a hard look at their department when he spoke before them at the police academy in College Points, Queens:
"My intention going forward is to ensure that we will aggressively seek to get those out of the department who should not be here -- the brutal, the corrupt, the racist, the incompetent." He went on to say, "The reality is at this moment that there's some in the organization who shouldn't be here -- not the right fit for the NYPD of 2014. There are a few, a very few, in a very large organization who just don't get it." Later in his remarks, the Commissioner emphasized that the department has no place for any officer "who's so callous, so brutal, so corrupt that they feel comfortable engaging in those acts of brutality, acts of corruption without fear."
Although I disagree with Commissioner Bratton on some his policies, this is a place where the two of us are in complete agreement. Neither Commissioner Bratton nor Mayor de Blasio nor I are anti-police. It is nonsensical to even suggest that. In fact, as I have said emphatically in the past, I encourage young people who come from communities like the one I grew up in to become police officers. We need them. However, like Commissioner Bratton and Mayor de Blasio, I am anti-police brutality, anti-police corruption and anti-racist. And I am certainly a strong believer that the police cannot be policed by those they work with everyday, the local county district attorney's office. We will no longer live in a city where the police can police themselves. This is not the American ideal. Accountability is coming, whether you like it or not, Pat. That is at the essence of the protests, the foremost pressing reform issue in our criminal justice system, and one we will fix, because the people are demanding it. New York City will lead this nation in creating a 21st century police department that puts the community first.
I pray for unity in the city, as pain runs deep in many communities. But, we will no longer tolerate those, like Pat Lynch, who want to create more pain by attempting to divide the people and those who have taken an oath to protect and serve them.
Related
Popular in the Community