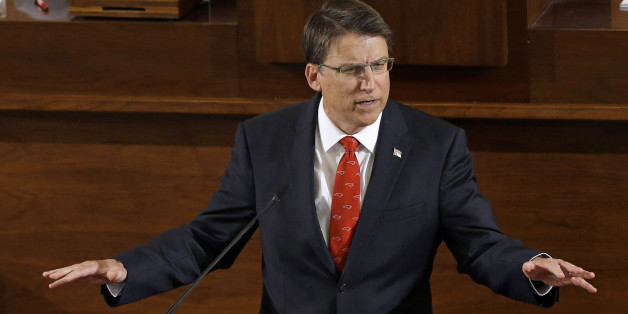 North Carolina's Republican Gov. Pat McCrory vetoed a bill on Friday, sent to him by the Republican-controlled General Assembly, that would have allowed business owners to sue employees who conduct undercover investigations on their property.
House Bill 405, the Property Protection Act, had been criticized by animal rights activists an an "ag-gag" bill, since it could stifle the kinds of secret recordings on hog farms and in poultry plants that have been used to expose inhumane treatment of animals and have resulted in criminal charges.
Similar laws in Idaho and Utah have provoked legal challenges.
Groups like the AARP had also opposed the bill, because it would have applied to other businesses like nursing homes. The state Senate's Republican leadership did not include an amendment from Democratic Sen. Josh Stein that would have given employees protection if the activity they recorded was illegal.
"While I support the purpose of this bill, I believe it does not adequately protect or give clear guidance to honest employees who uncover criminal activity," McCrory said in a statement explaining his veto. "I am concerned that subjecting these employees to potential civil penalties will create an environment that discourages them from reporting illegal activities."
Republicans and business groups had argued that the law was necessary to protect against activists posing as employees to expose mistreatment, as well as to prevent corporate espionage. In his statement, McCrory expressed sympathy for that sentiment. He said he'd be open to a more specific bill that included protections for employees who report illegal activities to law enforcement.
"This bill is intended to address a valid concern of our state's businesses -- how to discourage those bad actors who seek employment with the intent to engage in corporate espionage or act as an undercover investigator," he said. "This practice is unethical and unfair to employers, and is a particular problem for our agricultural industry. It needs to be stopped."
Animal rights groups had rallied against the bill on the grounds that it prioritized corporate privacy above the public's interest in knowing of abusive practices.
"We applaud Gov. McCrory for standing up for the principles of promoting transparency and rooting out cruelty, whether to animals or to veterans or to senior citizens," Wayne Pacelle, the president and CEO of The Humane Society of the United States, said in a statement. "The Humane Society of the United States thanks him for vetoing this overreaching and dangerous bill, which was more about covering up bad actors than anything else."
McCrory has recently displayed a willingness to defy the Republican-controlled General Assembly. On Thursday, he vetoed a bill that would have allowed magistrates and other public officials to refuse to perform marriages on religious grounds, in advance of the Supreme Court's decision next month as to whether to legalize same-sex marriages nationally. Political observers have hypothesized the governor is attempting to moderate his record ahead of his re-election race next year.
Calling all HuffPost superfans!
Sign up for membership to become a founding member and help shape HuffPost's next chapter
BEFORE YOU GO
PHOTO GALLERY
State Birds