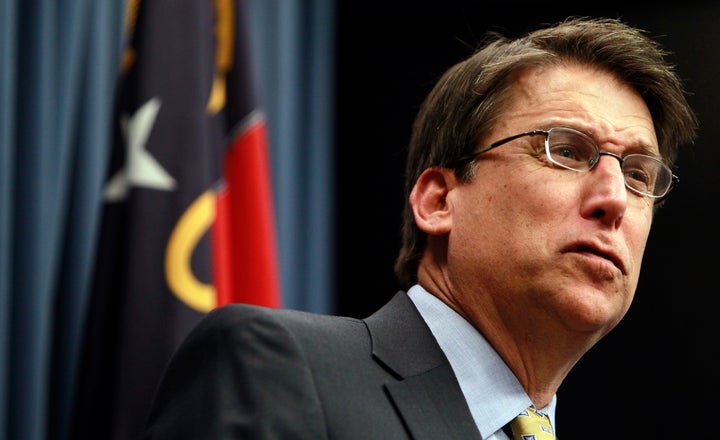 WASHINGTON -- North Carolina Gov. Pat McCrory (R) said Tuesday that the sweeping anti-LGBT bill he signed into law, HB 2, was never about discriminating against people based on their sexual orientation or gender identity. It's about having the right to not feel insecure about yourself in bathrooms.
"This had nothing to do with gay and lesbian," McCrory said on the "The Big Show With John Boy and Billy," a radio show in Charlotte. "It had to do with privacy."
The law, signed in March, is one of the most extreme in the nation when it comes to allowing discrimination against lesbian, gay, bisexual and transgender people. Among its provisions, it bars transgender people from using bathrooms that match their gender identity, and it prevents municipalities from passing LGBT anti-discrimination ordinances. Cities like Charlotte and Raleigh had such ordinances in place before HB 2. They are now invalid.
The bathroom provision has gotten the most attention -- namely because of the public backlash it sparked among businesses and entertainers. The state has already lost millions of dollars in revenue from organizations that took their business elsewhere, and from performers like Bruce Springsteen who canceled concerts in protest. McCrory maintains it was necessary to pass the law because "there's an expectation of privacy" when people use a restroom.
"There's an expectation that … the only other people in that room are going to be people of our own gender," he said. "If there isn't, it kind of makes you a little nervous."
McCrory, who is up for reelection in November, pushed back on charges that he's a bigot, saying that "that's the farthest thing I am." He suggested cultural attitudes on LGBT issues are evolving too rapidly for him to keep up.
"Society is changing quickly and anyone who gets in the way is in trouble," he said. "I might be in trouble. I might be looking for a side job over here."
He also mocked Springsteen for canceling his show in Greensboro. He said he doubts The Boss even understands the law.
"They only had 8,000 tickets sold, with all respect," McCrory said, laughing. "Bruce doesn't mention that. They didn't quite get the ticket sales they wanted, that might have had something to do with it."
A request for comment from Springsteen's agent was not immediately returned.
Listen to the full interview below. McCrory's comments about his law not being about LGBT people come right after the four-minute mark. The gratuitous criticisms of Springsteen begin just before the 12-minute mark.
Popular in the Community