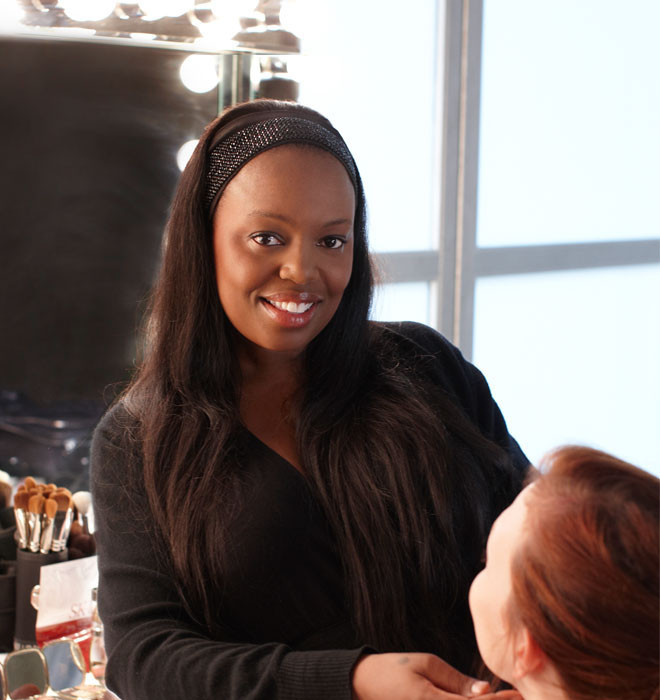 Photo: Dolce & Gabbana
Pat McGrath is easily the most sought-after makeup artist in the world. Every season, her backstage beauty looks set the trends we'll see on magazine covers, editorial shoots, red carpet starlets and girls on the street. Like we said, Pat's the best in the game. While she was responsible for much of Fashion Week's super minimal, washed-down makeup, as well as the more exaggerated intense eye looks, we wanted to know McGrath's take on the perennial makeup classic: the bright lip. (A somewhat tricky thing to pull off.) We polled the industry veteran (and creative advisor for Dolce & Gabbana The Makeup) on everything from mastering a matte look to finding the right red for your skin tone to the shade that works on everyone.
Check out our q&a, then watch the video featuring McGrath and the newest lipstick launch from Dolce & Gabbana.
We loved all the bright lips this summer (orange, fuchsia). Is there a way to make those colors work for fall?
Absolutely! Bright lip looks can easily be taken from Summer into Fall. Classic hot reds, tangerines and corals are already warmer shades, so think about your look as a whole – pair the vibrant lip color with a more autumnal, smoky eye. Start by taking a bold, hot red like Dolce & Gabbana Passion Duo in Infatuation, and pairing it with warm smoked eyes. Begin first by lining eyes with a black eyeliner pencil, then apply a dark shadow and finish with loads of lashes.
How do you find the perfect red lip color for your skin tone?
The perfect red lipstick is all about undertones: those with an olive/yellow (warm) undertone to their skin should choose warmer orange-red lipsticks for the most flattering look, whereas women with pink/red (cool) undertones look best in cool, blue red shades.

Are there are guidelines to be aware of before trying out a hundred shades?
Makeup is all about having fun! With lipsticks it is all about experimentation, so try pale shades, brights and extreme darks until you find one that you love. If you're trying multiple shades one after the other, remember to remove the lipstick completely before trying another one on - you want to see that shade in its truest form, not with a hint of the previous shades coming through!
How can we make a matte lip look last—without getting super dry?
The special formulation of Dolce & Gabbana's Passion Duo range helps retain moisture in the lips and contains over 50% emollients, which makes it luxuriously moisturizing, perfect for lips affected by either cold or dry heat.
Another trick is to put the tiniest amount of foundation on your lips as a base before the lipstick, this helps your lip color to last longer and also helps prevent dryness.
Is there a lip color that truly looks good on everyone?
Nudes tend to look brilliant on everyone; however, the same shade can look totally different on each individual. Nude shades work well for an effortless day time effect. I don't think there really is one color for everyone, and I think that is the most amazing thing about lipsticks! There are so many shades, textures and finishes that a lipstick can provide and factors such as our skin tone, outfit and overall look should be taken into consideration when selecting a shade.
What's your prediction for fall's hottest lip color ?
I think this fall we are going to see full red lips in a multitude of different tones and shades. The red lip is so classy, especially around the holiday season it looks so chic and dressed up, which is fabulous.