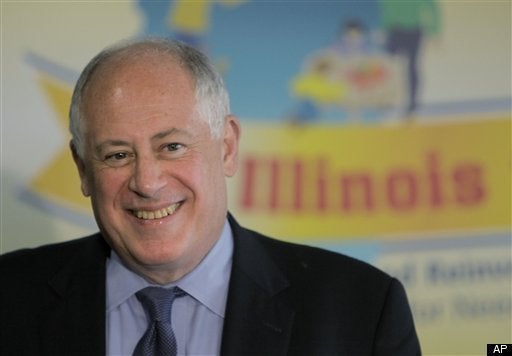 Illinois Governor Pat Quinn is making an aggressive play to swipe some jobs and business from his neighbor to the north.
Two days ago, it was reported that Quinn was angling for $810 million in federal grants for high-speed rail that Wisconsin was turning down. Governor-elect Scott Walker campaigned heavily on rejecting the money, as the state would have had to pay $7.5 million a year in operational costs.
As Walker turns the money down, Quinn, Governor-elect Andrew Cuomo in New York and plenty of other executives are drooling over the prospect of nearly a billion dollars in federal cash for transportation. Quinn has reportedly spoken to Transportation Secretary Ray LaHood about the prospect of getting a slice of the cash.
Now, the Milwaukee Journal-Sentinel reports that Quinn is trying to recruit a Spanish train manufacturer to move over the border from Wisconsin to Illinois, offering a more friendly rail environment:
Illinois Gov. Pat Quinn sent Talgo Inc. a letter inviting the company to move to his state and promising to do whatever he could to lure it there.
...

"If Wisconsin is losing its enthusiasm for its rail program and others are not, we could go to Illinois and manufacture world-class trains there," said Nora Friend, Talgo vice president for public affairs and business development. "We certainly appreciate Gov. Quinn reaching out to us. We will consider very seriously states that want to grow their rail program."

Friend emphasized that Talgo had no plans to move immediately and hopes it can stay in Milwaukee. But Walker's transition office issued a statement Wednesday reiterating the Republican governor-elect's determination to end the rail project.

Related
Popular in the Community