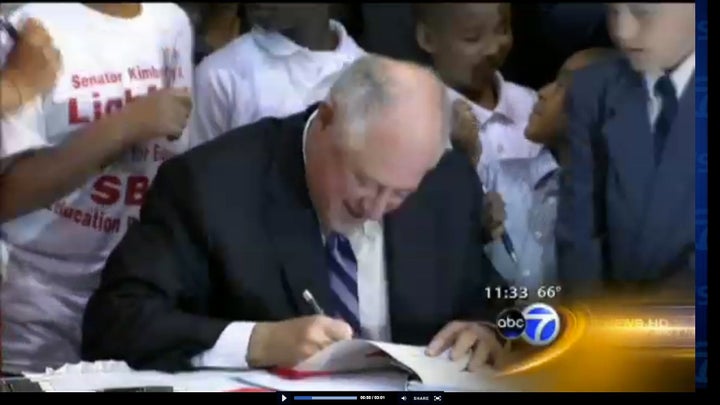 With the flick of Gov. Pat Quinn's (D) wrist, an Illinois law that changes the rules governing how teachers can be hired and fired became official Monday morning.
"Enacting education reform has been one of my top priorities as Governor, and one of my administration's main objectives for the spring legislative session," Quinn said at the event, according to his office. "These historic reforms will help us make sure that students across Illinois learn from the best teachers."
The law, titled SB7, makes teacher tenure and layoffs contingent on student achievement and makes it easier for school districts to dismiss tenured teachers deemed ineffective based on student performance.
At the much-trumpeted signing, Quinn was joined by legislators, a school marching band and other stakeholders such as Dan Montgomery, president of the Illinois Federation of Teachers, Jonah Edelman, head of reform group Stand for Children and Jo Anderson, senior aide to U.S. Secretary of Education Arne Duncan, who lauded the bill. Chicago Mayor Rahm Emanuel -- who will benefit directly from the law by gaining the power to extend his city's school day -- also attended.
With Quinn's signature, Illinois joins many states, from Michigan to Tennessee, considering legislation that changes the processes related to teacher hiring, firing and evaluation. Such laws are sweeping state legislatures as school districts seek to tie teacher reviews to student performance.
"There's quite a bit of momentum around these issues of evaluation and issues of how you identify and support teachers who aren't as effective as they need to be," said Cynthia Brown, Vice President of Education Policy at the Center for American Progress. She pointed to the federal Race to the Top competition as a strong incentive for passing these laws, and suggested that Pennsylvania could be next.
Unlike similar bills in Wisconsin or Indiana, Illinois' SB7 is a bipartisan initiative, passed in a Democratic legislature. It underscores a difference in process between education-reform bills passed in a bipartisan manner and those passed by Republican-dominated statehouses. Those passed in a bipartisan fashion, Brown said, are likely to be implemented more smoothly.
"While some states are engaging in noisy and unproductive battles around education reform, Illinois is showing what can happen when adults work through their differences together," Duncan said. "Through this very impressive collaboration, ... Illinois has created a powerful framework to strengthen the teaching profession and advance student learning in Illinois."
Also unlike similar laws passed this legislative session that pitted teachers and their unions against lawmakers, teachers unions helped craft the law.
"In other states, they took a meat cleaver to collective bargaining," Montgomery told The Huffington Post. "And that language could describe the bill here before our involvement."
Montgomery said the initial bill would have ended seniority and collective bargaining for teachers, "and made tenure laughable." But, he said, "That changed when the unions got involved and the legislators got involved."
Two once-supportive unions dropped their support at the last second in May because of provisions that would have affected an ongoing lawsuit and made it harder for members to call a strike. But both signed back on, Montgomery said, after a trailer bill amended those issues.
The bill's passage comes after heavy pressure from Emanuel, and is directed largely toward Chicago's schools -- widely perceived to be failing. Stakeholders in Chicago also applauded the passage of the bill Monday, but they say what the law will actually do is not yet entirely clear.
"How this bill is going to get implemented is still a big question mark to everybody," said Jennifer Cline, the communications director for New Schools for Chicago. That organization, formerly the Renaissance Schools Fund, has driven a massive push for charter schools in the city, funneling over $50 million in the last seven years to schools, and almost entirely to charters.
Cline told HuffPost that the prospect of a longer school day and school year -- which many of Chicago's charters already enjoy -- is promising.
"In the city of Chicago, if a student went to a charter school from kindergarten through twelfth grade, he or she would get five more years of instruction on average than a kid who goes to a traditional CPS school," she said.
Cilne said the city's top charters succeed in part because of their strong focus on accountability. On that front, she wasn't as sure about the law's effects.
"I think this bill talks about the need to align adult activities toward student outcomes, and we hope it will help move them in that direction [toward accountability], but there are still so many dots to fill in."
Some teachers in the city's troubled neighborhoods are skeptical that reforming hiring and firing procedures can cut to the heart of the issues that hobble learning.
"We need reform. But at the same time, they are too optimistic if they think that this is really going to change the situation," Laura Dignani, a Spanish teacher on Chicago's South Side, told The Huffington Post. "I wish just targeting the teachers would solve the issue."
The perspective that education reform -- as the push for teacher accountability has come to be known -- does not account for out-of-classroom factors that affect performance in Chicago echoes a larger critique of the movement in general.
"I do believe that bad teachers shouldn't be teaching. I want the bad teachers away from classrooms," Dignani said. "But maybe the kid whose scores you're evaluating them on comes from a home where the parents don't value education, or [where] they won't be fed."
As a teacher, she said, test scores are just one aspect of what she has to focus on.
"We get kids that don't show up, and we find out it's because they're homeless," she said. "Kids need to be careful so they avoid gang activity or gang violence. They need to figure out the safest path to take home."
Edelman said these concerns are "absolutely legitimate," but added that despite poverty's role in education outcomes, "we should be doing everything we can to help kids get their best education rather than systematically providing them with the least effective teachers, as we currently are."
Related
Popular in the Community