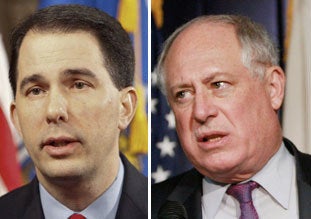 Illinois Governor Pat Quinn has not exactly had the best relationship with the new crop of Republican governors that took over the Midwest in January.
Both Indiana Governor Mitch Daniels and Wisconsin Governor Scott Walker have publicly blasted Quinn for the income tax hike he passed in Illinois. Quinn has dismissed their criticisms, and this week blasted Gov. Walker for pushing through a bill that limits collective bargaining rights for public workers.
"When somebody tries to take away your right to band together and organize, that's not healthy," Quinn said, according to WBEZ. "And it's very bad. And I think what went on in Wisconsin yesterday is something that the governor there, really, should be ashamed of himself."
Quinn said he would never go after collective bargaining rights, and Ken Swanson of the Illinois Education Association told the Chicago Tribune that is why Quinn won in November when the states surrounding Illinois went for the GOP candidates.
"I think the voters of Illinois rendered their decision last November, when, in what otherwise was a strong Republican year, they rejected (Republican governor candidate Bill) Brady's candidacy," Swanson told the paper.
Quinn continued his criticisms of Walker on Fox Chicago this week.
"I believe in the right of everyday people to band together if they want to have a union to organize and represent their interests...wages, working conditions, health benefits. That's America," Quinn said. "I have lots of disagreements with unions that represent state workers, but we sit around the table and we negotiate, work out the details. In Wisconsin, the governor wants to extinguish the right of everyday people to have a union and to have collective bargaining. I don't think that's good."
Quinn's comments came as thousands of pro-labor protesters geared up for a big weekend demonstration at the Wisconsin Capitol on Saturday, despite the fact that a contentious collective bargaining bill had been signed into law.
WATCH Quinn discuss the Wisconsin battle here:

Popular in the Community