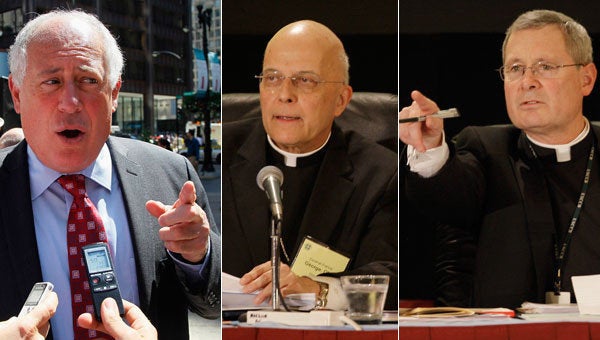 "We would like to discuss with you, both as fellow citizens and as pastors of your Church, how you and we should position ourselves publicly on this issue so you may be true to your responsibility as Governor as we may remain true to ours as bishops," the letter said, according to the Tribune.
One of the protestors outside Thursday's luncheon was Mary Higgins, a pharmaceutical consultant who was raped 33 years ago as a college freshman and gave birth to a daughter.

"I am here to represent women who are victims of sexual assault who chose life and to point out that the decision to take the life of a human being is never the answer to a violent crime," said Higgins, who is about to become a grandmother. "Where in the world do we punish innocent children for the sins and the violence of their father?"
The meeting with Quinn comes as his relationship with Catholics is more strained than ever. The governor's progressive stance on gay rights and abortion is in direct contrast with the agenda they have been pushing. First, Quinn signed a Civil Unions bill into law. When Catholic Charities, a provider of adoption and foster care services, refused to serve couples in civil unions, the state ended its contract with the charity. After a long legal battle, Catholic Charities stopped the foster and adoption services altogether due to lack of funding.
Cardinal Francis George also found himself apologizing last week after attaching his name to a letter that called a rape victim advocate's work "terrible."
Quinn told the Sun-Times he is happy to "meet and have a robust dialogue" with the bishops about abortion and the gay adoption issue.
"I want to make sure that everybody in Illinois, no matter what their faith, has an open door to the governor and can express their strong points of view," Quinn said, according to the Tribune. "They may not agree with me all the time, but I think they'll find I'm open to listening to everyone."
WATCH Fox Chicago's coverage of the Thursday anti-choice protest here:

Related
Popular in the Community