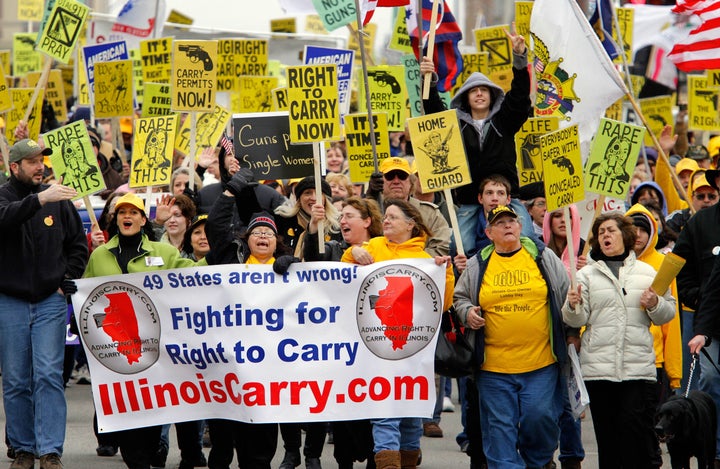 In March, gun rights supporters and politicians seemed pretty confident that Illinois would have a concealed carry law on the books soon. On Tuesday, Governor Pat Quinn may have shattered that confidence.
Earlier this week, supporters of the concealed carry measure told the Illinois Radio Network they were making progress and close to getting the votes needed to pass the bill, but during a Tuesday press conference, Gov. Quinn said he would veto it if it passed.
"The concept of concealed, loaded hand guns in the possession of private citizens does not enhance public safety, on the contrary it increases danger for everyday people as they go about their lives," Quinn said, according to the Chicago Tribune. "I don't think we're in the business of trying to increase danger to the people of Illinois. We want to work with our law enforcement and prevent bad things from happening. I think the passage of this law by the General Assembly would be most unwise and they should know where they governor stands and where the people stand."
Debate over the bill has been intense for months. In April, a group of Chicago police officers headed to Springfield to oppose the measure, saying that flaws in the gun permit system would be amplified by allowing people to carry concealed firearms.
As the Capitol Fax blog points out, the promise of a gubernatorial veto could be a problem for gun rights groups--who were about three to four votes shy of the necessary 71 votes already.
"I understand what the governor is doing in catering to Chicago," Democratic Rep. Brandon Phelps, who also sponsored the bill, told the Pantagraph. "But, we're moving forward with the bill. ... I don't think there is anything wrong with people protecting themselves."
The latest amendment to the bill would prevent people from carrying weapons on college campuses. It was added at the request of university presidents.
"I cannot imagine a reason you need to carry a concealed, loaded weapon unless you're willing to use it on another human being," Jennifer Loudon, the widow of Chicago Police Office Thor Soderberg, told the Tribune. Soderberg was gunned down outside of a police station last year. "I cannot wish that on anybody else. I do not want another family to ever have go through what our family has had to go through."
Calling all HuffPost superfans!
Sign up for membership to become a founding member and help shape HuffPost's next chapter