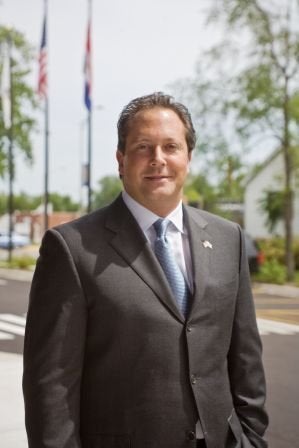 Scott Lee Cohen has no intentions of leaving the race. He issued a statement Thursday defending himself, which reads:
"I have no intention of stepping down or stepping aside. When the facts come to light, after my ex-wife and ex-girlfriend speak, the people of Illinois can decide, and I will listen to them directly. I am asking my ex-wife and ex-girlfriend to come forward and to talk with the media.
There are questions, and I will provide all answers honestly and openly. I only ask for time to do the interviews. 2005 was a difficult time in my life. I was going through a divorce, and I started running with a fast group. I was in a tumultuous relationship with the woman I was dating. We had a fight, but I never touched her. She called the police, however, she never came to court, and the charges were dismissed. I realized this relationship was not healthy, I ended it, and we parted amicably."
After reports of Lt. Governor nominee Scott Lee Cohen's domestic abuse surfaced Thursday, Gov. Pat Quinn announced that he plans on passing a new law that would allow him to choose his running mate. Meanwhile, a man who lost the primary race for the lieutenant governor spot claims he told Quinn and Dan Hynes about Cohen's violent past last month.
During a press conference Thursday, Quinn called for Cohen to answer all questions about his 2005 arrest for domestic battery--and added that he thinks Cohen will end up dropping out of the race.
"When grave matters are raised about a nominee if you don't answer satisfactorily then you have to step aside - and that's how I think this will go," Quinn said at an afternoon press conference. "I think it will happen. Stakes are high."
The Chicago Sun-Times reported Thursday that Cohen was arrested on Oct. 14, 2005 for holding a knife to his live-in girlfriend's throat--five months after "his wife filed for divorce and convinced a judge to give her a temporary order of protection."
Cohen, now 44, placed "a knife up to complainant's neck causing minor scars," according to the police report from his arrest. There also were "minor scars on her hand from her trying to defend herself against the arrestee swinging the knife at her." Cohen also allegedly "pushed complainant's head against [a] wall, causing a bump on the back of her head."

Paramedics treated the now 29-year-old woman at Cohen's Near North Side home. Police photographed her injuries, which they described as "mild abrasions from knife wound."
Without directly telling Cohen to step aside, Quinn said he thinks he should be able to choose his own running mate.
"Given the situation, as we have for President and Vice President in our country, there's sort of a team that's put together," Quinn told reporters Thursday. "Each candidate for governor that decides to run for governor can have a teammate, and perhaps that's something we should explore."
While Cohen says the incident happened during a "difficult time" in his life, there has been no word yet on whether he plans to step down.
The Sun-Times also reported that Sen. Terry Link (D-Vernon Hills), who unsuccessfully ran for the lieutenant governor nomination, met with representatives of the Quinn and Hynes campaigns to warn them about Cohen last month.
"We tried to warn the governor beforehand and they didn't want to listen to it," Link told the paper. "He and Dan should have issued a joint statement denouncing this guy."
Related
Popular in the Community