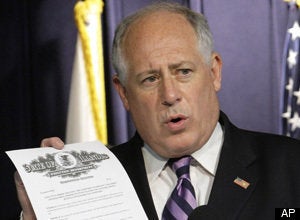 Pat Quinn criticized his own budget address while proposing it on Wednesday, and after the speech many writers and politicians were happy to share their opinions on the matter.
Quinn's plan to address the $13 billion deficit includes big cuts to education, pulling state support from local governments, cuts to police and sitting on a pile of unpaid bills. The most drastic cuts would affect education, however, which the governor said could be avoided if state lawmakers raise the income tax from 3 to 4 percent--which is actually a 33 percent increase.
"1 percent makes sense," Quinn said. "The people of Illinois will understand."
Some people in Illinois did not understand, however, and many are calling Quinn's budget plan a "scare tactic" that aims to frighten lawmakers into passing the tax hike.
"This is a fellow who likes to hold people hostage," House GOP Leader Tom Cross said of Quinn. "I suggest that at end of the day, this (education cuts) will not happen. This is a scare tactic. Scaring people is not leadership."
GOP gubernatorial candidate and Quinn rival Bill Brady was not too thrilled with the proposal, either:
"Today was an embarrassing day," Brady said. "He asked for an extra 30 days [to give his budget address], and yet the best he could come up with was a budget that was $4 billion out of balance, a budget that left our vendors holding $6 billion in unpaid bills."
In an interview after Quinn's speech, House Speaker Michael Madigan told reporters he supports Quinn's tax hike--but doesn't think it will happen anytime soon. The Chicago Sun-Times reports:
"Let's be straightforward about this," Madigan said. :The people of Illinois, they don't want tax increases. They're hurting. The American economy is in bad shape. People are out of work. They don't want to hear about tax increases."
"You should admire the governor for standing up in these times and say, 'Look if we wish to maintain the fiscal integrity of this state, then we ought to do this tax increase.' That doesn't mean it's going to happen," Madigan said.
The Herald Review has heard rumblings that Democrats might approve a "bare-bones budget that carries the state through the November elections, after which they would push through a tax hike to help pull the state out of its fiscal quagmire."
Tom Cross said that plan is "entirely possible."
Other opinions? Well, just read the headlines:
A WGN evening news poll showed lack of support among the public for Quinn's tax hike, with 66 percent of people preferring cuts over a tax increase.
Calling all HuffPost superfans!
Sign up for membership to become a founding member and help shape HuffPost's next chapter