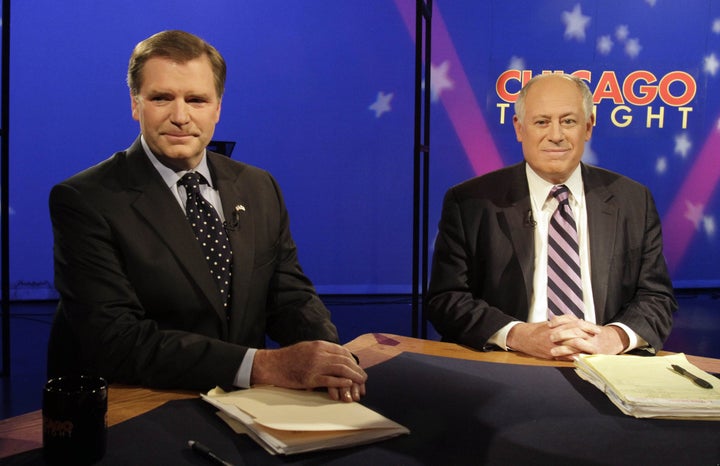 CORRECTION: The original version of this story indicated that Bill Brady said he wished Cook County would secede from Illinois. In fact, a Bill Brady voter expressed this sentiment. We apologize for the error.
Governor Pat Quinn's lead over challenger Bill Brady continues to grow Thursday, with more than 19,500 votes now separating him from the Bloomington Republican. Though polls were with Brady throughout the campaign, his hostility toward Chicago and Cook County may have cost him in the end.
As the Capitol Fax blog reports, the absentees and provisional ballots still need to be counted, but there is now a "big margin to overcome."
On Wednesday, Brady held a press conference sounding pretty confident that he would still win the race.
"I believe we will win," Brady told reporters Wednesday in Bloomington. He said he wants all the votes counted, including absentee ballots that are from military members serving out of state.
State election officials have 30 days to certify all results, and he said it could take that long.
"Do we recognize the reality of coming up with 8,000 votes as an uphill climb? Of course we do. But nobody's ready to throw in the towel," Brien Sheahan, the lead counsel for the state Republican Party, told the Chicago Tribune.
The Tribune also explained just how many votes Brady would need in those absentee ballots to catch up with Quinn:
There are about 14,000 absentee ballots waiting to be counted in Cook County and Chicago, but those are expected to be lean heavily to Quinn. There were less than 150 absentee ballots waiting to be counted in the other populous counties surveyed by the Tribune, including DuPage, Will, Lake, Kendall, Kane, Madison, St. Clair and Brady's home county of McLean.

And even if more absentee ballots show up in Republican-leaning counties, Brady was only winning such areas by a margin of 60-40 over Quinn. The Democrat, by contrast, was winning far more populous Chicago 80-20 and suburban Cook County by nearly 60-40.
Chicago Sun-Times columnist Mark Brown wrote Thursday that Brady's "we will win" press conference was feeding into "the cynicism that election results are somehow rigged."
"If he's going to continue along this course, maybe the next time he could offer a more measured statement suggesting that he "could" still win while acknowledging the formidable odds," Brown wrote. "It would help him avoid coming across as a sore loser."
While Brady's confidence seemed a little strange considering Quinn's lead, the potential loss likely shocked him and his campaign. Nearly all polls showed the Republican leading Quinn by several points for months, and even as that gap narrowed, experts gave Brady a nearly 88 percent chance of winning the election. Further proof that polls are not everything--and that alienating Illinois' largest city is not a great political move.
"I wish Cook County would just secede from Illinois," a Brady voter said on a Champaign radio station Wednesday afternoon to NBC Chicago's Edward McClelland. "I'm tired of all the politicians spending all our money up there."
Brady has made similar comments about Chicago and Cook County throughout the election.
"We're doing well in the polls, but we want you to think we're down," Brady at Glenn Beck's Right Nation event in September, before referencing Chicago's history of vote fraud. "There's one city that might steal four or five points from me on the night before the election. . . . We need your help."
Though the votes weren't stolen, it looks like Chicago cost Brady this election.
Related
Popular in the Community