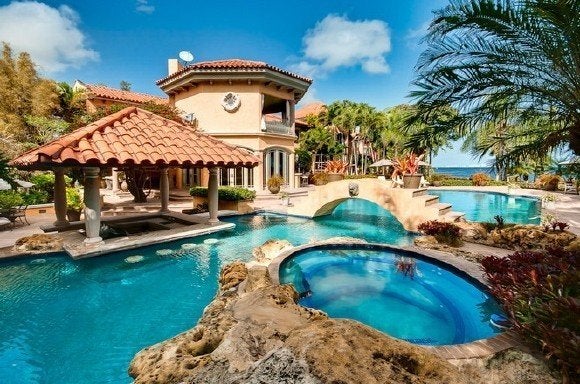 If there's anyone in Miami who can make more than double his money in a house, it's the man who famously figured out how to convince three NBA superstars to take a pay cut.
Miami Heat president Pat Riley has sold his waterfront Coral Gables estate for $16.75 million, according to the South Florida Sun-Sentinel -- the same property he bought for "just" $6.3 million in 1996, meaning Riles just made a smooth $10.45 million profit.
The 5-bedroom, 8-bathroom home sits on nearly two acres at the end of Arvida Parkway in the exclusive Gables Estates Club, with a second story to better take in uninterrupted views of beautiful Biscayne Bay. Built in 1991, the home has 12,856 square feet of living space, a media room, wine cellar, library with fireplace, a private, sandy beach and dock, and a pool that can host an entire franchise for, say, an NBA title celebration.
Here's hoping Riley's new home -- wherever it is -- is equally equipped for such a celebration.