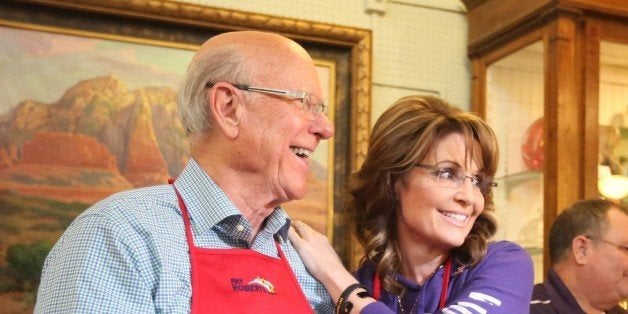 Don't expect the "what's the matter with Kansas" headlines to stop anytime soon.
A Wednesday poll conducted by Suffolk University for USA Today finds independent Greg Orman leading embattled Sen. Pat Roberts (R-Kan.), 46 percent to 41 percent, in a Kansas race that could determine control of the U.S. Senate.
The results echo that of other polling conducted after Democrat Chad Taylor dropped out of the race and successfully sued to have his name removed from the ballot. A Kansas court ruled unanimously on Wednesday that Democrats don't need to field another candidate in his place.
With Taylor off the ballot, the Suffolk/USA Today poll finds, 82 percent of Democrats back Orman. Independents also lean slightly toward Orman, giving him 43 percent to Roberts' 38 percent. Sixty-one percent of Republicans support Roberts, while 30 percent said they prefer Orman.
As USA Today's Susan Page notes, the small cadre of voters who remain undecided or who back the libertarian, Randall Batson, split down the middle when pushed to choose between Orman and Roberts.
Roberts' vulnerability speaks mostly to his own political weaknesses, the survey finds. When asked to describe the two candidates, voters were most likely to refer to Roberts' age or his time spent in Washington, while associating Orman with freshness and change -- a warning sign in a year where disaffection with Congress remains at a close-to-all-time high.
Orman remains something of an unknown quantity, with 36 percent of voters not hearing of him or not having an opinion about him. However, those who know of him, like him, giving him a net positive favorable rating compared with a negative one for Roberts. Even Republicans aren't entirely sold on Roberts, with nearly a third rating him negatively.
The HuffPost Pollster Senate model, which incorporates publicly available polls, rates the Kansas race a tossup, with Orman polling at just under 42 percent and Roberts around 40 percent.
More broadly, the Senate forecast also gives a sense of the effect Orman, who says he'll caucus with the majority party, could have on the midterm results. The Pollster model predicts a nearly 12 percent chance that Orman not only wins but ends up as the determining vote in whether the Senate keeps its Democratic majority or swings Republican.
"If I get elected, there's a reasonable chance that neither party will have a majority in Washington," Orman told MSNBC's Steve Kornacki in August. "If that is the case, I'm gonna caucus with whichever party is willing to actually go to Washington and start trying to solve problems as opposed to just pleasing the extremists in their own base."
Suffolk/USA Today's poll surveyed 500 likely voters Sept. 27-30, using live interviewers to reach individuals via both landlines and cell phones.
REAL LIFE. REAL NEWS. REAL VOICES.
Help us tell more of the stories that matter from voices that too often remain unheard.
BEFORE YOU GO
PHOTO GALLERY
Senate Seats Up For Grabs In 2014