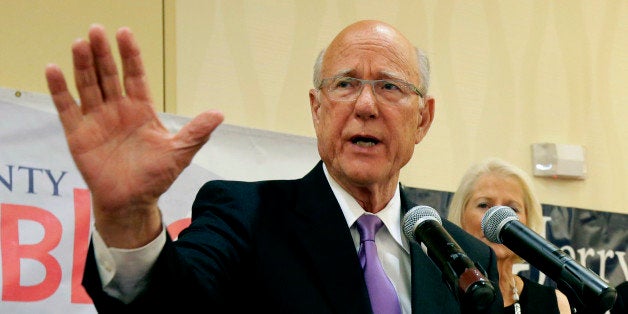 A veteran Republican strategist is heading to Kansas to help advise Sen. Pat Roberts' (R) floundering re-election campaign, according to The New York Times.
Roberts' campaign team will gain long-time troubleshooter and National Republican Senatorial Committee consultant Chris LaCivita, who is set to arrive in the state in the next few days.
The paper also reported that the NRSC is considering hiring an attorney to challenge Democrat Chad Taylor's Wednesday move to remove himself from the general election ballot. Taylor said he was withdrawing from the race on the last possible day he was allowed to do so.
Since Kansas law dictates that a candidate who withdraws must be "incapable of fulfilling the duties of office if elected," Republicans say they will ask whether Democrats must nominate a Taylor replacement.
In a Thursday statement, Taylor insisted that the letter he sent to Brad Bryant, director of elections and legislative matters for the Kansas Secretary of State's Office, was "sufficient" to withdraw his name from the ballot, and that his candidacy had been officially terminated.
The Times reported that Taylor's decision to remove himself from the race came "at the nudging of some Democrats." Taylor Campaign Manager Brandon Naylor told The Huffington Post last week that they "hadn't received any pressure" or "any direct inquiry" to drop out of the race.
After Taylor's withdrawal from the race, Roberts quickly moved to paint Independent candidate Greg Orman as "the choice of liberal Democrats," saying that he could "no longer hide behind an independent smokescreen."
Orman, whose has been up on the airwaves in Kansas over the last two months, has mounted a strong challenge to Roberts. Political observers now consider the Senate race in Kansas one of the sleeper possibilities of the cycle for a Republican incumbent to be unseated. Previously, only Senate Minority Leader Mitch McConnell (R-Ky.) and Republican businessman David Perdue in Georgia were thought to be in danger of losing to their Democratic opponents. An August poll from Public Policy Polling had Orman leading Roberts by 10 percentage points in a head-to-head matchup, seemingly confirming that Roberts could lose in an otherwise deep-red state.
In his primary, Roberts held off tea party challenger and ophthalmologist Dr. Milton Wolf by just seven percentage points. The senator had been damaged by a New York Times scoop detailing how he does not own a home in the state he represents.
Roberts was not helped by his campaign manager, who said after the primary that the senator was heading "back home for two days or three to rest," with "home" meaning his Alexandria, Virginia residence.
Kansas has unexpectedly become a state where two Republican incumbents could be unseated, as Gov. Sam Brownback trails his Democratic challenger, former state House Speaker Paul Davis, in HuffPost Pollster's aggregation of all publicly available polling from that race.
At a Thursday afternoon press conference, Kansas Secretary of State Kris Kobach said Taylor's name would remain on the ballot in November, despite Taylor's statement saying that he had legally terminated his candidacy. "We now have no choice," Kobach said, citing the statute that says that a candidate may withdraw only if he is incapable of fulfilling his duties. "The law is the law."
At the press conference, Kobach also disputed Taylor's assertion that Bryant had said Taylor's withdrawal filing information was "sufficient" to remove him from the ballot.
The Taylor campaign did not immediately respond to a request for comment.
Calling all HuffPost superfans!
Sign up for membership to become a founding member and help shape HuffPost's next chapter
BEFORE YOU GO
PHOTO GALLERY
Senate Seats Up For Grabs In 2014