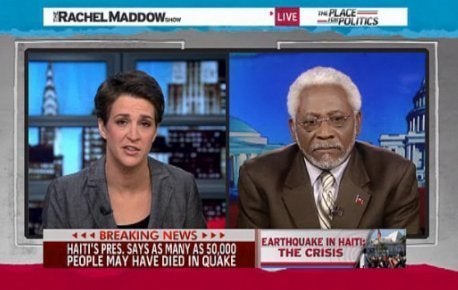 Wednesday evening on MSNBC, Haiti's ambassador to the US, Raymond Joseph, slammed the televangelist for the comment, explaining that the Haitian slave revolt Robertson claimed was a "pact to the devil" enabled the United States and Latin America to prosper.
Joseph argued that the Haitian slave revolt allowed the United States to make the Louisiana Purchase for just $15 million, and that it allowed Simon Bolivar to "deliver Gran Colombia and the rest of South America."
"What pact the Haitians made with the devil has helped the United States become what it is," Joseph said.
Rachel Maddow called Robertson "the unintended consequence of the First Amendment."
And White House senior advisor Valerie Jarrett reacted on "Good Morning America" Thursday, saying she was "speechless" over Robertson's remark.
"I'm kind of speechless about that kind of remark," Jarrett said. "Our heart goes out to the people of Haiti. ... That's not the attitude that expresses the spirit of the president or the American people, so I thought it was a pretty stunning comment to make."
Popular in the Community