The Secret Service has launched an investigation into Peoria, Ariz. Police Sgt. Pat Shearer after a picture appeared on his Facebook page showing seven young men holding up a shirt with President Barack Obama's face on it, riddled with bullet holes.
The photo, uploaded to Facebook on Jan. 20 with the caption, "Another trip to the ranch," shows the group in a line, four holding firearms, with the perforated t-shirt between them bearing Obama's likeness above his 2008 campaign slogan, "Hope." The picture was removed on Thursday, after the Secret Service began looking into the matter.
"We're aware of it, and we're conducting the appropriate follow-up steps," Secret Service spokesman Ed Donovan told The New York Times.
The Peoria Police Department has also mounted its own internal probe into the photo.
"We have a social media policy that addresses employee conduct with respect of the use of social media," Jay Davies, a spokesman for the department, told Arizona CBS affiliate KPHO.
He said that Shearer would remain on duty while they investigate whether his actions violate their social media policy, which states, in part, that "posting information regarding off-duty activity that may tend to bring an officer's reputation into question is strongly discouraged."
In a later interview, Shearer said the imagery of the picture is being taken out of context.
"I don't think that the shooting of that t-shirt is that big of a deal. ... I think it was more of a political statement," Shearer told Arizona's ABC15. "Obviously, it's not like they were going to go out and shoot the president, no."
Shearer went on to say he would sacrifice his own life for Obama's.
(Video report above, via KPHO)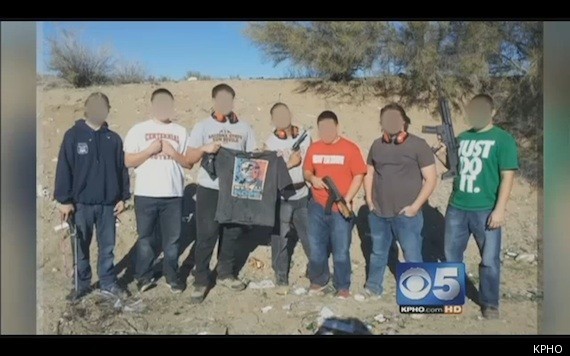 REAL LIFE. REAL NEWS. REAL VOICES.
Help us tell more of the stories that matter from voices that too often remain unheard.