Pat Summitt, the winningest basketball coach in NCAA Division I history who presided over a nearly four-decade dynasty at the University of Tennessee, died on Tuesday morning, The Associated Press reported. She was 64.
"It is with tremendous sadness that I announce the passing of my mother, Patricia Sue Head Summitt," Tyler Summit said in a statement. "She died peacefully this morning at Sherrill Hill Senior Living in Knoxville surrounded by those who loved her most."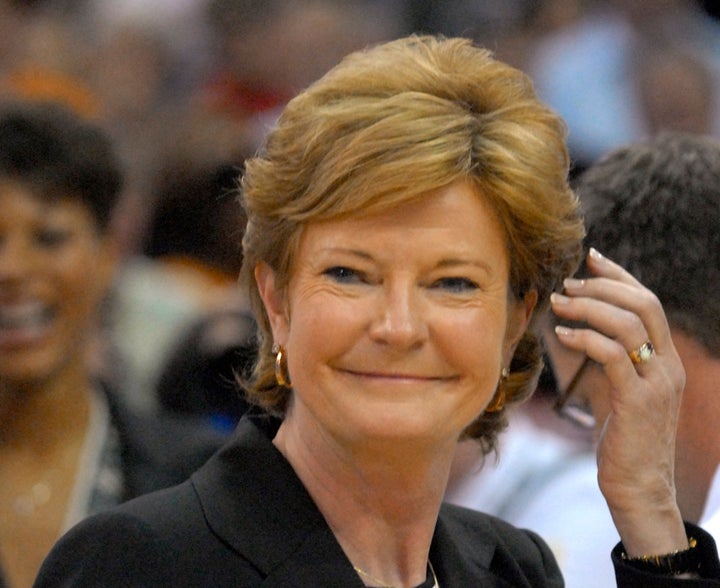 On June 26, a family spokeswoman said that "the past few days have been difficult for Pat as her early onset dementia, 'Alzheimer's Type,' progresses." Summitt, who lived in a retirement facility, was "surrounded by those who mean the most to her," the spokeswoman said.
Summitt amassed a staggering 1,098 victories (and a mere 208 losses) as head coach of the University of Tennessee Lady Volunteers from 1974 to 2012. That's the most wins of any men's or women's NCAA Division I basketball coach.
Her program was especially dominant from the late '80s through the '90s. In all, she led the Lady Vols to eight NCAA championship titles; they were the runners-up five other times.
Known for casting a steely glare from the sidelines with a manner more tough than tender, Summitt also boasted a 100 percent graduation rate among players who completed their eligibility.
She announced in 2011 that she had been diagnosed with early-onset Alzheimer's disease and retired the following year. The university awarded her the permanent honorary title of women's basketball head coach emeritus.
Early Life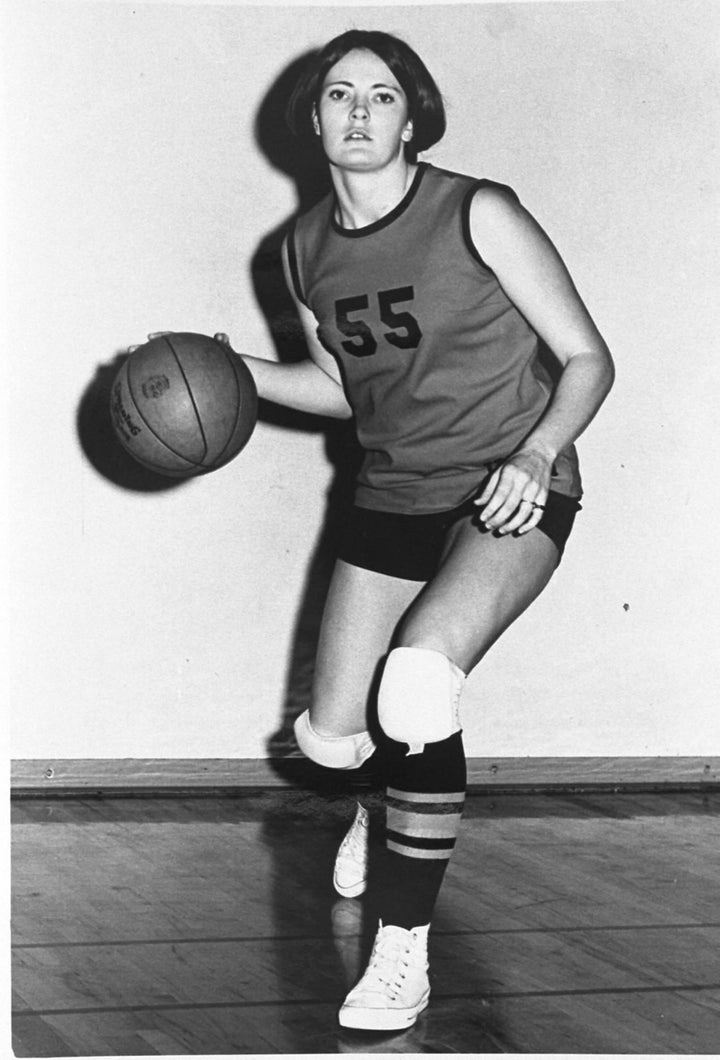 Summitt was born Patricia Sue Head on June 14, 1952, in Clarksville, Tennessee. The fourth of five children and the first daughter, she was raised on her family's dairy and tobacco farm. She worked hard and played rough, her brother Kenneth told ESPN in 2012.
The toughness was in part instilled by their father's strict discipline.
"If you disobeyed him, he would come after you with his belt, or a tobacco stick, or a switch, or a milk strap, or whatever else came to hand," Summitt wrote in her 2013 memoir, Sum It Up.
But her father also recognized Summitt's talents and wanted to give his older daughter the chance to nurture them. The local high school didn't have a girls' basketball team, so her father moved the family to nearby Henrietta where Summitt could play.
In later years, as her fame and fortune grew, her brother said Summitt never shunned her rural, working-class roots.
"When she comes home, she's the same person she always was," Kenneth said. "You ask anybody around here. That's one thing I always like and think more of her for: She ain't got the big head. Money hasn't bothered her."
In 1980, she married banker R.B. Summitt, and the couple had their only child, Tyler, 10 years later. Pat Summitt famously went in to labor during a recruiting trip to Pennsylvania. She completed her mission even after her water broke. But on the way home, she ordered the pilots not to stop so that her son would be born in Tennessee.
As he grew, the young boy would be a regular courtside fixture at Lady Vols games and practices.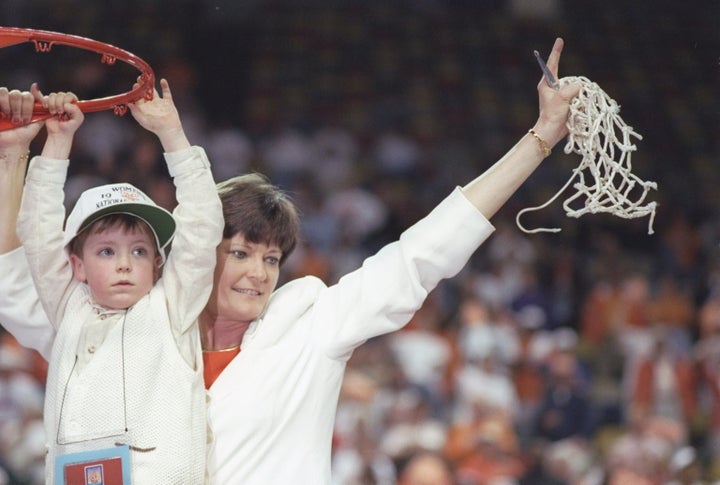 'Scared To Death' The First Day
Summitt arrived at the University of Tennessee as a 22-year-old graduate student just two years after passage of the landmark Title IX amendment, which required that federally funded colleges give equal financial support to men's and women's sports.
She had originally been offered an assistant coaching job with the Lady Vols, but the head coach opted to go on sabbatical two weeks later, so the university gave her the top job. Roughly the same age as her players, Summitt had never coached before. "I was absolutely overwhelmed and scared to death," she later recalled, according to her university bio.
With the new role came a new name: Her female mentors at the university dubbed her "Pat," despite the fact that Summitt had gone by Tricia or Trish her whole life. Summitt never corrected them, and the name stuck.
Over the next few decades, Summitt turned the Lady Vols into a dominant and lucrative force in college athletics. The team first turned a profit -- of $405,000 -- during the 1997-1998 season. By 2002, profits were more than $1 million.
Success also led to bitter rivalries -- none more fierce than that with the University of Connecticut Huskies. In 2007, Summitt controversially canceled the 12-year-old series between the two teams, after accusing UConn coach Geno Auriemma of recruiting violations.
An 'Inspiration'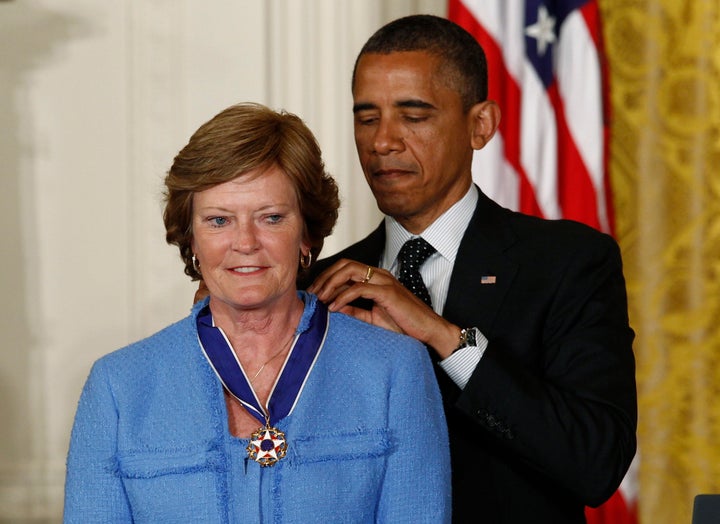 Between the Lady Vols' multiple national championships and Summitt's own two Olympic medals (a silver as a player in 1976, the inaugural Olympics year for women's basketball, and a gold as a coach of Team USA in 1984), she was a regular visitor to the White House. But her greatest national honor may have come in 2012, when President Barack Obama awarded Summitt the Presidential Medal of Freedom, the highest award a civilian can receive.
"My son was here for this, which was really neat," Summitt said at the time. "My mama was here, and some of my dearest friends. It was a great event. I enjoyed it tremendously."
Obama called Summit an "inspiration" in a statement then:
"Pat's gift has always been her ability to push those around her to new heights, and over the last 38 years, her unique approach has resulted in both unparalleled success on the court and unrivaled loyalty from those who know her and those whose lives she has touched. Pat's coaching career may be over, but I'm confident that her work is far from finished. I look forward to awarding her this honor."
After she announced her Alzheimer's diagnosis, Summitt said that she and her son would launch a foundation aimed at funding cutting-edge Alzheimer's research. Together with the University of Tennessee Medical Center, the foundation helped establish the Pat Summitt Alzheimer's Clinic, which is scheduled to open this December.
Summitt is survived by her son, Tyler; her mother, Hazel; her older brothers Tommy, Charles and Kenneth; and her younger sister, Linda.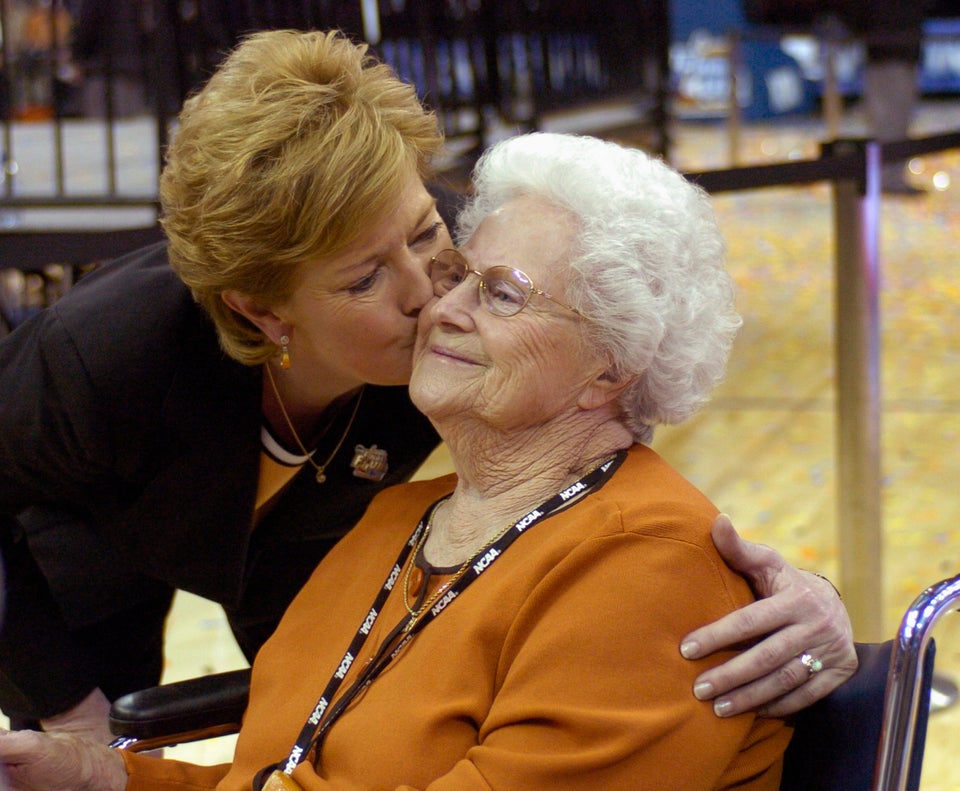 Pat Summitt Through The Years
Related
Before You Go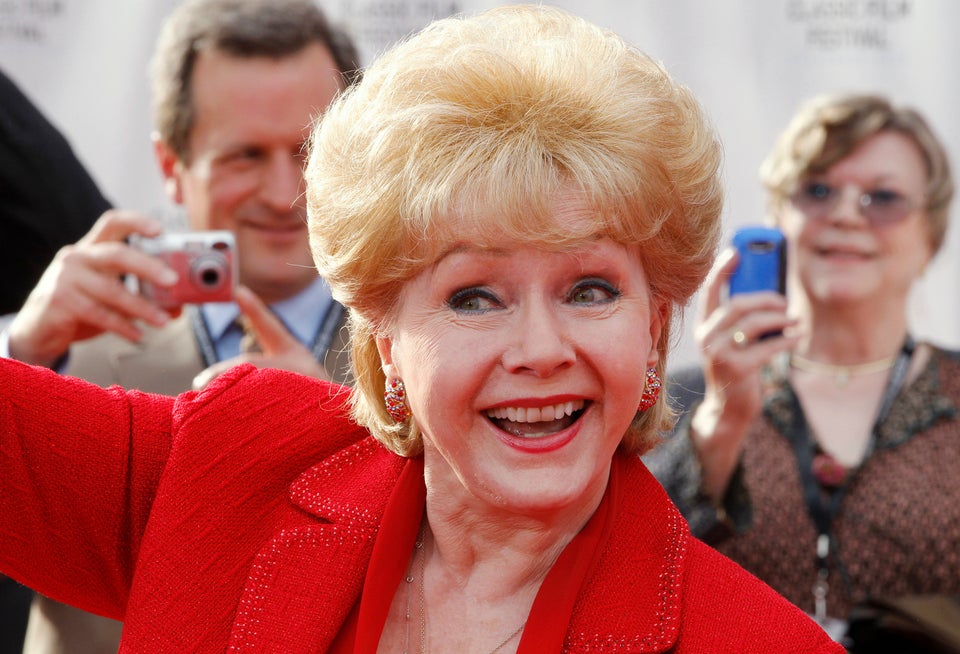 Notable People We've Lost In 2016
Popular in the Community