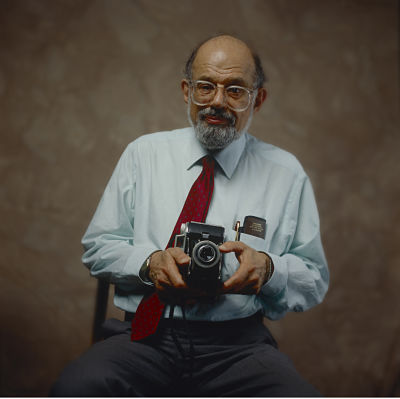 Here's a guy whose recording career starts with Dylan and ends with a Beatle! To a younger person who does not really know Ginsberg, I would explain that he was one of the few counter cultural heroes that goes through three distinct decades, and three distinct movements. He is an iconic figure of The Beat Generation of the 1950s: the jazz, the poetry, and the cigarettes. He is an iconic figure of the 1960s: LSD, meditation, and rock music. And I would not exactly call him an iconic figure of the 1980s, but he was on stage and recording with The Clash (Combat Rock / 1982) and revered by many of the punks - especially the 'punk poet' Patti Smith. This was a guy who was not just one thing.
It's not like "oh there goes the old beat guy...or there goes the old hippie guy...' Allen Ginsberg was three guys...and if you fold in his gay rights work...if you fold in his anti-Vietnam work.... if you fold in his anti-Nixon work, Allen Ginsberg is larger than life. His work is as relevant now as it was 30,40, 50 years ago. And if you just review those first couple of lines of Howl, they are as iconic as any Dylan or Beatles lyric...."
Record collectors, vinyl geeks (myself included), hipster history devotees, and barstool musicologists, among additional permutations thereof, owe hosannas aplenty to the ongoing life labors of Pat Thomas. Perhaps his name does not resonate with the masses - which speaks much to the genuine value of his vocation as the true greats oft go unnoticed - however Pat's extraordinary work as a writer, journalist, re-issue producer, author, essayist, musical archivist, socio-political historian, and musician - among other endeavors, is really the stuff of legend. Look him up! Read his remarkable, watershed book Listen Whitey-The Sights and Sounds of Black Power 1965-1975 (Fantagraphics) which we discussed for Huffington Post in January 2014 - http://huff.to/1SsHfhe .
I first encountered Pat during my journalistic pursuit of the illustrious, albeit notorious, and mostly forgotten singer - backing vocalist Claudia Lennear, whom the world later became aware of by way of Morgan Neville's magnificent Academy Award winning documentary 20 Feet From Stardom. Pat hooked me up with Claudia shortly after he commandeered the re-release of Lennear's lost gem of a platter - Phew! My interview with Claudia can also be read on Huffington Post November 2013 (The Wonderfully Checkered Past of a Soul Rock Goddess http://huff.to/LrNFlz ). I cannot thank Pat enough for his selfless efforts on my behalf.
Mr. Thomas' latest project is yet another essential addition to the literary and musical narration of these Unites States. The Last Word on First Blues is the first box set of Allen Ginsberg the "singer songwriter."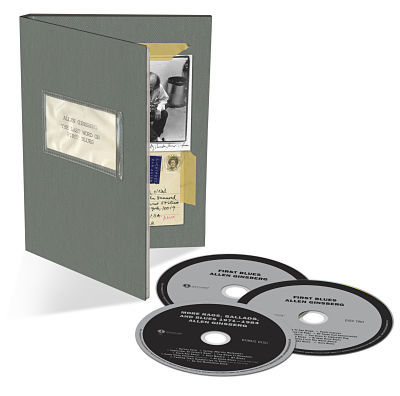 The story for Pat started back in 1983 when he was watching MTV which, at the time, actually aired music videos and reported legitimate music news. Thomas heard about a collection of Allen Ginsberg singing his own compositions. "I immediately ran to my local record store and got the very last copy" he recalls with an air of victory in his voice that only true record geeks and collectors can appreciate. Note to younger readers: In better times, music retail outlets, as referred to by Mr. Thomas, were places where consumers paid for products known as records, cassettes, and compact discs.
The story for Ginsberg stretches back to the year 1971 wherein the poet called upon Bob Dylan, who had recently relocated back to Greenwich Village, to record songs that he'd written embracing a wide array of themes traversing homosexuality, politics, and governmental shenanigans, among other topics. At the time Dylan was somewhat off the radar, abandoning his albeit unintended "voice of a generation" status in favor of waxing rustic recordings, and no longer on the road, nor in the public eye. Apparently when Ginsberg said 'jump,' Dylan asked 'how high!?"
Dylan, Ginsberg, along with Happy Traum (banjo), David Amram (horn, piano), and Arthur Russell, among others, commenced to recording Allen's compositions- some of which saw the light of day when they were released as First Blues in 1983 thanks to John Hammond who issued them on his own imprint as the Columbia Records suits expectedly balked when they first heard Ginsberg's most provocative libretto. That collection also included sessions from 1976 and 1981, with additional players including; Steve Taylor (guitar), Jon Sholle (guitar, double bass), and Ginsberg's lover Peter Orlovsky (vocals, and lead vocal on "You Are My Dildo"), among others.
Fast forward to the 21st Century wherein Thomas, who had by then established a relationship with the Ginsberg family, was approached by Omnivore Records to expand on First Blues and Allen's music; "the Ginsberg Estate gets thousands of letters praising his poetry. I was the one guy who writes to them praising the music. They turned me loose in his personal tape archive at Stanford! I spent years listening to hundreds of hours of Allen's music...it was fun, entertaining, occasionally painful! You know, Allen recorded everything for his personal use- much of it was never intended for public consumption. But I just had to go through everything because I never knew when I was going to find real genius or something that had never made the final cut."
The resulting collection is aptly entitled The Last Word on First Blues: a three CD set with eleven unissued songs from the '71 and '81 dates plus demos and live recordings (including a track with Don Cherry on kazoo), a full color 28 page booklet of rare photos (including a young Pat Thomas with Allen subtitled "The Punk Meets the Godfather") and liner notes by Thomas which include insightful and informative interviews with a few of the core musicians.
"Ginsberg's story as a poet has been told countless times, and many people have been interviewed on that topic. But no one has ever interviewed the musicians on the sessions. When I called Stephen Taylor, Allen's longtime guitarist, to me it was like calling Keith Richards! The first thing I told him is that I wanted to be him through most of the 1980s. Another great interview was with David Amram. As a Jack Kerouac fan, he is already a legend in my book. And he's been in many documentaries about Jack, but here is a guy who is almost 90 years old telling stories of hanging out with Dylan and Ginsberg in 1971 as if it happened yesterday."
When Pat sent me the advance and I commenced to playing the tracks over and over, I was struck by how, to my ears, the collection reminded me of Dylan's joyous Basement Tapes (1975) and expanded Basement Tapes Complete (2014). Ginsberg is ebullient throughout the recordings as are the other musicians. The passion, the humor, and the intensity of lyrics and melodies are irresistible - as I hope you will hear.
Pat concurs. "Oh yeah, Ginsberg could not be embarrassed! He may be the purest performer of all time. Allen could get up there and sing about homosexual activities when that was what he was in the mood for, he could show his vulnerability, especially in the song about his dad 'Father Death Blues.' If you listen to 'CIA Dope Calypso' he is out rapping the rappers! And what he sings is one hundred percent factually correct - Allen Ginsberg was a singing newspaper."
"Ginsberg was a fan of everybody else, which you find true about a lot of the greatest musicians. I spent a weekend with Al Kooper, and one of the reasons why he got into music was so he could meet and hang out with everybody else- and he did! Sure, Allen had a big ego, but he was also the guy who spent years trying to get Kerouac published. He tried to get all of his buddies on the map even before he was necessarily on the map, Allen was a very giving guy."

When Thomas asked permission from Dylan's camp regarding the release of new material - Bob's people got back to him in 48 hours, a rarity for superstars of Dylan's stature. "We're in! Anything for Allen Ginsberg was their response" beams Thomas.
The Beatle reference to which Pat referred to occurred in the mid-1990s when Allen visited Paul McCartney at his home in England. Noting that he was planning to give a reading with Anne Waldman and various poets at the Royal Albert Hall and was seeking an accompanist for "The Ballad of Skeletons," Sir Paul immediately offered his services. Macca and Ginsberg performed together at the famed venue. The song was later recorded and released and featured Lenny Kaye, who also produced the track and played bass, along with Phillip Glass on keyboards, Marc Ribot and David Mansfield on guitars, and Macca on drums, guitar, and organ.
"This set is essential for all Ginsberg fans, and a great bookend to Howl," says Thomas, "especially for newcomers. You get a complete overview of the work of Allen Ginsberg - from his first great work to something that stands among his final major works."
The Last Word on First Blues is out now on Omnivore Recordings and is available in CD and Digital formats at music retail.
For more information on The Last Word on First Blues please visit www.OmnivoreRecordings.com
The Last Word on First Blues was produced for release by Pat Thomas.
The Last Word on First Blues liner notes by Pat Thomas.
For more information on Pat Thomas please visit www.facebook.com/pat.thomas.18
Allen Ginsberg The Last Word on First Blues Trailer: https://www.youtube.com/watch?v=IvVTyZK-bFA
Allen Ginsberg photo by Greg Allen.
Popular in the Community