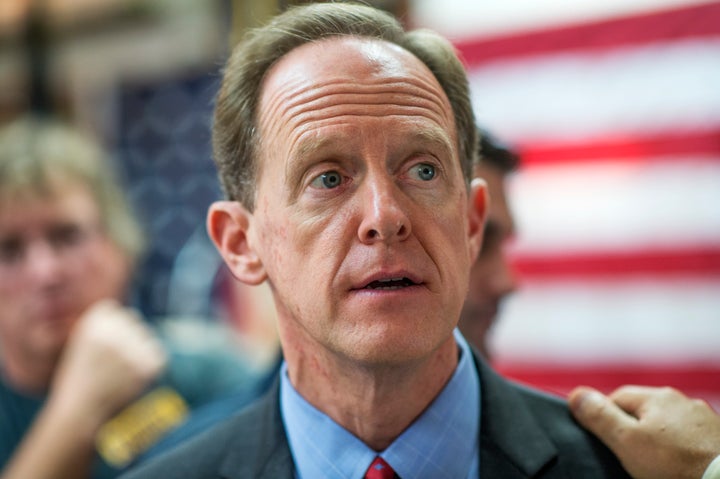 Sen. Pat Toomey (R-Pa.) is staying as far away from Donald Trump as possible this election. The Pennsylvania Republican's race is one of the most competitive in the nation, and he's trying to convince a state that's leaning blue to re-elect him, even though he once ran the conservative Club for Growth and has one of the most conservative voting records in Congress. Unwilling to alienate either side, he's just not taking one. 
Toomey's balancing act as he tries to attract split-ticket voters may be best illustrated by two ads his campaign recently released. The first goes after his competitor, Democrat Katie McGinty, as a "blank check" for Democratic nominee Hillary Clinton. The narrator says Toomey will "fight Clinton's liberal agenda." 
The second ad, in contrast, touts kind words that Democratic politicians like Sen. Tim Kaine (D-Va.) ― Clinton's vice presidential running mate ― have said about Toomey. If a viewer didn't know the Toomey was a conservative Republican, it'd be hard to tell from this spot. 
"It's an important difference between the candidates: Pat Toomey has shown independence and leadership, while Katie McGinty would be a rubber stamp for Hillary Clinton and the party bosses who hand-picked her for the Senate," Toomey spokesman Ted Kwong said.
A Democratic media tracker said they hadn't seen the "Blank Check" ad in Philadelphia and hadn't seen the Democratic voices ad outside of the city. Kwong did not answer a question about whether these ads are airing in different parts of the state and are meant for different audiences that are either more liberal or more conservative.
But Sadie Weiner, a spokeswoman for the Democratic Senatorial Campaign Committee, said the two spots showed that Toomey is still trying to have it both ways ― without taking a real position.
"Pat Toomey is just another typical, gutless politician who won't give a straight answer to an easy question," Weiner said. "In this instance he refuses to stand up to Donald Trump, but prefers to tell different people different things, which isn't leadership, it's pandering."
At a rally in Bucks County, Pennsylvania, Wednesday, Kaine also took issue with Toomey using him in an ad:
I heard...that Senator Toomey has an ad out where he quotes me. I said something positive about him in a newspaper story a couple years ago. I think I said he was a decent person, a civil person. I say what I believe, but the issue is more than just that. It's whether somebody stands up for your values.

I think you've been seeing he's been trying to really straddle with respect to Donald Trump. Donald Trump has done one inexcusable thing after the next, and he's in a position where he's kind of neither condemning nor embracing. I think Donald Trump poses a clear enough challenge that people ought to be able to go on the record and say what they think about him, and that's another reason why Katie would be very, very good in the job.
Toomey isn't the only Republican to have a tough time assessing where to come down on Trump. Rep. Joe Heck (R-Nev.), who is running for the Senate, said he's not going to tell voters his choice for president. Sen. Mark Kirk (R-Ill.), who has now changed his mind about his endorsement four times, said Wednesday that he won't confirm whether he'll pick Clinton, Trump or someone else. Rep. Mike Coffman (R-Colo.), who is also running for Senate, may not vote at all. 
This coy approach has its risks. In 2014, Democrat Alison Lundergan Grimes, who was trying to unseat then-Senate Minority Leader Mitch McConnell (R-Ky.), wouldn't say whether she voted for President Barack Obama in 2008 and 2012. In an interview with the Louisville Courier-Journal, she repeatedly refused to answer the question, leading to a widely circulated, painful video.
HuffPost Pollster's aggregate of publicly available polling in the race shows Toomey and McGinty neck and neck.
This piece has been updated with Kaine's comments.
HUFFPOST READERS: What's happening in your state or district? The Huffington Post wants to know about all the campaign ads, mailers, robocalls, candidate appearances and other interesting campaign news happening by you. Email any tips, videos, audio files or photos to scoops@huffingtonpost.com.
REAL LIFE. REAL NEWS. REAL VOICES.
Help us tell more of the stories that matter from voices that too often remain unheard.
BEFORE YOU GO
PHOTO GALLERY
Republicans Who Have Withdrawn Their Support For Donald Trump