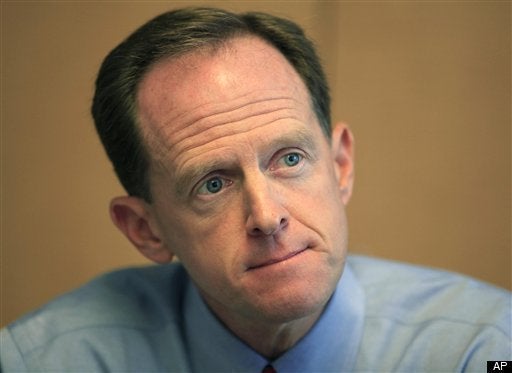 Pennsylvania Senate candidate Pat Toomey drew headlines when he said in a local radio interview on Friday, that the degree to which human activity is to blame for global warming is being "very much disputed" and "debated."
It's not the first time he's made the argument.
"There is much debate in the scientific community as to the precise sources of global warming," Toomey claimed in June.
Trolling Opensecrets.org, HuffPost found Toomey's top contributors include oil and coal giants Koch Industries ($15,000) and Murray Energy ($16,655). Those are the top two contributors of climate change skeptic Sen. Jim Inhofe (R-Okla.) who received $45,500 and $30,600 from those companies respectively.
Inhofe attracted national attention during the record-breaking snowfall in Washington in February when he built an igloo outside the Capitol with a sign on it that read: "Al Gore's Home. Honk If You Like Global Warming." And for years now, Inhofe has insisted that global warming doesn't exist, deeming it "the greatest hoax ever perpetrated on the American people."
The only other Senate candidates whose top contributors include these two companies are global warming deniers David Vitter (R - La.), John Hoeven (R - N.D), and Jim DeMint (R-S.C.). Vitter received $16,750 from Koch Industries and $17,378 from Murray Energy; Hoeven received $10,000 from Koch Industries and $20,789 from Murray Energy; and DeMint received $22,000 from Koch industries and $24,333 from Murray Energy.
Hoeven has said of global warming "there's different opinions of exactly what's causing it," while Vitter has called evidence from liberals supporting climate change "ridiculous pseudo-science garbage." Meanwhile Demint took to Twitter to write, in the midst of the snowstorm in DC last winter: "It's going to keep snowing in DC until Al Gore cries 'uncle.'"
The Washington Post cited Toomey as a prime example of a Tea Party candidate who comes across as moderate and reasonable, when compared to the likes of Sharron Angle and Christine O'Donnell, but who holds extreme views on specific issues -- in this case, climate change.
The question is whether Toomey's view can even be considered extreme given the views of others in his party.
Though his claims are sharply at odds with scientific consensus, which holds that human activity is primarily responsible for global warming, Toomey's position on climate change will likely be the position held by a majority of GOPers in in the 112th Congress.
A roundup by ThinkProgress's Wonk Room shows that nearly all dispute the scientific consensus that the United States must act to fight global warming pollution. ThinkProgress's Brad Johnson writes:

Remarkably, of the dozens of Republicans vying for the 37 Senate seats in the 2010 election, no one supports climate action, after climate advocate Rep. Mike Castle (R-DE) lost his primary to Christine O'Donnell. Even former climate advocates Sen. John McCain (R-AZ) and Rep. Mark Kirk (R-IL) now toe the science-doubting party line.

Many of these Senate candidates are signatories of the Koch Industries' Americans For Prosperity No Climate Tax pledge and the FreedomWorks Contract From America. The second plank of the Contract From America is to "Reject Cap & Trade: Stop costly new regulations that would increase unemployment, raise consumer prices, and weaken the nation's global competitiveness with virtually no impact on global temperatures."

HuffPost found Koch Industries was a top contributor for Ron Johnson (R-Wis.), Tom Coburn (R-Okla.), Marco Rubio (R-Fla.), Daniel Coats (R-Ind), and Rand Paul (R-Ky.). Murray Energy was a top contributor for Carly Fiorina (R-Calif.), and Roy Blunt (R-Mo.). Every one of these Republican candidates for Senate has questioned climate science. (Click on their names for an example.)
Neither company funded a single Democratic candidate for Senate.
In Alaska, the state most coveted by the oil and natural gas industry, Exxon Mobil donated some money to Tea Party candidate Joe Miller and more to write-in candidate Lisa Murkowski, who suffered an unexpected defeat to Miller in the Republican primary election.
That mirrors the strategy Exxon Mobil used in the 2008 presidential election when it contributed to both Barack Obama and John McCain. Though McCain would presumably better protect company interests, by donating to both candidates Exxon might hope to curry favor with whoever ultimately won power.
Listen to Toomey's local radio interview here -- the relevant conversation starts around the 15 minute mark -- or watch an excerpt below.
Toomey is locked in a tight race with Rep. Joe Sestak to replace five-term Sen. Arlen Specter, who lost to Sestak in May's Democratic primary.
"This is just the latest example of Congressman Toomey's refusal to hear perspectives that don't fit into his own narrow mindset, even if those perspectives are backed by a large volume of credible evidence," said Sestak campaign spokesman Jonathon Dworkin. "But try as he might, Toomey can't escape from the facts. Pennsylvania needs a public servant dedicated to finding practical solutions to the problems we face, not another closed-minded ideologue bent on insisting that the 'world is flat.'"
Toomey's press office did not immediately respond to a media query made late in the day by HuffPost.
Popular in the Community