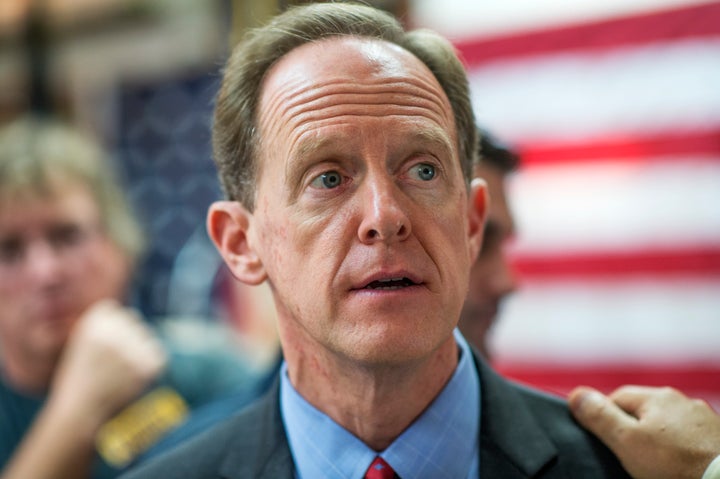 WASHINGTON ― It was just July when Sen. Pat Toomey (R-Pa.) was raving about the four judicial nominees he recommended to President Barack Obama.
"I am pleased that President Obama will nominate Judge Susan P. Baxter, Judge Robert J. Colville, Judge Marilyn J. Horan, and Judge John M. Younge to serve on the federal district court in Pennsylvania," Toomey said at the time. "These nominees possess a wealth of legal experience from their work in both the public and private sectors. I am confident that they have the acumen, integrity, and respect for the limited role of the judiciary that they need to excel as federal judges."
Today, Toomey is blocking those nominees in the Senate Judiciary Committee. He hasn't turned in his so-called "blue slips" to signal he's ready to give them a hearing, and the committee won't move forward on any nominee until both home-state senators have turned in those slips. (They're literally blue pieces of paper that signify a senator's support.) Pennsylvania's other senator, Bob Casey (D), turned in all four of his blue slips in August.
Not only is Toomey holding up his own nominees, but he's also got more outstanding blue slips than any other senator.

Toomey spokeswoman E.R. Anderson said the senator wants the committee to finish its background checks on the nominees before turning in his blue slips.
"Along with Senator Casey, Senator Toomey recommended the four candidates to the White House to be nominated to the federal bench and he remains fully committed to getting them confirmed as soon as possible," said Anderson. "As he has regularly done with other judicial nominees, Senator Toomey looks forward to each of them successfully completing the Senate Judiciary Committee's background investigation so he can submit the corresponding blue slips immediately thereafter to ensure that the confirmation process continues without delay."
That reasoning doesn't hold up, though. Blue slips have no bearing on a committee's review of nominees; they simply signal to the chairman that a senator stands by his or her nominee and is ready to move forward as soon as the committee is ready. Nominees have already gone through an extensive vetting process by the time they even get to the committee.
Beth Levine, a spokeswoman for Sen. Chuck Grassley (R-Iowa), who chairs the Judiciary Committee, gave some cover to Toomey, saying it's up to each senator to decide when to turn in a blue slip.
"It's actually prudent for senators to not return the blue slip until the committee's background investigation is completed to ensure that there are no concerns found in that process," said Levine. "There's no wrong way or right way."
If that were true, then Grassley himself was imprudent last month when he turned in blue slips for his judicial nominee, Rebecca Ebinger of Iowa, before her paperwork was even submitted to the committee. (Levine says that's different because Grassley, as chairman, had already vetted his nominee.)
The bottom line is the committee won't move forward on a nominee without blue slips. Some of Toomey's constituents have noticed he's been holding out.
"Senator, speed up the process for judicial nominee Horan," reads a Nov. 5 letter to the editor in the Butler Eagle, a local Pennsylvania newspaper.
Toomey's delays come at a time when Republicans are deliberately slow-walking judicial confirmations. Their strategy is to hold out until after 2016, when a Republican may be in the White House, and then start filling out federal courts with GOP-picked judges. The problem is that court vacancies are going unfilled in the meantime, and the judicial system is getting so backlogged that cases are being delayed for years and judges are burning out.
This isn't the first time Toomey has used the blue slip process to hold up his own nominee. For months, he didn't turn in his blue slip for Luis Felipe Restrepo, a nominee for the U.S. Court of Appeals for the 3rd Circuit. He gave The Huffington Post a confusing response in May when asked why he wasn't letting his nominee move. He eventually relented and Restrepo was voted out of committee. GOP leaders have been delaying his confirmation vote for months, though.
Sen. Patrick Leahy (Vt.), the top Democrat on the Judiciary Committee, said Monday that Toomey should be calling for Restrepo's immediate confirmation. The court seat he would fill has been empty for 858 days and is considered a judicial emergency, meaning judges there are taking on more than 700 cases each or have taken between 500 and 700 cases for more than 18 months.
"Although there is an urgent need to fill the emergency vacancy on the Third Circuit, the Republican leadership has refused to hold a confirmation vote," Leahy said. "I hope Senator Toomey will seek a firm commitment from his Republican leadership to schedule a vote this week for Judge Restrepo."
Before You Go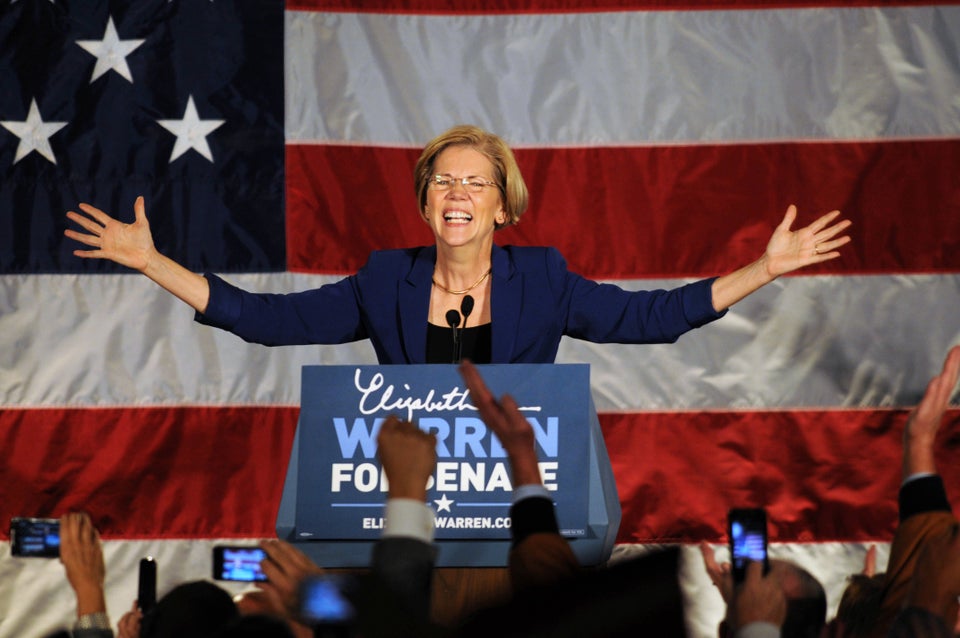 Women In The U.S. Senate
Popular in the Community