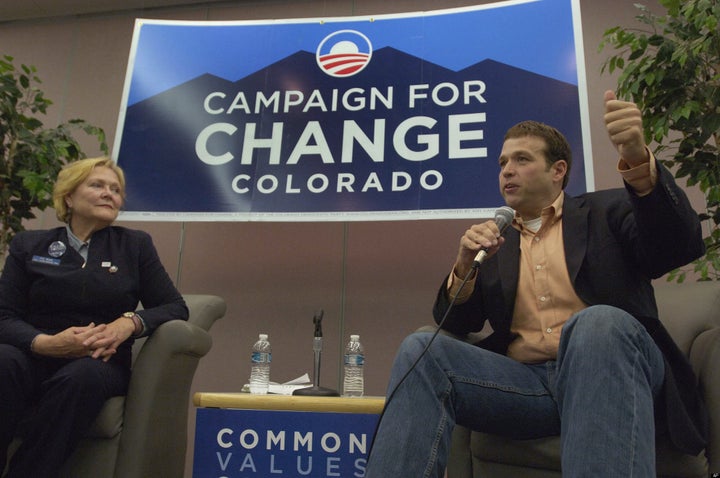 Pat Waak, the chairwoman of the Colorado Democratic Party since 2005, announced on Friday that she would not be seeking a fourth term at the helm of the state party.
On Friday, Waak sent a letter to party members announcing that she will stepping down after her term ends in March.
During her Tenure as Party Chair, Democrats in Colorado won the Governor's mansion twice, elected two Democratic Senators, and hosted the 2008 Democratic Convention.
Colorado Republican Party Chairman Dick Wadhams told the Denver Post he "I greatly respect[ed] Pat Waak for her leadership as state Democratic chair."
Waak did not recommend a successor.
I want to tell you how grateful and humbled I am to have had the opportunity to serve you as the chair of the Colorado Democratic Party. I decided to run for chair of the Colorado Democratic Party in 2005 because I believed we could rebuild the party from the grassroots up and involve every county in the process of winning elections in Colorado.

Over the past six years we gained and maintained the governor's office; elected two U.S. senators; elected a state treasurer for four years; held Senate and House majorities for five years; held five out of seven Congressional seats for two out of five years; elected key members to the CU Regents and State Board of Education; and carried Colorado for President Barack Obama.

Achieving those goals and building a better Colorado for every family took a lot of work and the involvement of every single volunteer. My top priorities were:

• Committing the CDP to communicating with our local committees, grassroots activists, core supporters and the voting public. We instituted the Week In Review, visited every county, held routine conference calls, and instituted an outreach campaign through weekly opinion pieces in newspapers, participating in television, radio, newspaper, and magazine interviews, and joint discussions with the Colorado Republican Party. In every instance we maintained our honesty, civility and dignity, while presenting the truth to the Colorado voters.

• Building a new farm team of Democratic candidates around the state by working with local committees to recruit Democratic candidates in every jurisdiction and district possible in the state. We have a deep bench of really talented people who have stepped forward to be trained and coached through the election process. Some have won seats. Others didn't make it. But they all made us proud.

• Improving upon our party's organizational infrastructure to help Democrats across the state reach into their communities and get more voters to the polls in each election. The CDP Voter File is the best we have ever had. Ongoing training has made it useful to the party, to candidates and to local county organizations. Annual training for chairs and sharing of ideas has only enhanced our structure.

• Empowering people like you to take ownership of the party and help build a structure that represents every Coloradan and ensures the long-term success of our great party. It has been a great pleasure to work with each of the counties as they have built their capacity to identify leaders and carry out elections.

Colorado Democrats have always been the leading voice for good jobs, good schools and equal opportunity for every family. With the help of great leaders like Bill Ritter, John Hickenlooper, Barbara O'Brien, Joe Garcia, Mark Udall, Michael Bennet, Diana DeGette, Jared Polis, Ed Perlmutter, John Salazar, Betsy Markey, Cary Kennedy, Bernie Buescher, and Barack Obama we have made great gains on behalf of the people of Colorado. And we cannot forget the leaders in the State House and Senate over the past several years: Joan Fitz-Gerald, Peter Groff, and now Brandon Shaffer; Andrew Romanoff, Terrance Carroll and Sal Pace.

It is rare that a state party chair serves for two consecutive terms. In 2009, I responded to the urging of the party and its leaders by running and being elected to a third term. It turned out to be one of the most challenging.

I want to thank all of you who have urged me to run for an absolutely unprecedented fourth term as the Colorado Democratic Chair. It has been extremely gratifying. However, I am announcing today that I will not run for Chair of the Colorado Democratic Party in 2011.

It is a wonderful journey. Together we created the first strategic plan for the Colorado Democratic Party. We have accomplished most of the goals and objectives we set for ourselves. Together we crafted the first Faith and Politics project for Colorado. It helped us to focus our values in the political sphere. Together we hosted the 2008 Democratic National Convention in Denver. It was indeed a highlight of my political life, and I know many of you feel the same. Together we elected some of the finest public servants the nation has ever seen: a new breed of Western political leaders.

We could not have done of this without the dedication and hard work of each of the CDP officers, DNC members, county chairs and CDP staff. In particular, my thanks to Dan Slater, Margaret Atencio, Carolyn Boller and Damon Barry who serve ably as officers.

Both Sherry Jackson and Jennie Peek-Dunstone were terrific CDP Executive Directors. We have had a number of Communication Directors, most recently Grace Lopez Ramirez, who was preceded by Brian Mason, Matt Farrauto, and Matt Sugar. Debbie Hill and Anne Wilson have been the latest of great finance teams that included Christine Pokrandt. Billy Compton and Maria Handley brought their valuable political skills and experience into the party during this period.

I especially want to pay tribute to Mike Weissman, who came to work with CDP in late 2005. He has been an invaluable team member. He has been joined this year by Chris Moore. And as for Jamie Elkins, part of the Common Cents Consulting team, we could not have worked our way out of some of the knottiest compliance and accounting issues without her.

You and I share countless memories of visits to every county and of the dedicated people who work on behalf of their communities. We will share more in the next two months as we prepare to reorganize the Colorado Democratic Party.

I look forward to working with you through January and February to make sure we select the strongest leadership from the precinct to the state level. While I believe that my public service lies in another direction after March 5, 2011, I am dedicated to continuing to move Colorado forward.

Sincerely,
Pat Waak, Chair, Colorado Democratic Party
Popular in the Community