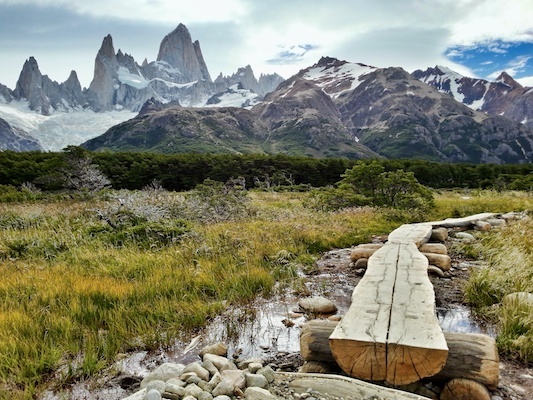 Not everything has a Hunger Games ending where two winners are chosen. So, what happens when you have two equally gorgeous parks in one of the most picturesque places on the globe, but can only choose one? The vast region of Patagonia covers two countries, 800,000 square kilometers, and is one of the more remote and least populated areas on the globe. It's home to beautiful parks spread out across the region. But, once you start planning your Patagonia vacation, you quickly come to the conclusion you won't have enough time to cover it all. You may be forced to decide -- if you could only see and spend time in one of Patagonia's famous parks, which one should you choose?
Torres Del Paine (TDP) Park in Chile and Los Glaciares National Park (GNP) in Argentina are the two most visited parks in Patagonia. Both are spectacular in their own way. In order to visit both and do some hiking, you'd really need a couple of weeks to get the full experience. But, if you don't have two weeks to spend in parks, then here's some criteria that you can use to determine which is the best one for you. Each park offers beautiful vistas, challenging hiking, glaciers and some wildlife viewing. In addition to my own experience in both parks, I talked to a few mountain-loving, adventure-focused tourists who were lucky enough to visit both parks and got their take on which one they preferred and why.
In TDP, it is easier to get to the views since there are roads that lead through most of the park. However, more roads means there are more signs of civilization. Refugios and hotels are located throughout the park, providing some light pollution -- and people pollution.
GNP is more rugged and remote. One has to hike onto the trails outside of El Chalten to get to the wide-open views and peaks. You can't necessarily see the spectacular views from the roads or town of El Chalten. Inside the park, camping is required if you are doing overnight hiking near El Chalten. This means very little light pollution and great star gazing! In general, you have to work harder to get to the views in GNP, which, for some people, makes it more rewarding.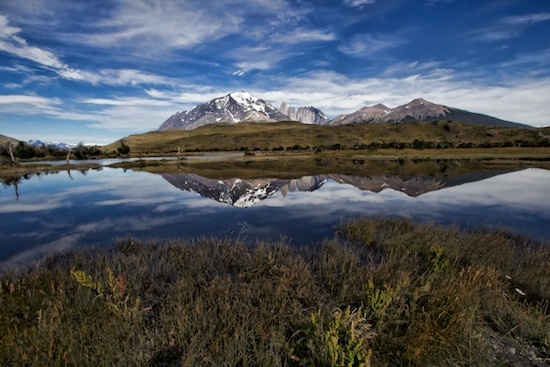 The landscape colors in TDP were definitely superior to El Chalten (GNP). My favorite part was hiking up the French Valley, and we thought we were hearing thunder, but realized that there were avalanches cascading down the opposite cliff face from the Glaciar Frances.

--Sullivan (Montana, U.S.A.)
TDP is the home to the famous W Trek (55 km, four-day hike) and because of that, there are more people on the trails. TDP is great for people looking for multiple days of hiking on either the W or the Paine Circuit (seven to ten days). Campsites and refugios are available along the W circuit, but in busy season, you have to get there early to get a space.
GNP feels more remote because there seems to be fewer people on the trails. It is very simple and convenient to do day hikes out of El Chalten and stay in hotels where you can easily get beer and warm food. If you choose to do longer hikes, though, then you will be camping and roughing it more.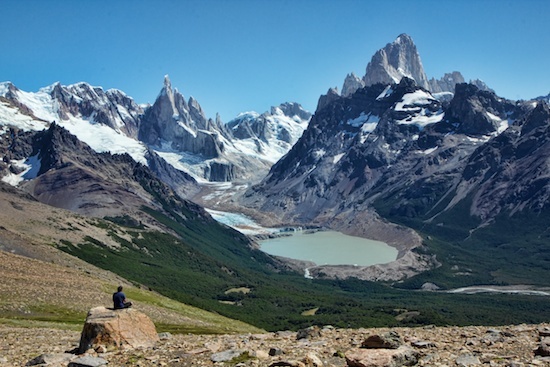 That is a hard comparison; both places have very good scenery and trails. But as for the ease of doing the hikes, I think that El Chalten is better. This is due to the fact that the trails start at the edge of town, which makes it more convenient if you want a "do it yourself" place.

-- Brian (B.C., Canada)
If you are Into Glaciers:
You can view the glaciers in TDP only from a boat (or a kayak) and from further distances. You will come across Grey Glacier as part of the W Trek, and the views from the trail are spectacular, but it doesn't stack up to the glacier viewing in GNP.
Glaciers are, of course, a big part of GNP -- it's in the name! You can view the glaciers from boats or actually set foot on them and hike. GNP is home to the biggest glacier of all, Perito Moreno, which has a front five kilometers long and over 60 meters high above the water level. There are a number of ways to view the massive glacier -- from the viewing area in front, boat rides, or of course hike on it. However, if you want a more remote experience, hike the less touristed, more solitary Viedma Glacier in GNP which was the favorite among people I spoke with.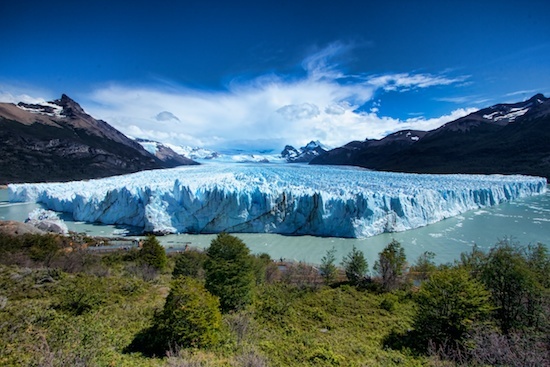 The most beautiful, of course, was Perito Moreno, but the most fun was the glacier walk we did on Glaciar Viedma. Glaciers at Torres del Paine are not as visible.

--Bonnie (Alberta, Canada)
If you Love Wildlife Sightings:
Patagonia isn't necessarily the place to go if wildlife is high on your list, but out of the two parks, TDP definitely has more. You'll find guanacos, nandu, flamingos, fox and condors fairly easily. You can find them by driving to the further reaches of the park out of the foothills and into the plains of TDP.
Wildlife exists in GNP, but you need to hike to it as opposed to drive to it. And, even then, you probably won't find much beyond various bird varieties. Once again, it's more remote and rugged, so you don't get the plains animals as you do in TDP.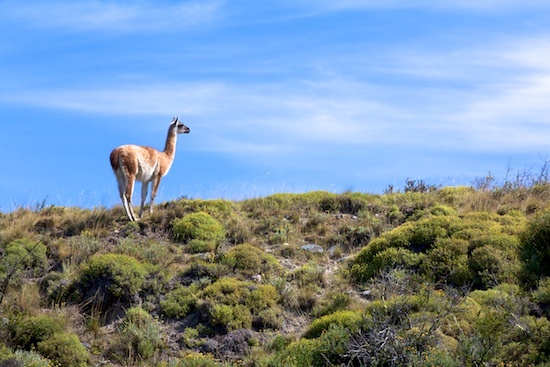 If you still can't decide, but have a limited time, then I suppose you can flip a coin. Or, I suggest you check into tour companies specializing in Patagonia like the one I used -- Adventure Life. Tour companies often have itineraries that take you to one or both of the parks in Patagonia. Choosing to utilize a company is a good way to save time, and get around the vast region more efficiently than going it on your own. However, know that you can never make a bad choice in Patagonia!