The two retailing companies, both specializing in outdoor clothing and equipment, used their websites to spread awareness of the administration's drastic reduction of protected federal lands in Utah on Monday. Trump said he planned to reduce the size of the 1.3-million-acre Bears Ears National Monument by 85 percent and cut Grand Staircase-Escalante's 1.9 million acres to half its size.
"Some people think that the natural resources of Utah should be controlled by a small handful of very distant bureaucrats located in Washington," Trump said in Utah on Monday. "And guess what? They're wrong."
Patagonia presented a black home page after the announcement that said "The President Stole Your Land," while REI's website showed a less aggressive "We Love Our Public Lands." Both companies link to detailed explanations on what they are calling the "largest elimination of protected land in American history."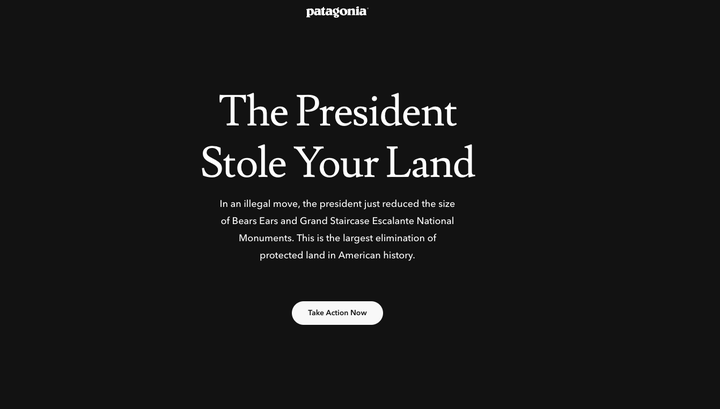 Patagonia and REI have also declared that they will fight the administration's rollback of protected lands. REI released a statement calling the move a "direct blow" to millions of Americans.
The Administration's deal with the Utah delegation to undo past presidents' monument designations hurts the people who love these places and threatens the $887 billion outdoor economy. We are not alone in this view. The public was asked to speak up and 2.8 million Americans responded. More than 99 percent advocated for protecting national monuments. The truth is that our voices have fallen on deaf ears.

REI will not retreat from our strong belief that there is common ground in the outdoors. We will continue to pursue bipartisan support to protect public lands and prevent death by a thousand cuts. REI members can be assured that we will honor our shared passion for our public lands, dedicating time and resources to leaving them healthier for future generations.
Patagonia said that public lands are vital to the outdoor recreation industry, which accounts for 7.6 million jobs and $887 billion in annual consumer spending. The retailer's website encourages its customers to take action and send messages to the administration detailing their concerns.
Patagonia has been in the fight to protect public lands for almost 30 years— and we are proud to have played a part in the establishment of several national monuments, including Bears Ears National Monument in Utah and Basin and Range and Gold Butte National Monuments in Nevada. We are also proud to stand alongside over 350 businesses, conservation groups and Native American tribes that have come together on this issue to protect public lands. Climbers, hikers, hunters and anglers all agree that public lands are a critical part of our national heritage and these lands belong not just to us, but to future generations.
CORRECTION: This article previously misstated the legal precedent that determines the federal authority to modify a national monument. The pending lawsuits are predicated on that not being a settled question.