Patagonia dismissed Interior Secretary Ryan Zinke's efforts to knock the company as "Patagonia made in China" on Monday, saying the Trump administration is trying to deflect from its unpopular decision to open up huge chunks of protected land to potential industrial development, including uranium mining.
A fierce opponent of the Trump administration's monthslong review of monuments designated under the Antiquities Act of 1906, Patagonia is now part of a coalition that's suing to block a White House proposal to reduce the boundaries of a 1.35 million-acre Bears Ears National Monument in Utah by 85 percent.
On Friday, The Washington Post published documents detailing a uranium company's lobbying campaign to scale back Bears Ears. The company ― Energy Fuels Resources (USA) Inc., a subsidiary of a Canadian firm ― said eliminating large portions of the monument would give it easier access to the area's radioactive ore and help it expand a nearby uranium processing mill.
"For almost this entire year, the administration has claimed that this was not about opening up these lands for the extractive industries," Hans Cole, Patagonia's director of environmental campaigns and advocacy, wrote in an email to HuffPost on Monday. "But from the Washington Post reporting, it seems clear that the uranium industry lobbied hard to reduce the size of the monument, underlying our long-held concern that if protections for these lands are taken away, they will be drilled, mined and fracked."
The Interior Department did not respond to a request for comment on Monday about the Washington Post report.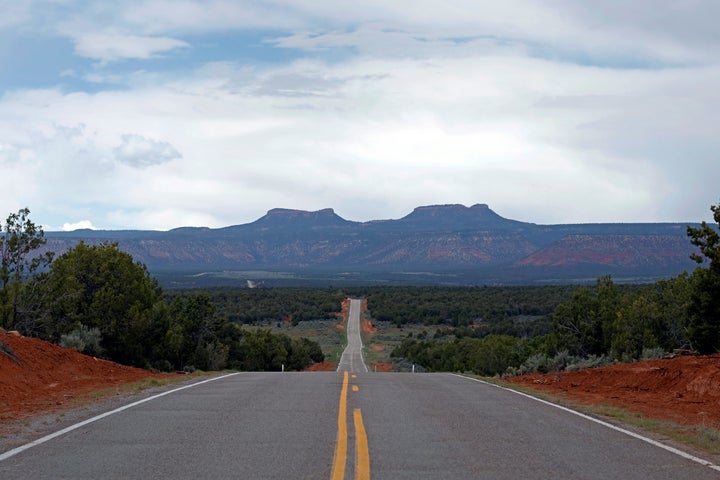 Patagonia, a privately held, Ventura, California-based firm, poured money into Bears Ears since then-President Barack Obama designated the monument last December. In April, the company took the unusual step of threatening to sue the Trump administration if it altered Bears Ears.
The firm ― which does not report sales figures but said in March that it's "approaching $1 billion" ― donated more than $89 million to environmental groups, and "has invested substantial company resources to amplify their message, using its own marketing platforms and employee time to advocate for their shared conservation goals," according to the lawsuit filed last week.
After Trump signed a pair of proclamations to dismantle Bears Ears and another protected site, Grand Staircase-Escalante National Monument, last week, Patagonia redesigned its homepage to read "The President Stole Your Land" on a black background.
The House Committee on Natural Resources responded by posting a similar image on Twitter last Friday that read, "Patagonia Is Lying To You ... A corporate giant hijacking our public lands debate to sell more products to wealthy elitist urban dwellers from New York to San Francisco."
Walter Shaub, the former director of the U.S. Office of Government Ethics, said the "attack" on Patagonia "sure looks a lot like a violation" of House committee rules on social media communication.
In its Friday email newsletter, the House committee included the subject line "The Source (Patagonia: don't buy it)", which some saw as a call to boycott the company. Ben Goldey, the committee's digital director, denied the accusation, insisting "nobody is calling for a boycott."
Either way, Patagonia said it won't file an ethics complaint, and instead plans to stay focused on blocking the president's decision on Bears Ears.
"It was obviously inappropriate, but we are staying focused on protecting our national monuments," Corley Kenna, a Patagonia spokeswoman, told HuffPost.
"It was obviously inappropriate, but we are staying focused on protecting our national monuments."
That may require digging in for a prolonged, public feud with Zinke. The 56-year-old interior secretary is one of the most prolific and ostentatious social media users in Trump's Cabinet, and a vocal defender of the president.
Zinke then railed against the company in two separate appearances on Fox News last week. In a Tuesday interview with "Fox & Friends," the former Montana congressman said, "Well, it's interesting, you know, these companies that make their products other places, on foreign shores, and special interest groups."
And on Friday, Zinke told Fox Business that Patagonia was pushing out "shameless lies" about what the monument rollback does.
"There's not one square inch, not one square inch, of land that is removed from federal protection," he said, adding that Patagonia "should focus on how to bring manufacturing back into the country instead of lying to the public about losing federal land."
Founded in 1973, Patagonia has more than 30 locations across the country, including a major distribution center in Reno, Nevada, and employs more than 1,000 people in the U.S. It donates a percentage of its profits to environmental causes and says it is actively working to reduce its footprint.
Patagonia encourages "anyone who is interested in how our clothing is sourced to visit our website, where we thoroughly demonstrate our ethical standards," company spokeswoman Kenna told HuffPost.
"It's too bad we don't get the same transparency and commitment to people and the planet out of this administration," Kenna added.
Last year, The Washington Post reported that Trump's products were manufactured in at least 12 foreign countries (Bangladesh, China, Germany, Honduras, India, Indonesia, Mexico, the Netherlands, Slovenia, South Korea, Turkey and Vietnam).
That hasn't kept Zinke, or his wife Lola, from ripping Patagonia.
"Patagonia made in China?" Lola wrote in a Twitter post. "Huh, why don't they bring their factories home and pay good wages???"
When one Twitter user asked if she recognized how "ignorant" the question was, given who is in the White House, Lola responded: "the business first, America first president!? No, the question is valid."
Patagonia has stayed on the offensive, however. Last week, the company criticized Zinke for his use of private jets.
"It's odd that @SecretaryZinke has no problem with special interests when they're paying for his private jets," the company posted to Twitter. "We have been fighting for these lands for decades, so that hunters, fisherman, hikers and everyone else can use them and help us protect them."
Zinke is among several people in Trump's Cabinet who have faced backlash in recent months over their use of private planes.
In September, it was revealed that Zinke and several staffers had chartered an oil company plane for a flight from Nevada to Montana in June, costing taxpayers $12,375. He has since acknowledged using a private plane on three separate occasions, including the trip to Montana. But during an energy speech at the conservative Heritage Foundation, he shrugged off the controversy as "a little BS."
Politico reported Thursday that Zinke spent more than $14,000 in taxpayer money to use government helicopters to travel to and from Washington, D.C., this summer. That figure includes a $6,250 round-trip flight to go horseback riding in New York with Vice President Mike Pence.
Before You Go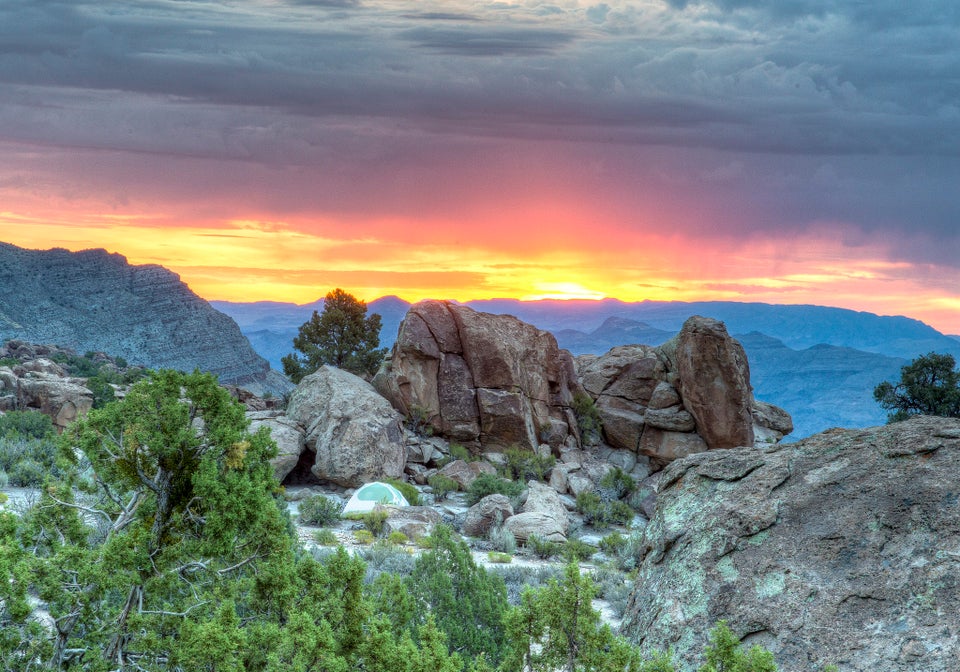 National Monuments Threatened By Donald Trump's Executive Order
Popular in the Community