On Monday, Trump announced a plan to reduce the 1.3-million-acre Bears Ears National Monument by 85 percent and cut Grand Staircase-Escalante's 1.9 million acres to half its size. The retail company took a stand that day by using its website to bring awareness to the cuts, putting "The President Stole Your Land" on its home page.
"The Administration's unlawful actions betray our shared responsibility to protect iconic places for future generations and represent the largest elimination of protected land in American history," Patagonia President and CEO Rose Marcario said in a statement. "We've fought to protect these places since we were founded and now we'll continue that fight in the courts."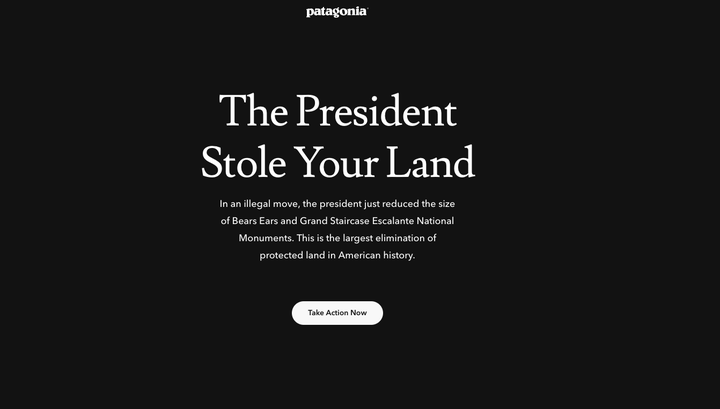 Yvon Chouinard, Patagonia's billionaire founder, called the Trump administration "evil" in his defense of the lands.
I think it's a shame that only 4 percent of American lands are national parks," Chouinard told CNN. "Costa Rica's got 10 percent. Chile will now have way more parks than we have. We need more, not less. This government is evil, and I'm not going to sit back and let evil win."
"Sixteen presidents have used the Antiquities Act to designate 157 national monuments since 1906 to preserve our unique and treasured places from destruction," Patagonia said in a statement. "President Trump's proclamation is the first time any president has attempted to abolish a monument established by a previous president and amounts to the largest elimination of protected areas in American history."
Patagonia is joining a number of other plaintiffs in a complaint filed in Washington, D.C., on Wednesday, the company told HuffPost in a statement. The coalition consists of Patagonia Works, Utah Diné Bikéyah, Friends of Cedar Mesa, Archaeology Southwest, Conservation Lands Foundation, Access Fund, the Society for Vertebrate Paleontology and the National Trust for Historic Preservation.
Other outdoor companies, such as North Face and REI, have spoken out against Trump's reduction of the federal lands as well. North Face announced that the company would donate $100,000 to the nonprofit Friends of Cedar Mesa, one of the lawsuit plaintiffs, toward developing a Bears Ears Education Center.
"Beyond outdoor recreation, these lands are vitally important to the past and future of five Native American tribes that advocate tirelessly for their protection," North Face President Arne Arens wrote in a Quartz op-ed. "Visitors to these places come face-to-face with 1,000-year-old cliff dwellings, ancient rock carvings and countless other signs that it was once home to a thriving civilization—a part of our collective history."
REI outdoor apparel and gear company also used its home page on Monday to raise awareness of Trump's reduction of public lands. The retailer called the administration's choice a threat to the $887 billion outdoor industry.
"REI will not retreat from our strong belief that there is common ground in the outdoors," the company said in a statement. "We will continue to pursue bipartisan support to protect public lands and prevent death by a thousand cuts. REI members can be assured that we will honor our shared passion for our public lands, dedicating time and resources to leaving them healthier for future generations."
Popular in the Community