Patagonia quit a major outdoor retailer trade show on Tuesday over Utah's move to reverse a national monument designation that former President Barack Obama made during his last weeks in office.
The company threatened last month to withdraw from Salt Lake City's biannual Outdoor Retailer Show ― a trade show that brings in 45,000 visitors who spend more than $40 million each year ― if Utah Gov. Gay Herbert (R) signed legislation asking President Donald Trump to undo the designation of Bears Ears National Monument in the state. Herbert inked such a bill into law on Friday.
"It would be totally unprecedented to rescind a national monument and designated public lands," Patagonia CEO Rose Marcario told The Huffington Post on Tuesday. "That, to me, is frankly a horror that anyone would be considering that."
The Outdoor Industry Association, the trade group that promotes the show, did not return a request for comment. In a press release, the show ― which is owned and operated by Emerald Expositions, the country's largest producer of business-to-business trade shows ― said it had begun vetting other cities to host the event in the future.
"Outdoor Retailer has always been about 'Right time, right place, right stuff,'" Marisa Nicholson, the show director, said in a statement. "We've been listening to the concerns from the industry and agree that it's time to explore our options."
In December, Utah Attorney General Sean Reyes (R) moved to sue the White House after Obama set aside 1.4 million acres, including sacred tribal lands, to become the national monument. The Navajo Nation and conservationists celebrated the move. But Reyes, later joined by Herbert and the state's Republican lawmakers in Washington, D.C., condemned the designation as a federal land grab and urged Trump to reverse it under the 1906 Antiquities Act.
Utah's national monument brawl is part of a larger fight playing out over the future of public lands. On the first day the 115th Congress convened, House Republicans made it easier to sell off public lands by voting to change how the government calculates the cost of transferring those parcels to states or private developers. The move could put 3.3 million acres of wilderness ― an area nearly the size of Connecticut ― up for auction.
"I can imagine that's being driven by some economic benefit for someone," Marcario said. "But, uh, that's not the reason that we protect public lands."
It's unclear whether more companies will join Patagonia's boycott of the state. Peter Metcalf, co-founder of the outdoor gear giant Black Diamond Equipment, issued a similar call last month urging the trade show to leave Utah in protest. Black Diamond did not respond to a request for comment on Tuesday morning.
Patagonia, given the popularity of its brand, doesn't stand to lose much money by backing out of the show, Marcario said.
"Most larger retailers like us aren't really writing orders at the show ― it's more a chance to convene and get together with others in our industry," she said. "This is an issue of principles and values for us. We're not willing to back down from that, even though we'll lose those positive aspects of the show."
By taking a stand, Patagonia could be inviting Trump's ire. The president has railed on Twitter against automakers that build cars overseas to be sold in the U.S. Conversely, he plugged the outdoor retailer L.L. Bean after the company received blowback over an executive's donations to Trump.
"I don't think you can let that kind of bullying or fear of bullying affect your principles or values," Marcario said. "We've been around for 43 years. We've seen a lot of administrations come and go. It doesn't change our stance on issues that are fundamental to why we exist as a company."
This article has been updated to include comments from Marcario and Nicholson.
Before You Go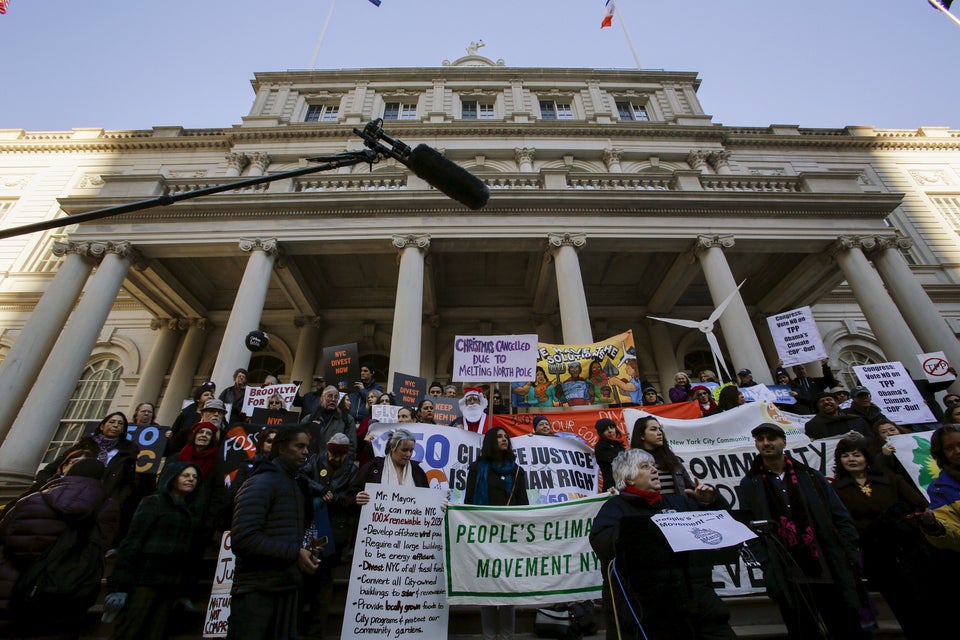 What You Can Do Right Now To Stop Donald Trump's Dangerous Climate Agenda