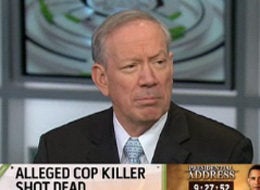 Two possible GOP presidential candidates are using the controversy over Mike Huckabee's granting of clemency to a man suspected of killing four police officers to position themselves as tougher on crime.
Former New York Governor George Pataki, an oft-mentioned dark-horse candidate for the Republican presidential nomination in 2012, did not take direct swipes at Huckabee during an appearance on MSNBC on Tuesday. But he did draw a sharp contrast between his record on crime and prison sentences to that of the embattled former Arkansas governor, in what could foreshadow an attack line in a future campaign.
"It's not a question of risk," Pataki said during an appearance on Dylan Ratigan's "The Morning Meeting." "It's a question of trying to do the right thing. And whenever you make a bold decision, there are consequences and there can be risks. But if you feel strongly that it's the right decision, then it's something you should do. I can tell you though, Dylan, in 12 years, there wasn't one year where I gave more than four or five clemencies, commuting of sentences. I was just very reluctant to overturn the view of a jury, a prosecutor, a judge and of our judicial system."
"I think you should have a tough system of criminal justice," he went on. "When you commit violent crimes and are convicted you should serve the consequences. And, to me, it was very simple and it was one of the cornerstones of what I did at governor... It has to be very rare because the state has exhibited its judgment by passing those laws and the jury has imposed their judgment and they are far more aware of the nuances of a case than a governor sitting in a remote chair. The most important thing government does is provide for the safety of its people and whenever you take a step like this, you have to be very thoughtful."
Pataki isn't the only Republican figure to critique Huckabee's decision to commute the sentence of Maurice Clemmons, who at the age of 18 was sentenced to 60 years in jail for burglary. (Clemmons, whose prison sentence was commuted in 2000, was shot and killed by a police officer on Tuesday.)
"No," replied Pawlenty. "On those facts...I would not. And in Minnesota, I don't think I've ever voted for clemency. We've given out pardons for things after everybody has served out their term, but again, usually for more minor offenses. But clemency -- certainly not. Commutation of sentence -- certainly not."
Meanwhile, a host of conservative commentators and bloggers were quick to write the former Arkansas governor's political obituary, noting that this wasn't the first controversial pardon Huckabee issued.
Pataki, not known as a partisan figure, claimed he didn't want to bring politics into the discussion over the Clemmons issue. But he granted the former Arkansas Governor few favors during his MSNBC sitdown.
"We're talking about the political consequences to Governor Huckabee," said Pataki. "I don't see [them.] What I see is concern for the families of the four police officers who died. These are people who put their lives on the line to protect us and they have lost their lives. And let's think a little bit about them. And whenever you make a decision to let a violent criminal out on the street, it shouldn't be the political consequences you think about. It should be the consequences to society. And we just saw a horrible example of what those consequences can be."
Popular in the Community