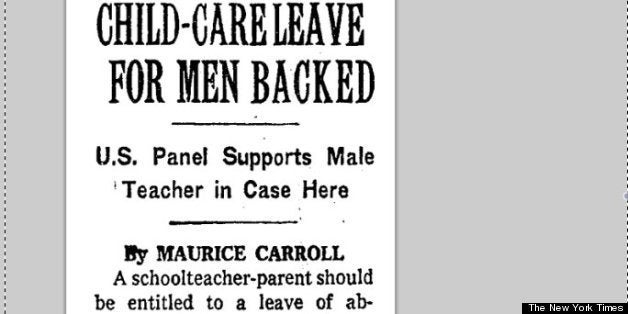 Some articles require more than just a correction. They call for an explanation. That's the case with one I wrote last week about the first father to receive paternity leave in the U.S.
In my original piece, a Q&A with Cammarata, he recalled asking for leave in the early 1970s, back when he was a young teacher who wanted to spend more time with his newborn daughter. "I was denied and I decided to go to court on the issue," he said. "Then the federal Equal Employment Opportunity Commission (EEOC) heard about my case and decided to take on the issue ... And that's how I became the first father in America to receive legal paternity leave."
Not exactly. What Cammarata left out of his answer was the fact that he never actually brought a lawsuit in court, nor did he get the EEOC to consider his case. Those things were done by another young teacher, whose first child, also a daughter, was born in 1969. Gary Ackerman went on to become a U.S. congressman from New York and retired from the House in January, after serving for 30 years.
"I feel like I was mugged on the information superhighway," the former congressman said when I reached him by phone Monday morning after several of his supporters contacted me. "When you do something of which you are extremely proud, something in your life that no one else did, and someone else takes the credit, that's robbery."
Ackerman was a 27-year-old math and social studies teacher at JHS 142 in Jamaica, Queens, married to another teacher, when he became a father. His wife, Rita Ackerman, left her job to stay home full-time, while he finished out the school year. That summer with his new daughter, he said, "I loved having the flexible time to take care of her, and I wanted to continue that during the year."
Back then, New York City teachers who were out on maternity leave had the option of working per diem, as substitutes. Before the summer ended, Ackerman informed his principal that he would be applying for such a leave.
When the principal rejected his request, he appealed to the New York City Board of Education, which asked some "very personal questions," Ackerman recalled. "They wanted to know if my wife was competent, if my wife was still there in my household, who would pay our bills. I told them this is very discriminatory unless you ask everyone about it. Then they turned me down, too."
So Ackerman left his job and, with help from the American Civil Liberties Union, he brought his case to court. (He also made a living by founding a small community newspaper.) The process included some "ridiculous moments," he said, reflective of the times -- such as the difficulty his wife's ob-gyn had filling out the required paperwork.
"We didn't want to get thrown out on a technicality," Ackerman remembered, "so I officially asked for maternity leave, since that was what it was called, and part of the application was a statement from the doctor who delivered your baby. When it asked, 'Will be incapacitated until,' he wrote, 'Does not apply.' When it asked, 'Malady,' he wrote, 'Fatherhood.'"
Ackerman and his lawyers assumed the lawsuit, which was filed in March 1972, would be decided in court, but "to make sure the court didn't say we hadn't exhausted our administrative remedies," they also went to the EEOC, which had been established just a few years earlier, and made a case for paternity leave.
"Our argument was that by saying I had to work, but that a woman automatically didn't, they relegated women to the kitchen and the laundry room and the nursery. They defined my role and, by default, defined my wife's," he said.
And what of Cammarata? When I called him with Ackerman's story, he said he never meant to imply that he had actually sued the school board or brought a complaint to the EEOC. "I threatened to bring one," he said, but he didn't hire a lawyer or follow through. "And then I heard about the EEOC ruling, and I applied for, and got, a leave of absence."
Which means he may well have been the first father to receive paternity leave in New York -- because Ackerman never returned to teaching and thus never took advantage of his own victory. But Cammarata was not the plaintiff who made it happen.
"If I led you down that path, I apologize to you," he said. "I knew Gary Ackerman fought for paternity leave."
And after all these years, Cammarata said, it's good to know that, unlike so many fathers of their generation, both he and Ackerman had the chance to spend real time with their young children.