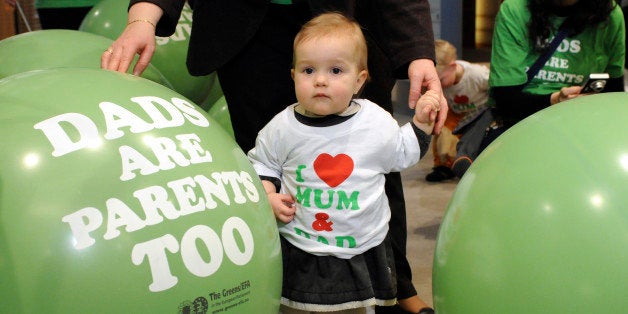 It may sound counterintuitive, but one of the best things a company can do to promote women at work is give men more benefits -- particularly paternity leave.
Not five days off in a row. That's just extra vacation time. I'm talking about a long stretch of time off so new fathers can be home with their new babies. The same amount of time that mothers get when they have a baby. And companies can't just announce that leave is available, they must do everything possible to convince men to take it. Otherwise they won't.
A tiny number of enlightened firms have done this.
EY (formerly Ernst & Young) recently announced the promotion of a record number of women to partner -- 30 percent of the 753 people who made partner around the world in 2015 were women. Obviously, 50 percent would be better, and right in line with demographics. Still, the number represents marked progress for the male-heavy firm. Overall, about 19 percent of partners are women.
Paternity leave helped get them here, Nancy Altobello, EY's vice chair for talent, told The Huffington Post. EY was the first of the Big Four accounting firms to offer dads six weeks of leave starting in 2006. New parents get six weeks paid. (Mothers get an additional six weeks through disability insurance.) The other Big Four firms now also offer similar amounts of time -- Deloitte gives eight weeks paternity leave, and last year more than 50 percent of its new partners were women and minorities.
Altobello said that most new dads at EY take leave, which is still pretty unusual in the corporate world.
"It fosters a different sense of cooperation when the women and men are both taking leave and understanding what it's like to have newborns at home," Altobello said.
There's little doubt that paternity leave is great for fathers, fostering a deeper bond with a child and a greater level of empathy for his partner. Less explored is the way giving leave to everyone lessens the stigma and the penalties women face at work when they become moms and begin the endless work/family juggle.
Many companies don't encourage dads to take leave -- even if there is a policy in place, the culture hasn't caught up. Yet modern-day fathers want to be involved at home and take leave, as a recent report from the Families and Work Institute notes. Three-quarters of new dads take just week or less. Some fear it'll damage their careers to take a lot of time off. (And there's evidence that happens.) Others need to keep working because there's no other source of income.
Federal law allows dads to take 12 weeks unpaid leave if they want it -- but 20 percent of employers still don't offer it, according to the report.
A couple of years ago, Facebook Vice President of Search Tom Stocky wrote a lengthy post about his four-month paternity leave and received a ton of high-fives for being "brave" enough to take it.
In a comment on Stocky's post, one of his female coworkers wrote: "I'm about to head out on my maternity leave from Facebook and I've found myself frustrated with how uncommon it is for my male counterparts to take the four months offered. It contributes to a feeling of guilt for my choice to take it all (is it more ok for me to put my career on hold than the men?)"
Men at Facebook take about half of the allotted four-month leave, according to a New York Times report last year.
That's still better than average. Look at what one male consultant had to say about his paltry two-week leave, in a recent study of one (unnamed) consulting firm conducted by Boston University professor Erin Reid.
"The idea of a guy taking paternity leave was just [makes face] for my managers. Guys just don't do that. They teased me," one consultant is quoted as saying in the study. "Then one of the partners said to me, 'You have a choice to make: Are you going to be a professional or are you going to just be an average person in your field? If you are going to be a professional then that means nothing can be as important to you as your work.' "
EY said one way it combats these attitudes is by asking the men who take leave, particularly leaders, to talk about it. The company also talks a lot about the policy in the press, like having one executive tell his story to The New York Times last year. EY even appeared before a Senate panel last year to talk about paternity leave.
"We have found that men who take parental leave become real advocates for the women and great role models for the men on their teams because they know firsthand how challenging it is to be home with a baby," EY Americas Flexibility Leader Maryella Gockel told the panel.
When a guy takes time off for a baby, it's 11 percent more likely that the next father-to-be in his workplace will also take leave, according to a study of fathers in Norway cited by the Families and Work Institute. If the coworker is a manager, the contagion effect is even stronger.
Norway, Sweden and Germany have succeeded in getting more fathers to take leave by tying benefits to paternity leave -- if dads don't take it, the family loses money. One result: For every month a dad takes time off, a woman's earning potential rises, according to one Swedish study.
PricewaterhouseCoopers, one of the other Big Four firms, just last year doubled the amount of leave it gives dads to six weeks and, crucially, stopped making a distinction between maternity and paternity leave. Now it's just parental leave, Jennifer Allyn, the company's diversity strategy leader for the U.S., told HuffPost.
Women partners also represented about 30 percent of PWC's most recent partner class.
Men feel just as challenged by the competing demands of work and home life as women, but are often too afraid to talk much about it. At the consulting firm that Reid studied, women often asked for flexible work arrangements to handle family responsibilities, but men at the firm simply lied or misled their colleagues about working at times when they were tending to home needs. That led to more promotions for the men, and fewer for the women.
More than a few people suggested the solution is for women to lie, too. But what's happening at places like EY suggests a better way. Since the U.S. has shown such an extreme aversion to offering paid leave, it's left to employers to fix this and, unfortunately, it's going to take some time.
EY has been chipping away at its women's issues since the 1990s, said Altobello, who's been with the company for 35 years. Back then, she said, meetings for women partners were in a "very small room."
Related
Popular in the Community