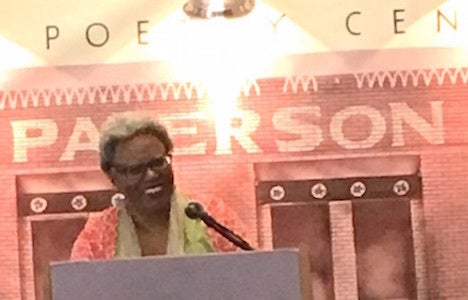 This is about the confluence of poetry, Paterson, New Jersey, and my friend Patricia Jones, who is the finest poet I know. When Patricia asked me to accompany her to Paterson for a Saturday afternoon poetry reading not long ago, she triggered something that touched my past and her future. This now has played out to a very happy ending in a demi-epic cycle that is worth sharing.
I had forgotten about Paterson and me. I went to Kindergarten in Paterson, New Jersey, and elementary school, and junior high school too -- all in the same place. Hadn't crossed my mind in years. Then Patricia called with her invitation and I thought: 'Yeah. Paterson.'
It isn't a pretty place; not the parts of it that I saw as a kid through the schoolyard fence, not the burned out quadrants of it that Patricia and I drove through as we hunted for my old school block and a quick reunion with my childhood before heading on to Passaic County Community College for Patricia's reading. The narrow Paterson streets were immediately familiar to me, lined with row houses that I recalled as tired but tidy. They listed now and teetered, when they weren't flat out singed or just cinders. Tough stuff.
Grander, sprawling old homes, more or less intact, began to appear as we approached the corner of 12th Avenue and East 28th Street, where my Jewish Day School, Yavneh Academy, had stood. The building stands still. The sign out front now reads: Rosa L. Parks High School of Fine & Performing Arts, which made me smile. I'm not aware of any direct connection between Parks, the civil rights icon, and Paterson, the at times civil rights-challenged city. The renaming appears to be purely honorary.
Nothing would have seemed less likely in my Yavneh years than the ultimate rechristening (if you'll pardon the expression) of our yeshiva school building for the revered igniter of the Montgomery, Alabama, Bus Boycott of 1955. Not that Yavneh Academy ever exhibited a trace of racism. It simply never evinced the remotest interest in politics or social causes beyond its own Judaic borders.
The pale gold brick that I remember is gone from the school's Fifties Modern, ranch-style, single-story edifice, reclad at some point by The Paterson Public Schools system in grey-black cement blocks. If this prison-like entombment has kept the place standing, I accede to its practicality but the sight was inescapably grim.
I rarely ventured very far from this corner during my years in Paterson; from the age of 5, when I first climbed the stairs holding my parents hands, to age 13, when I walked out on my own. By then I understood that Paterson was a complicated place. I knew about the silk mills and the glory of the 1900s, when Paterson ruled as silk capital of the world. I knew about the race riots of the 1960s that nearly burned Paterson's downtown to the ground.
What I didn't know until I began writing this piece is that Martin Luther King's last public speaking engagement before heading on to Memphis and his assassination was at Paterson's Bethel AME Church on Governor and Auburn Streets. March 27, 1968. I was a ten-year-old Yavneh Academy fifth grader at that moment. Nobody told me he was in town.
The site of Patricia's reading was a place called The Hamilton Club. It loomed up finally, a truly noble-looking old building on Church Street with a sign for Passaic County Community College slapped over its majestic doorway.
Which Hamilton, I wondered? Why Hamilton? Well, yes, that Hamilton, as it turned out -- Alexander Hamilton (cue the rap chorus). In 1791, as America's first Secretary of the Treasury, Alexander Hamilton apparently helped found the Society for the Establishment of Useful Manufacturers, which, among other things, supported the harnessing of energy from the Great Falls of the Passaic River as part of Hamilton's campaign to secure economic independence from British manufacturers for the new United States. This energizing act brought the city of Paterson into being. The Great Falls powered Paterson's silk mills. Alexander Hamilton was Paterson's silk godfather.
The Hamilton Club was founded in 1890 by the city's potentates of silk (and their bankers and lawyers). The clubhouse was completed in 1896, modeled on the grand men's clubs of New York City. The place just barely survived Paterson's 20th Century decline with its luxe appointments and handsome art collection still hanging. In 1995, an agreement was reached with the Hamilton Club's Board of Governors for the clubhouse to be handed over to the college. And so, a private preserve for rich white men became an open community resource.
It's a grand old place. I was tickled to discover it. I was even more tickled to find a crowd of nearly a hundred waiting for Patricia on the second floor. Who knew that Passaic County Community College possesses one of this country's most vibrant poetry programs? Not me.
Patricia's reading would feature most of the finalists for the college's 2016 Paterson Poetry Prize: Richard Michelson, Adele Kenny, Vivian Shipley, my pal Patricia Spears Jones, and the prize winner, Mark Doty.
This is a roll call of some of the finest poets in America. Quite an assemblage for a tired old Jersey mill town on a Saturday morning. Of course, this tired old Jersey mill town also boasts a deep poetic patrimony, including William Carlos Williams, who wrote an epic poem called "Paterson, and Allen Ginsberg, who grew up there.
The reading was a joy – literate, bracingly political (both overtly and covertly), poetically varied, at times richly moving and at times funny as hell. Ms. Maria Mazziotti Gillan hosted, the executive director who founded the Poetry Center in 1980 and has kept the place going, in part, with grants from the New Jersey State Council on the Arts/Department of State, a partner agency of the National Endowment for the Arts. In other words, if Trump's new budget goes through, killing the N.E.A., here is one regional arts bastion that would be its victim.
I doubt that the fiesty Ms. Mazziotti Gillan will ever let that stop her. Still, days after Patricia's reading, I found myself thinking protectively of Paterson and poetry, which I had certainly never done before.
That's when I stumbled on the film, Paterson.
It's as if Jim Jarmusch had been reading my mind. There, on Netflix, I discovered an entrancingly poetic new film by the legendary independent filmmaker about Paterson, called Paterson, centered around a character who is a bus driver in Paterson and a great, undiscovered poet, no less. Suddenly, Paterson and poetry seemed to be everywhere around me.
I met Patricia Jones in the late 1970s when, fancying myself a freelance journalist while still in college at Columbia, I decided I wanted to write a piece for New York Magazine about the Black Arts movement after-party that was then kicking in downtown inspired by, though not entirely centered upon, the playwright/poet Ntozake Shange, in the wake of her landmark, for colored girls who have considered suicide/when the rainbow is enuf. Shange's play had riveted me when I saw it at the Public Theater. I was also crazy enamored of the various jazz players I'd caught collaborating with Shange and her peers at the Public.
I had to get to know these folks. And I did; I interviewed Ms. Shange herself and her old Barnard cohort, the writer Thulani Davis; I interviewed the poet and playwright Jessica Hagedorn; the iconoclastic jazzmen Butch Morris, David Murray, Oliver Lake; the scintillating choreographer Dianne McIntyre and, of course Patricia, then-a young poetess fresh out of Arkansas. I forged lasting friendships with most of them but Patricia and I grew closest and have remained so ever since.
The article that I wrote failed to sell. I got over it. For the next 40 years (!), I watched Patricia construct her career as a poet, always writing, continually publishing -- in journals, on websites, her own chapbooks, as well as four honest-to-God books: "The Weather That Kills," "Femme du Monde," "Painkiller" and "A Lucent Fire." I watched Patricia scrape to support herself, working, teaching, curating, applying for grants, fellowships, prizes. I watched her snag a few of these and fall heartbreakingly just short with many.
In April, Patricia called again: She had won the Jackson Poetry Prize. A very big deal! Administered by Poets & Writers, the largest nonprofit organization serving creative writers in the country, the Jackson Poetry Prize was established in 2006 with a gift from the Liana Foundation and named for the John and Susan Jackson family. Its goal is simple: "honoring an American poet of exceptional talent who deserves wider recognition." Its economic benefit for a poor poet is virtually life changing: a $50,000 prize.
The formal presentation in May was at the Century Association, the 170-year-old private arts club (for most of those years, all-male and all-white) in its landmark McKim Mead and White-designed clubhouse on West 43rd Street —precisely the kind of joint the Hamilton Club founders had in mind when they built their Paterson place. When I asked, upon entering, if I could climb the club's marvelous, winding central stairway up to Patricia's reception on an upper floor, I was icily told: 'No. I couldn't.'
Now that's a private club.
The elevator up was packed and so was the party room and the outdoor terrace with its panoramic views of Grand Central Station and the Chrysler Buiding to the east and Times Square glittering to the west. The scene was a long way from Paterson, New Jersey. The through line, however, the uniting factor, was the prize winning poet, Patricia Spears Jones, beaming and greeting everyone in celebration.
"Winning made me realize how glad I am that I have been persistent," Patricia told me later. "It means that my work is being read. It means that my work is respected. It means that I do not have to take jobs I don't want to in 2018. It means my life's work is now part of literary history. It gives me momentum to continue and explore other ways to communicate, to educate, and even dream."
Related
Popular in the Community