"Baby fat" may no longer be cute and harmless.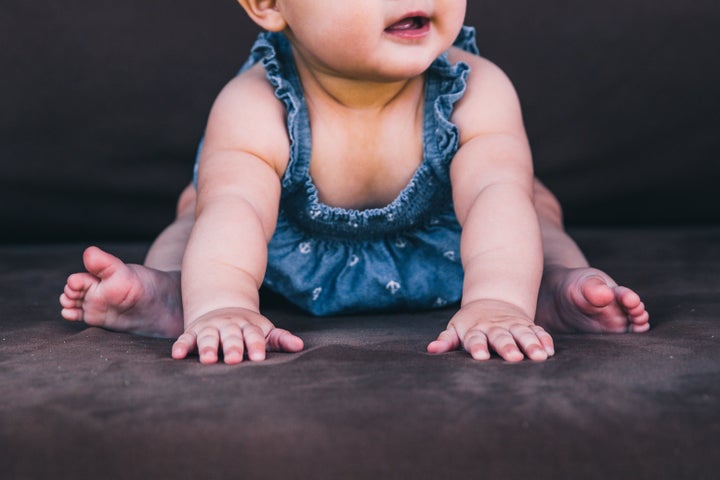 Children under the age of six who are overweight or have obesity may not simply "grow out of it," and excess pounds in small children may not be as harmless as once thought, according to a new study in Pediatrics out today.
The researchers studied approximately 2,700 children in Finland for three decades into adulthood, measuring their Body Mass Indexes, or BMIs, over time. They found that children who had obesity before age six were more likely to suffer from obesity as adults.
"The most important take-home message is that adverse weight status and excessive weight gain across childhood is a determinant of later weight status in adulthood," explains Marie-Jeanne Buscot, PhD, researcher at the Menzies Institute for Medical Research, University of Tasmania in Australia, and lead author of the study.
And it wasn't just how much the person weighed in childhood either, but also how fast he or she gained weight, Buscot explains.
"This suggests that healthy BMI in early childhood and healthy BMI growth across childhood are important determinants of long-term weight status trajectories," says Buscot, whose research points to starting obesity prevention efforts prior to age six.
According to Dr. Tyree M.S. Winters, associate program director of the Pediatric Residency Program at Goryeb Children's Hospital in New Jersey, it is critical to start early and get weight under control before puberty starts.
"As children begin the early stages of puberty – typically around 8 to 10 years of age – their bodies begin to increase the production of sex and growth hormones," says Winters, who is also medical director of Goryeb's HealthStart clinic. "These hormones can cause the body to become less sensitive to insulin and increase the body's production of glucose."
The researchers did find that a small group of children who were overweight or had obesity as children did not develop adult obesity. However, those children were able to improve their BMI levels by the time they hit early adolescence for females and early adulthood in males.
"[This] indicates another window for intervention at these ages to avoid the development of adult obesity," Buscot says.
Critics of Buscot's research have questioned whether this data is applicable to the United States, given the differences in how each country calculates BMI and the higher rates of obesity in the United States. She says yes.
"This study would need to be validated in a U.S. population sample with multiple BMI observations taken across childhood, adolescence and adulthood," says Buscot. "However, in reinforcing the importance of primary prevention of obesity at a young age to reduce prevalence of adult obesity, this work is still relevant to other populations."
The study also looked at a group of all-white participants, which is different from the United States' ethnically heterogenous population.
However, the concept of early weight management intervention is not completely new in the United States. Some American institutions have already begun targeting children in this age range.
Connecticut Children's Medical Center has a Fit5 program that starts at age 3, focusing on increasing fruits and vegetables, decreasing screen time, and avoiding sugar-sweetened beverages. Nationwide Children's New U Flex Program starts at age 2 and creates individualized programs for children, including psychological and nutrition counseling. Lurie Children's Hospital of Chicago's Wellness & Weight Management program starts as young as six months of age.
"Parents of children who suffer from obesity should consult their pediatrician who can partner with them in developing a lifestyle modification program," says Winters. "As each child is unique, the approach to lifestyle modification programming should be unique as well."
Dr. Tyeese Gaines is a physician-journalist with more than 16 years of print and broadcast experience, now serving as lead media strategist for Doctor Ty Media. Dr. Ty is also a practicing emergency medicine physician based in New Jersey and Illinois. Follow her on twitter at @doctorty.
Popular in the Community