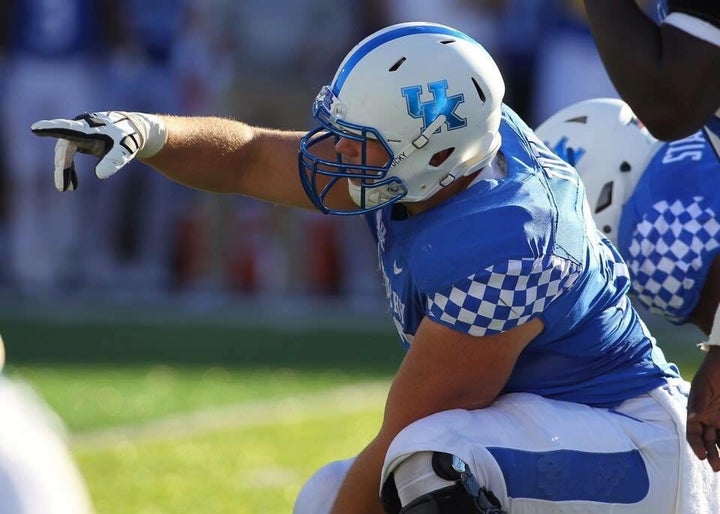 The NFL has evolved – from the days of a grind it out, 3 yards and a cloud of dust kind of offense to a fun-n-gun open one — and the players who have had to make the biggest adjustment? Offensive linemen. These young men have had to change their entire game to meet the new demand for versatile, quick offensive linemen in today's NFL.
Enter Jon Toth - the 6-foot-5, 305-pound offensive lineman with a mechanical engineering degree and the awareness and quickness to succeed in the NFL. Toth came out of high school as a two star recruit and ended his college career as an integral part of Kentucky's success. A redshirt in 2012, Toth took over the starting center job in Week 2 of the 2013 season and continued to start in the next 48 games – the longest streak for a center in the nation – making him one of the most experienced linemen in the draft.
In his final season with the Wildcats, he checked a team-leading 69 knockdown blocks and was credited with 195 blocks at the point of attack, helping the Wildcats rush for a total of 2,895 yards, their third-highest single-season total in school history.
Add to that the experience that comes from the nature of SEC competition and it's no surprise that Toth received All-SEC second-team honors in 2016 and earned an 81.1 grade from ProFootballFocus at the Senior Bowl, the top offensive grade of any player on the winning South Team.
A strong and strategic center, Toth has the versatility to move to any position along the offensive line and excel. And NFL draft analysts are taking note:
"For the first time in a while, Kentucky is relevant in the SEC East, partially due to Toth. A technically sound, intelligent leader, I expect Toth to be an NFL starter one day." – Chad Reuter, draft analyst from NFL.com
"Looks for work when not covered…Smart, durable player who handles all of the line calls," – Rob Rang, NFLDraftScout.com, who has Toth ranked #5 center in the draft.
SI also has Toth as the #5 best center while PFF has him ranked at #4. Stats and rankings aside, I had the opportunity to chat with Toth two weeks before the NFL draft and learn a little bit about the man behind the athlete.
GP: You've started 48 games straight, the longest streak for a center in the nation. Is there anything that you can attribute to helping you stay in the game week after week?
JT: The biggest thing is training in the offseason, being in shape and physically prepared and taking care of yourself when you're not playing football. Stretching, getting enough sleep – you're relying on your body so, in my opinion, you have to do whatever necessary to put yourself in the best position to be able to compete and feel good going into every day. There are guys, especially in college, who say they want to be professional when they don't really know what it entails. I've just tried to take the advice that was given to me. In college, the coaches put so many guys in front of you to help you succeed and I try to take that in stride and implement whatever I was told to make myself better and put my team and myself in a position to succeed.
GP: Rumor has it you're ambidextrous, which allows you to hike the ball with both hands. Do you think this gives you an advantage?
JT: It is an advantage, not necessarily that I will be snapping with both hands throughout the course of the game, but if my regular snapping hand were to get injured I could still easily stay in the game. And that's what it's all about, being able to be out on the field being productive, which makes me more valuable.
GP: How do you think your size affects you?
JT: It's harder to get pushed around when you're a bigger guy, but you have to be able to move with that mass so it's kind of a happy medium. You don't want to be too big but you want to be effective. I'm 305 right now and that's where I like my body weight at to stay in the medium.
GP: Talk to me about your mom's accident [she was in a serious motocross accident in 2006]. How do you think it changed you?
JT: In the moment, it's just a shock. As a kid my parents were everything I looked up to. They could never be defeated. And to see your mom [in that state], everything becomes super real. But really what changed me the most is seeing my mom going through the recovery process and being so strong and not letting her injury dictate the rest of her life. It's easy to get down and feel bad for yourself but she's never really complained and has been a great role model for me.
GP: You've said in past interviews that you like a challenge. What position do you think would be the most difficult transition if you weren't playing center?
JT: Everywhere across the offensive line is pretty challenging. I'd say tackle would probably be the most difficult transition, being on an island by yourself.
GP: SEC matchup you look forward to most? SEC matchup you want to avoid?
JT: It's tough to choose but I liked playing Alabama last year. Every SEC game is super fun but, I would probably say Alabama or LSU. One of those storied programs. There really isn't a challenge I want to avoid when it comes to football. You want to play as a competitor and play against the best team, and hopefully be able to say you beat them.
GP: What was your favorite stadium other than yours?
JT: My personal favorite was playing at South Carolina three years ago. It was a night game and an amazing environment because they turn all the lights off and once South Carolina runs out they play Sandstorm. Right as the beat drops they turn the lights on and the crowd goes nuts and start cheering and waving their towels. It was probably the most fun I've had at an away game.
GP: When you're not playing football, what else are you doing?
JT: Lately I've been reading a lot and just spending time with friends. We have a lake house so in the summer I like to relax and do some water sports – wakeboarding and tubing. I stay away from it now to avoid injury, but back in the day I was big into water sports. Now I enjoy riding on the boat.
GP: Who is your inspiration?
JT: I wouldn't really say it's a person that inspires me, it's more the thing that motivates me to pursue my goals is trying to harvest the fear of regret . Just because it's such a small snapshot in time, the ability to play in the NFL and be among some of the best athletes in the world, and I want to put everything I have into it. I think the fear of regret is really what drives me to give everything I have every day.
GP: Describe yourself in one word as a player.
GP: Describe yourself in one word as an individual.
GP: What's your favorite football memory?
JT: I would have to say our win last year against Louisville. It was a big rivalry game for us and we were on the road. They were a high ranked team and had all this buzz about them and we beat them, so it was an awesome victory.
To follow Jon Toth's path to the NFL, follow him on Twitter at @Jtoeth.
Related
Popular in the Community