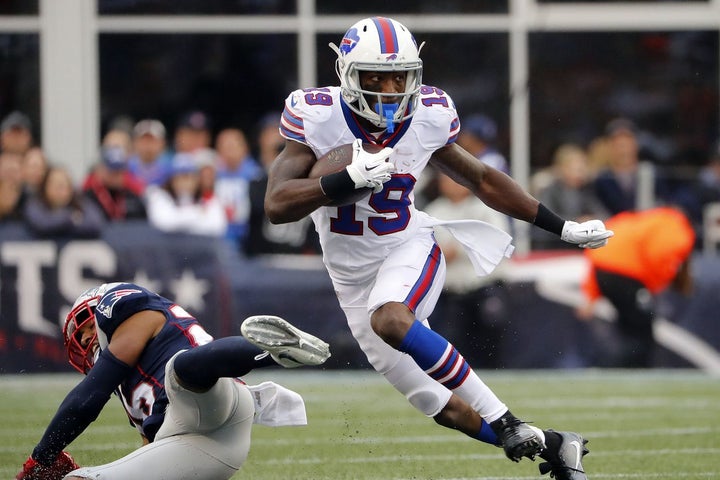 It's a significant achievement to hear your name called at the NFL Draft. But the real first step to making your NFL dreams come true is making the 53-man roster, and earning the spot all over again season after season.
For Walter Powell Jr., the road through the NFL has been a bumpy one. The former Murray State Racer ran a 4.46/40 at his pro day and caught 66 passes for 837 yards and 13 touchdowns in his senior year, while averaging 31.5 yards per return as their kickoff return specialist. The Arizona Cardinals drafted him in 2014 in the sixth round, making it through preseason until they ultimately decided to sign him to the practice squad.
From there, Powell had stints on the NY Jets, Oakland Raiders and Buffalo Bills, where he finished the 2015 season. He played in nine regular season games in the 2016 season for the Bills, totaling 14 receptions for 142 yards, before suffering a season-ending high ankle sprain and torn ligament.
Now, with the 2017 approaching, Powell is ready to get back to work and be a playmaker for the newly renovated Buffalo Bills team. I had the chance to chat with Powell about the upcoming season and learn about his life outside of football.
GP: How are you preparing for the 2017 season?
WP: I'm getting up at five in the morning every day to train. I'm really focusing on the little things – maintenance on my body and the extra treatment my body needs to recover from my injuries. As of now, I feel like I'm at 100%. I'm one of the fastest guys on the team, especially with conditioning. We just finished mini-camp and I was running with the ones [starters] so I'm feeling really good about 2017.
GP: Since you were drafted in 2014, you've moved around to 5 different teams. How has that been for you?
WP: It's definitely been an experience. But I've had the opportunity to see these different playbooks and piece things together to make things simpler for me. It's been a mental game and getting over that mental hump. I feel like [last season] I was a good special teams/role player wherever they needed me. The injury set me back a bit but now I'm ready to start back where I left off.
GP: How are you feeling? How has the recovery process been for you?
WP: Rehab was tougher than a regular workout because I had to focus on muscles I wouldn't normally focus on. It's definitely been a humbling process. I'm just staying spiritually in tact and focused on helping my body get stronger. It's been intense but I've gotten better for it.
GP: What do you think you can bring to this Bills team going into the 2017 season?
WP: I can bring a lot of positive energy and playmaking abilities - whether it's on offense, special teams, kick/punt returner – I'm a utility guy but want to focus on getting better at receiver. The Bills see my potential and that's why I'm still around. I'm trying to maximize that opportunity and prove to them that they made the right decision.
GP: Do you have any personal goals for the season or for your career?
WP: I want to be able to finish off this whole year healthy, play in every game, and be a big playmaker for the team. My end goal is to be a premier receiver in the NFL, specifically for the Bills.
GP: When you're not playing football, what else are you doing?
WP: Playing with my Jack Russell Terrier, Brody. He's only seven months old and a big ball of energy.
GP: What's your favorite football memory thus far?
WP: Playing against the Cardinals, the team that drafted me, and being able to catch a few passes against some guys and helping my team bring in a victory. That game [would be my favorite] besides starting against the Patriots and helping my team beat them. The Patriots use to be my favorite team growing up so it was fun to be able to pull out a win against them.
GP: Who do you compare your game to?
WP: My game is really unorthodox. Some people compare me to Antonio Brown and I try to compare my game to him because he's a returner like me and he loves making plays and that's what I base my game off of.
GP: Tell me about your SPKZ business. Where did the idea come from? What drives the business?
The idea [for SPKZ hats] came from being a kid growing up liking snapbacks and fitted caps. I wasn't able to afford them all the time and once you have this opportunity [in the NFL] to be able to afford them, I wanted to sell my own.
SPKZ stands for Speed Killz. But I recently ventured away from the hat business, retail is a big market and takes a lot of money and energy, and started SKPZ Housing back in St. Louis with my mom. We have a contract with the City of St. Louis to provide people with AIDS with transitional housing. So we purchase homes and provide people with living spaces. I own six properties right now and rent them out.
GP: Describe yourself in one word as a player.
GP: Describe yourself in one word as an individual.
GP: Who is your inspiration?
WP: My older brother. He played in the league and I really wanted to follow in his footsteps. Everything I've been through he's been through, even though there's an 8-year age difference between us. He's my psychiatrist, the person I vent to and really can be myself with. He can relate and give me advice in all aspects of my life. Now he's a financial adviser and life coach.
The Path to the NFL series also includes the story of Jon Toth.
Related
Popular in the Community