Much like today, the design world of 1950s and '60s America buzzed with big names. Crack open a history book on the era and you'll find chapters devoted to them -- Buckminster Fuller, Frank Lloyd Wright, Isamu Noguchi, Donald Judd, Richard Serra. Except, unlike today, there was a discernible, if not disturbing, pattern to the list of VIPs working in painting, sculpture and architecture: they were mostly men.
Today, more than a few art history books and exhibitions have attempted to correct the slant by recognizing the many, many midcentury women artists and designers whose work was either underappreciated or underrecognized at the time. It wasn't that women of this period weren't creating exceptional pieces of art and design -- think of Louise Bourgeois or Ruth Asawa -- but rather, as a new show at New York's Museum of Arts and Design asserts, major surveys simply overlooked these figures. MAD argues, in particular, that this was due to the artists' respective gender or choice of "traditional" medium.
"Pathmakers: Women in Art, Craft and Design, Midcentury and Today" surveys over 100 works by designers, artists, and teachers who fell for media off the beaten path. The exhibition spans Toshiko Takaezu's ceramics, Sheila Hicks's weaving, Eva Zeisel's plateware, Lenore Tawney's fiber art and a whole lot more. It reminds us that while Josef Albers was puttering around with paint and color studies, his wife Anni Albers was breaking ground in textiles and graphic design -- Josef just happened to garner a bit more attention.
Organized by guest curators Jennifer Scanlan and Ezra Shales, along with MAD Curatorial Assistant and Project Manager Barbara Paris Gifford, "Pathmakers" not only reflects on the midcentury women who broke barriers over 50 years ago, it also highlights the women working today, who've picked up their predecessors' mantle and pushed the limits even further in the 21st century. In honor of the show, on view at MAD until Sept. 30, here is a roundup of the 14 women artists who've changed the way we think about design.
1. Lenore Tawney: Lenore Tawney, who lived from 1907 to 2007, was an American artist who worked primarily with fiber, but also in drawings, collages and assemblages. She is often credited with transforming the beauty of weaving into the contemporary medium known as fiber art, incorporating Zen philosophies and spiritual questions along the way. "In all Tawney's work, the past confronts the present, the East the West, the mundane the visionary; but more often it is the visionary that predominates," Katharine Kuh wrote of her art.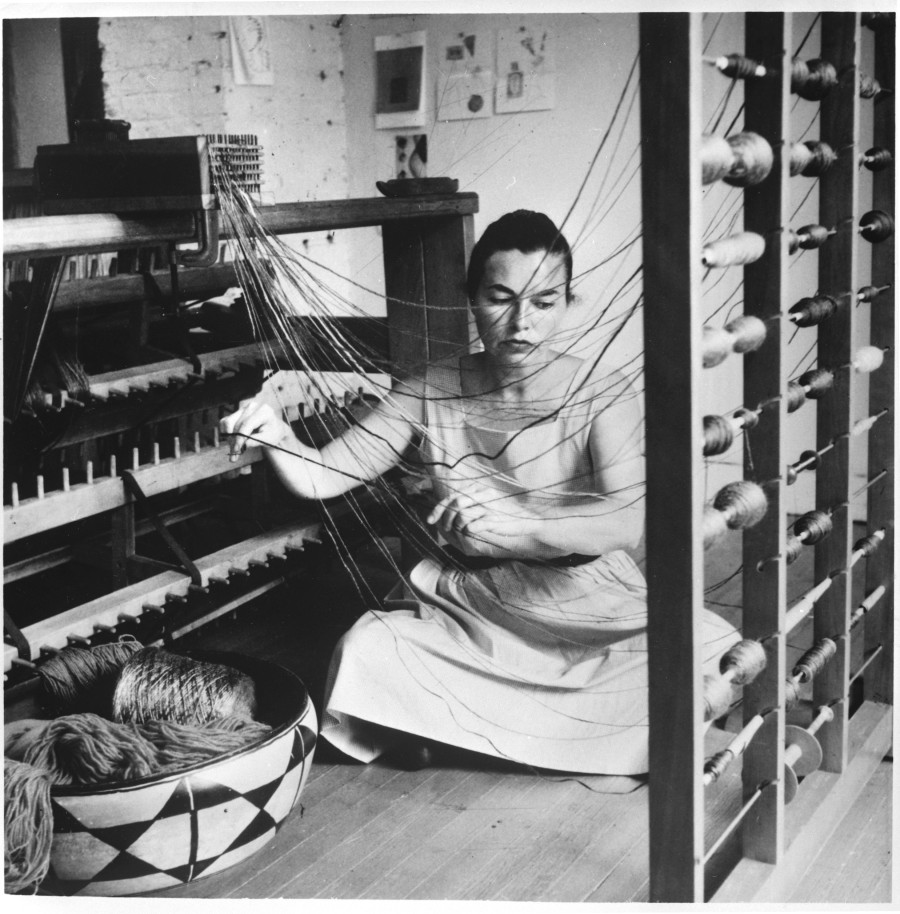 Lenore Tawney in her Coenties Slip studio, New York, 1958, Photo by David Attie, Courtesy of Lenore G. Tawney Foundation.
2. Mariska Karasz A fashion designer and embroidery artist who died in 1960, Hungary-born, New York-based Mariska Karasz is know for combining elements of Hungarian folk with 20th century American design to create wall hangings and fiber art that stood out for their stunning use of color. She's often credited with helping to revive needlework in midcentury design when she worked as a guest needlework editor for House Beautiful magazine.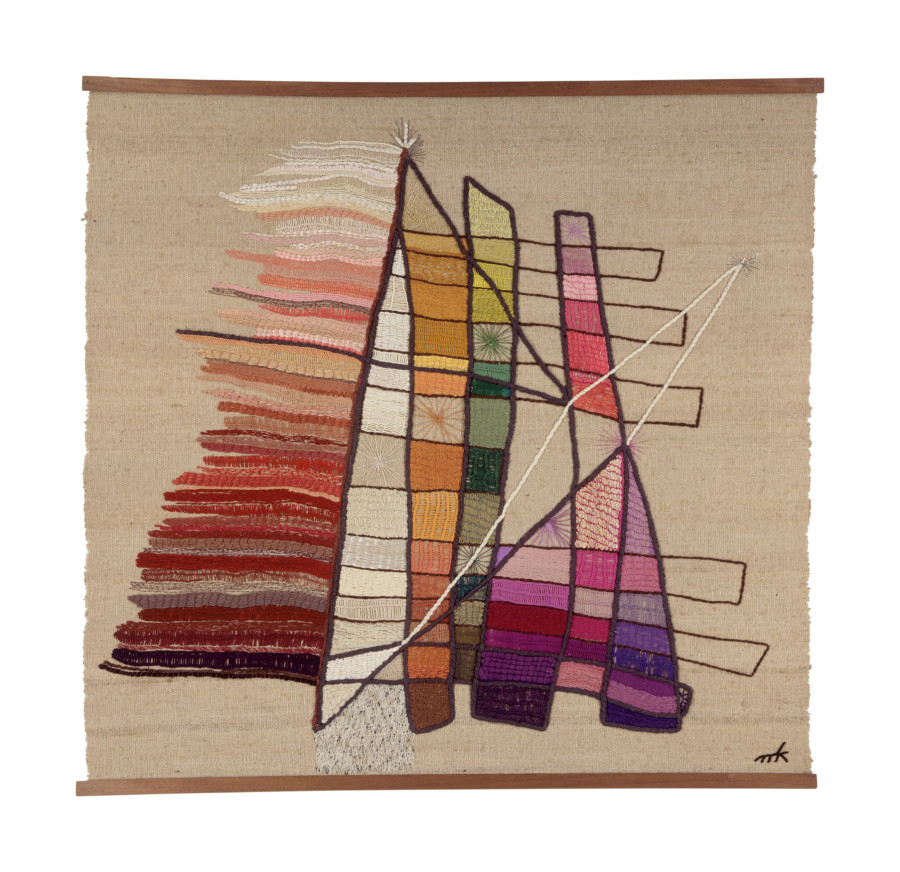 Transcendence, 1958, Mariska Karasz, Wool, cotton, silk, DMC cotton floss, Lurex fibers, mercerized cotton thread, 59 x 61 1/2 in. (149.9 x 156.2 cm), Museum of Arts and Design; gift of Rosamond Berg Bassett and Solveig Cox, 1992, Photo by Eva Heyd.
3. Ruth Asawa Born in 1926 in Norwalk, California, the late Ruth Asawa garnered the nickname "fountain lady" due to her penchant for designing unusual public fountains, particularly in San Francisco. Early in her career, she learned to crochet wire sculptures while visiting a village in Toluca, Mexico, creating works that oozed both geometric order and natural abstraction. Most notably, she helped to form the San Francisco School of the Arts in the 1980s, which was later renamed the Ruth Asawa San Francisco School of the Arts in 2010.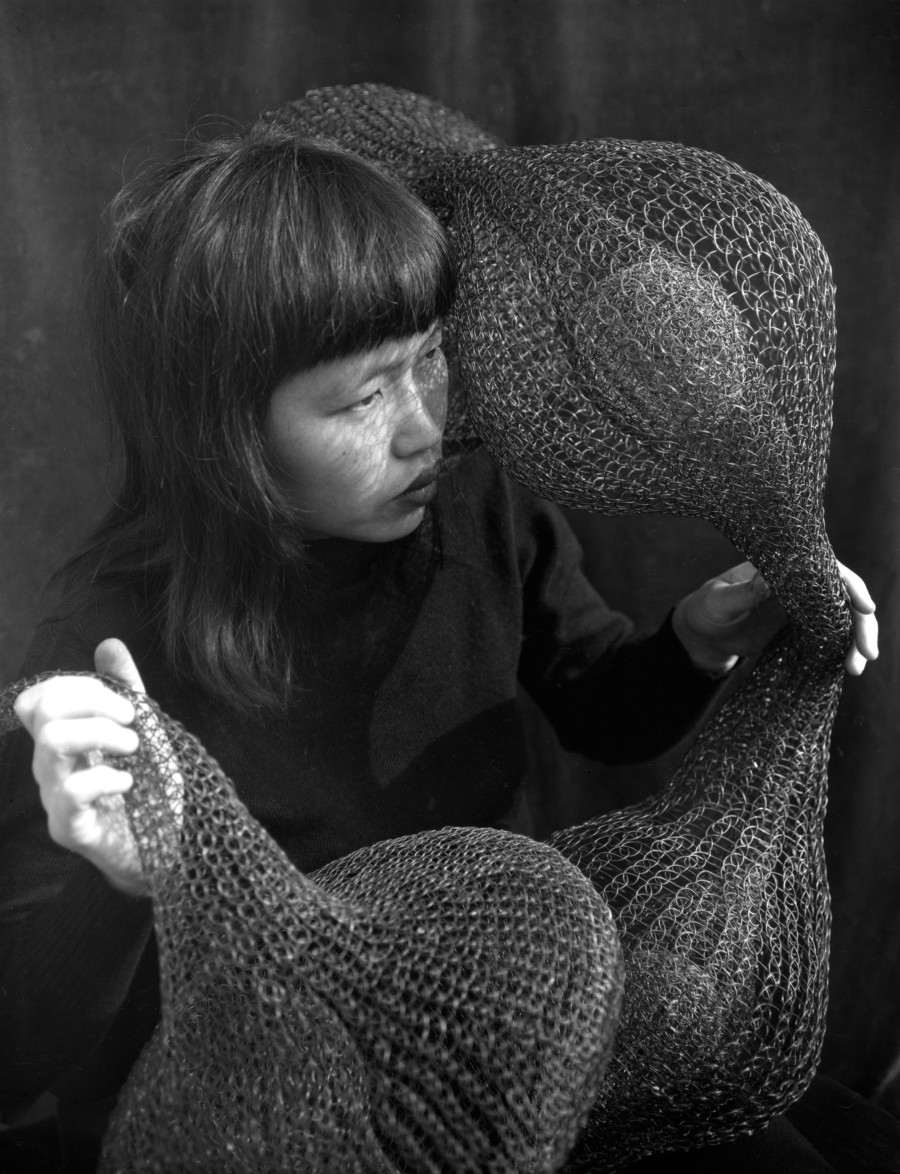 Ruth Asawa Holding a Form-Within-Form Sculpture, 1952, © 2015 Imogen Cunningham Trust, Photo by Imogen Cunningham.
4. Polly Apfelbaum New York-based Polly Apfelbaum is best known for her "fallen paintings," composed of hundreds of hand-dyed fabric swatches that often appear across floors rather than walls, as if the vibrant palette of a painting had tragically fallen to the ground, releasing a serendipitously beautiful world of color.

Polly Apfelbaum, Handweavers Pattern Book installation, 2014, Textiles: marker on rayon silk velvet, Ceramic beads on embroidery thread, Courtesy of the artist and Clifton Benevento, Photo by Andres Ramirez.
5. Anne Wilson: Anne Wilson is a Chicago-based artist who creates sculpture, drawings, performances and video animations. She often uses everyday materials like linen, human hair, wire, lace and thread to explore themes of time, loss and privacy. As she states on her website: "My work evolves in a conceptual space where social and political ideas encounter the material processes of handwork and industry, where the organization of fields and the objects they help generate is constantly subverted by the swarming, anarchic energy of the objects themselves."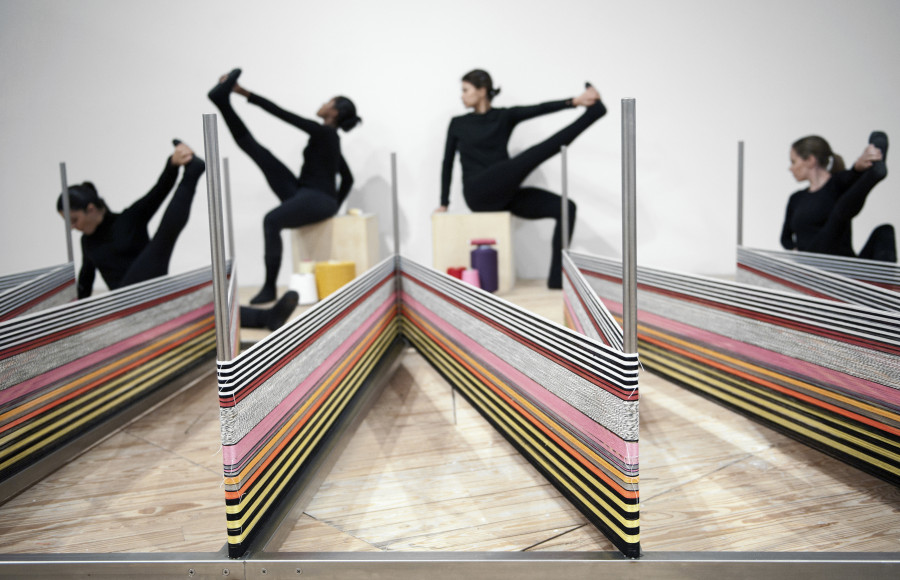 Wind-Up: Walking the Warp Houston, 2010, Anne Wilson, Performance and sculpture, Photo by Simon Gentry.
6. Vivianna Torun Vivianna Torun is frequently cited as one of Sweden's most well known silversmiths, a master jeweler with a beat-meets-chic personal style. During her lifetime, she rubbed elbows with artists like Picasso and Matisse in the Parisian salons and famously created an eponymous watch. Of the "Vivianna" design, the late artist proclaimed: "I didn't want to be trapped by time, so I made the watch open, made it shiny and took away everything that was watch-like, so when you looked at the watch you saw yourself and the second hand which reminded you that life is now, now, now, now."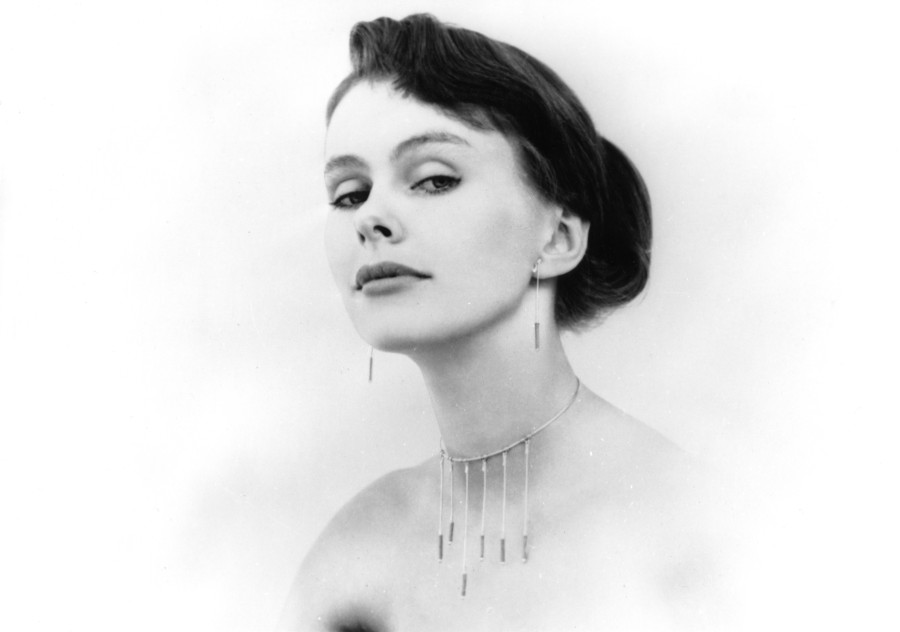 Vivianna Torun, Silver necklet and earrings with turquoise blue ceramic beads of Ancient Egyptian origin, 1954, Courtesy of Georg Jensen, Photographer unknown.
7. Dorothy Liebes American textile designer Dorothy Liebes, who lived from 1897 to 1972, was primarily a weaver who collaborated with architects and interior designers. Her boldly hued textiles often incorporated some surprising media: feathers, metals, ticker tape, leather, bamboo. Frank Lloyd Wright commissioned work from her, and she consulted with major companies like DuPont and Dow, helping to develop mass machinery that mimicked the effects of hand-looming.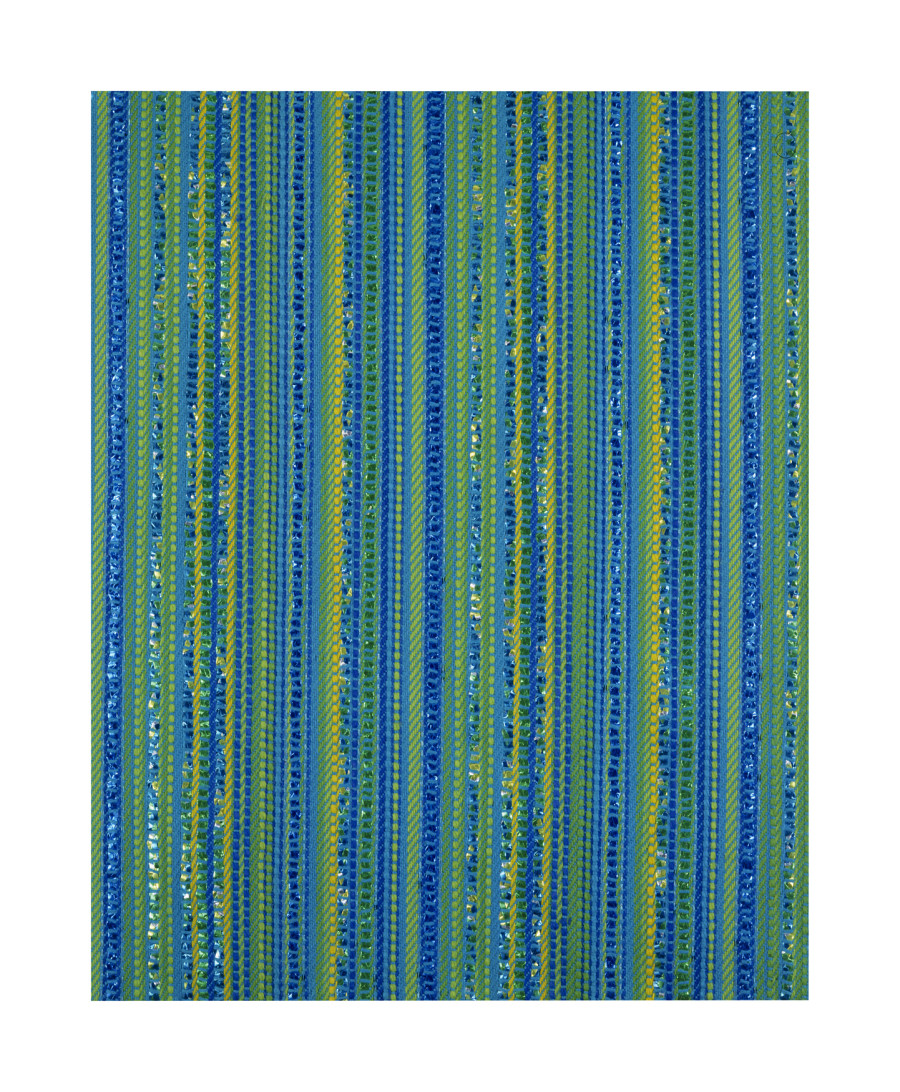 Prototype Theatre Curtain for DuPont Pavillion, New York World's Fair, 1964, Dorothy Liebes, DuPont Orlon and Fairtex metallic yarn, 99 1/2 x 46 3/4 in. (252.7 x 118.7 cm), Museum of Arts and Design; gift of Dorothy Liebes Design, through the American Craft Council, 1973, Photo by Eva Heyd.
8. Olga de Amaral Olga de Amaral iss a Colombian textile artist who creates massive tapestries lace with gold and silver leaf, metallic paint and gesso, largely inspired by pre-Hispanic art. "A large part of Olga's production has been concerned with gold," Edward-Lucie-Smith wrote, "but there are in fact no equivalents for what she makes in Pre-Columbian archaeology. Nevertheless one feels that such objects ought in logic to exist -- that she has supplied a lack."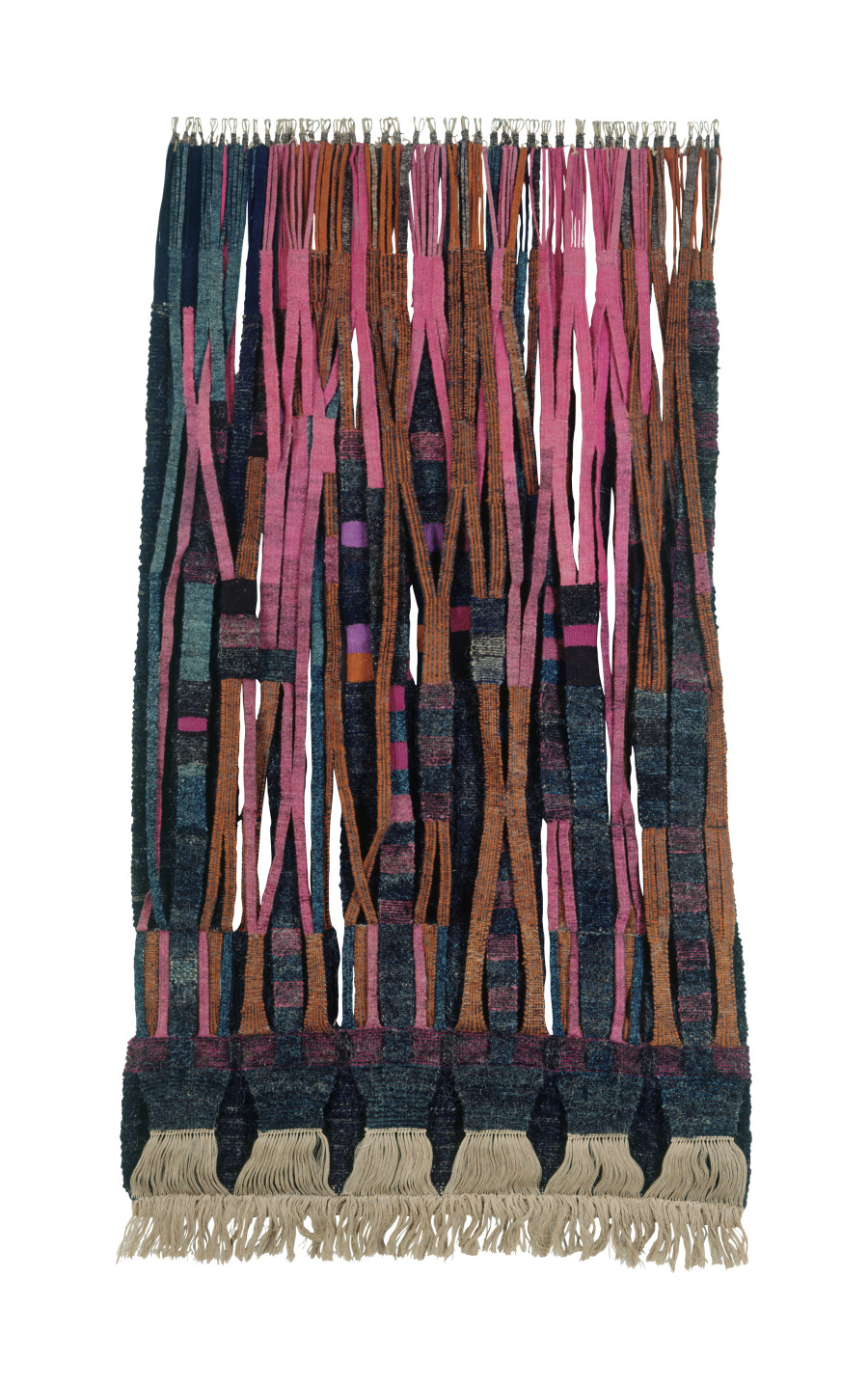 Hanging #57, ca. 1957, Olga de Amaral, Hand spun wool, 87 x 43 in. (221 x 109.2 cm), Museum of Arts and Design; gift of the Dreyfus Foundation, through the American Craft Council, 1989, Photo by Eva Heyd.
9. Toshiko Takaezu A Japanese-American ceramist, Toshiko Takaezu was known for her small- and large-scale stoneware and porcelain works, pieces that channeled bits of Abstract Expressionism, as well as traditional motifs from classic Japanese pottery. Before her death in 2011, the artist concentrated on ceramics that were meant to be seen and not necessarily used, often creating permanent lids for her pieces, such as in her memorable "closed forms."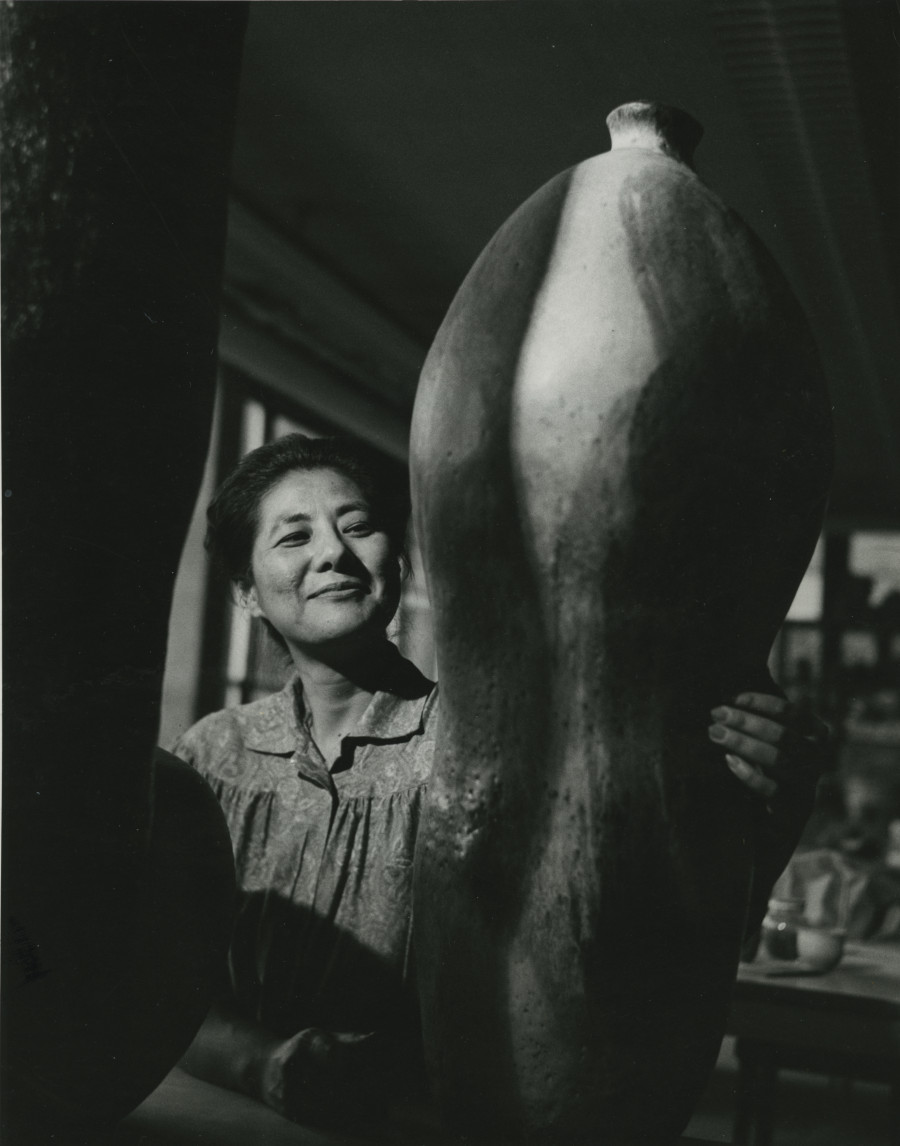 Toshiko Takaezu, ca. 1960, Photo by John Paul Miller, Courtesy American Craft Council.
10. Eva Zeisel Hungarian-born industrial designer Eva Zeisel began a prestigious career in Germany and Russia before moving to the United States in the late 1930s, teaching for Pratt Institute in New York and headlining the first one-woman show at the Museum of Modern Art. Her works often mimicked the curves of a human body, but every piece she made was intended for utility, with bits of Hungarian folk flair mixed in.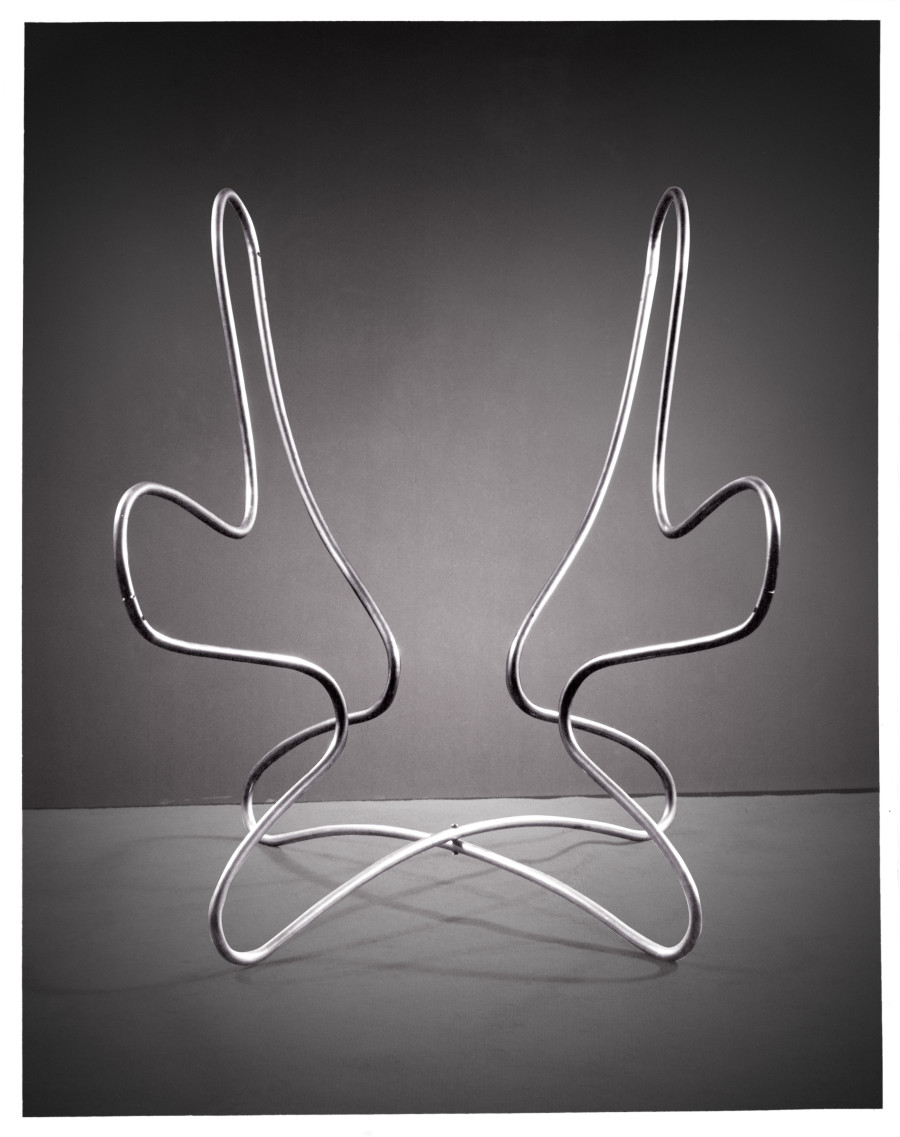 Resilient Chair Frame, ca. 1948-1949, Eva Zeisel, designer, Hudson Fixtures USA, manufacturer, Chrome-plated tubular steel, 28 1/2 x 26 x 26 1/2 in. (72.4 x 66 x 67.3 cm), Courtesy of Jean Richards.
11. Anni Albers Anni Albers was a textile designer, draughtsman and printmaker who was steeped in Bauhaus traditions, creating works based on color relationships and abstractions. Like other women on this list, Albers wasn't afraid to incorporate unusual materials -- paper and cellophane -- into her weavings to create a distinct aesthetic that explored art's ability to provide "stability and order" in life.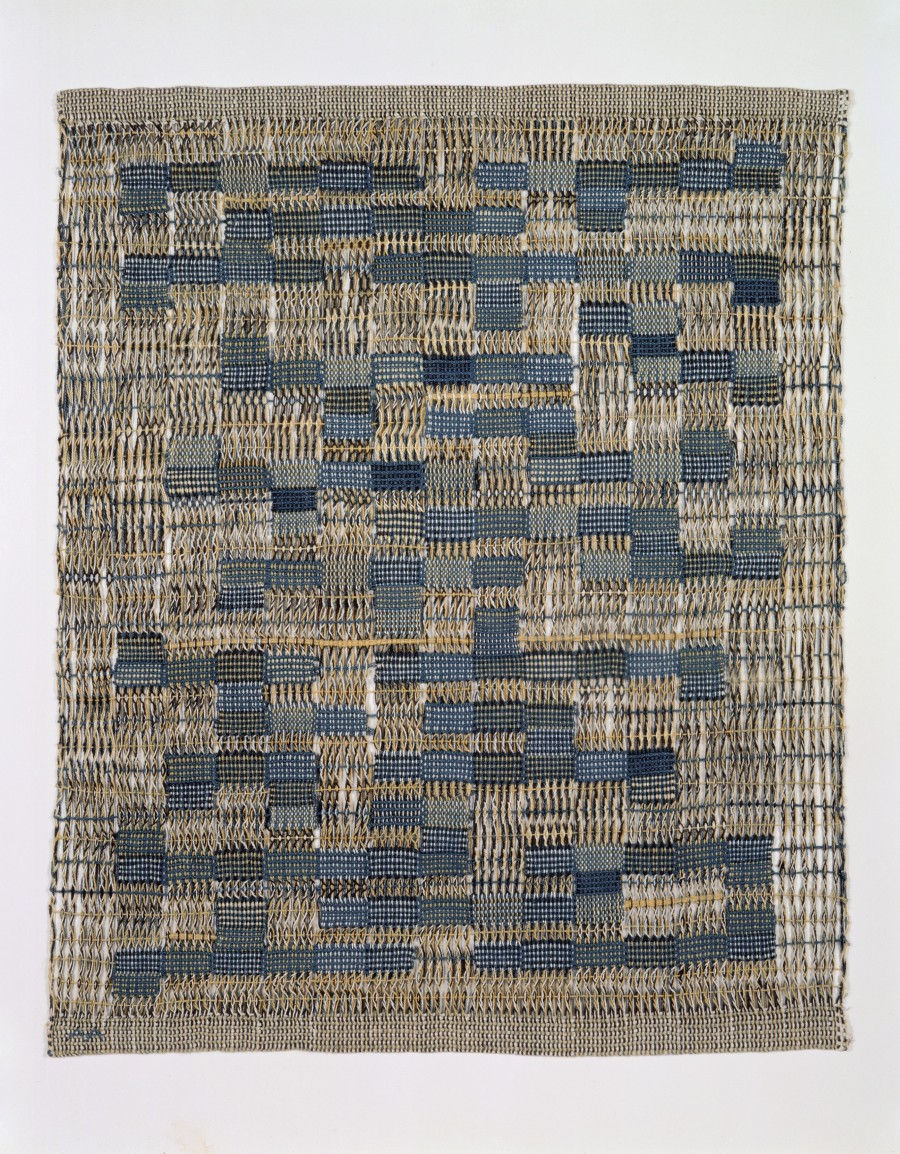 Tikal, 1958, Anni Albers, Cotton, 30 X 23 (76.2 x 58.4 cm), Museum of Arts and Design; gift of Johnson Wax Company, through the American Craft Council, 1979, Photo by Eva Heyd.
12. Karen Karnes New York City-born Karen Karnes is most famous for her stoneware ceramics, influenced by her training in both Italy and at Black Mountain College in North Carolina. Her earth-colored clay pieces are created using older practices like wood and salt firing. Of her work, she notes: "When I started working, I thought, well, I'm a potter. I want to make pots. I'm making pots. And then when I moved from doing that to more sculptured things, it wasn't a planned thing. It just happened in a natural way. And I never thought I would be famous, which I am now."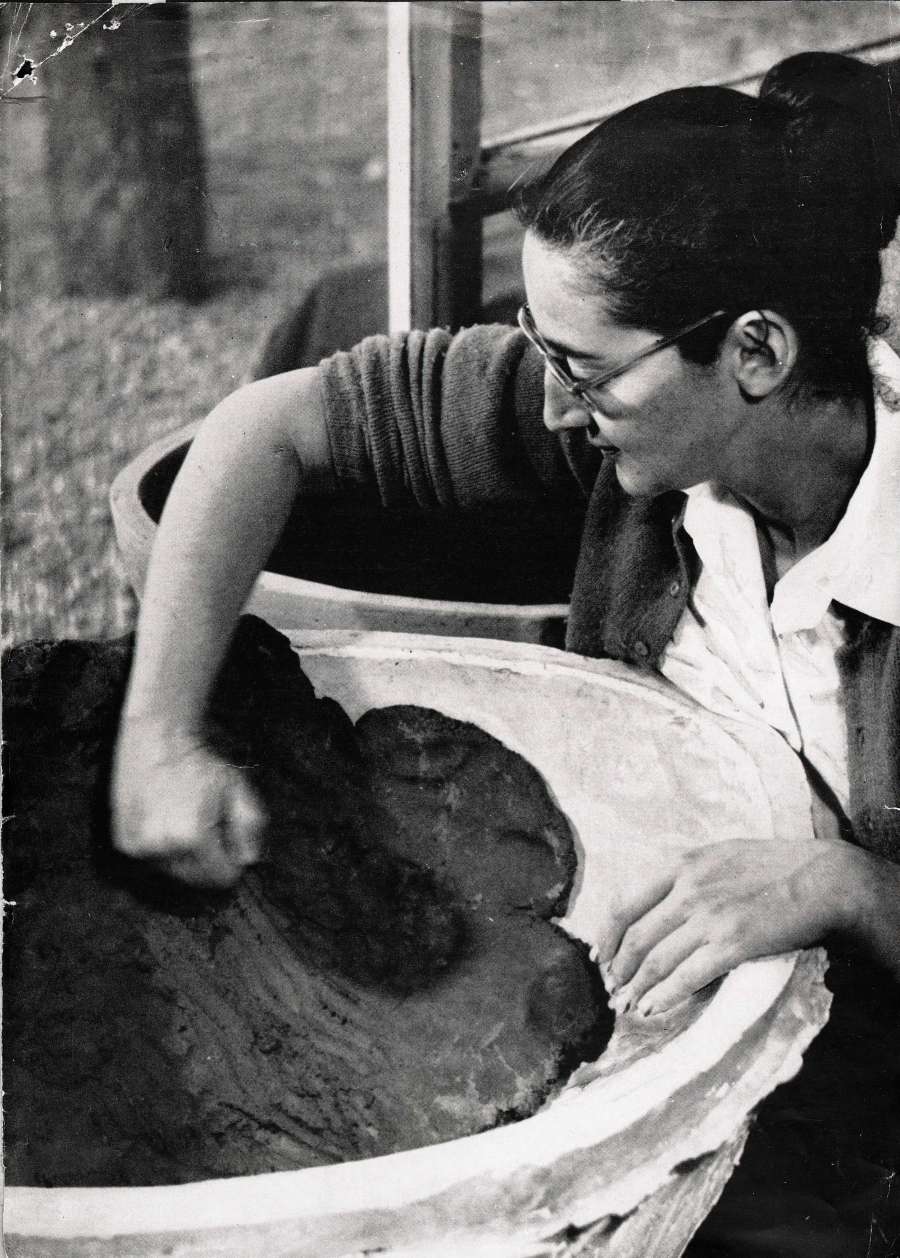 Karen Karnes, 1958, Photo courtesy of the American Craft Council.
13. Vuokko Eskolin Nurmesniemi Vuokko Eskolin Nurmesniemi is a Finnish textile designer known for imagining the simple red-and-white striped fabric that would become the Jokapoika shirt, the first piece of menswear for Marimekko. Her work is on permanent display at the Metropolitan Museum of Art in New York.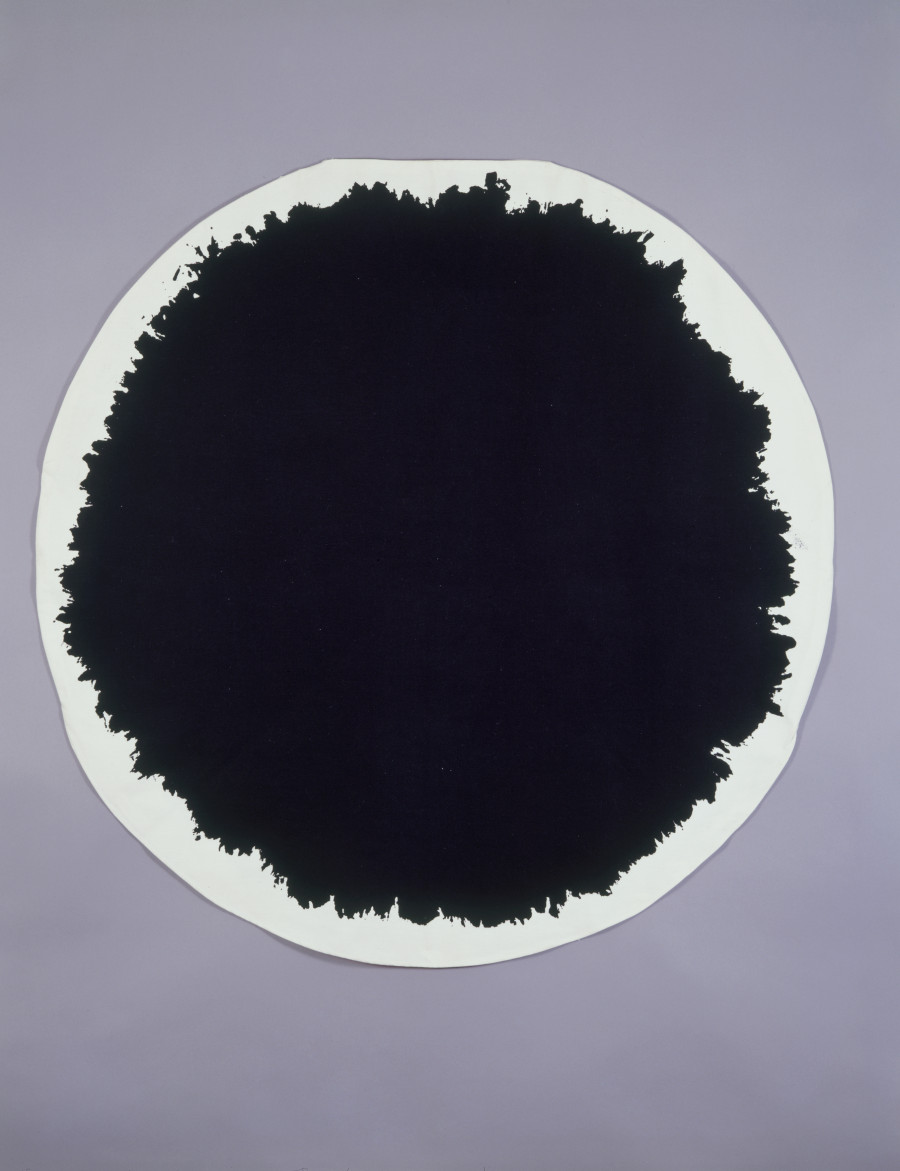 Untitled (circle dress), ca. 1964, Vuokko Eskolin Nurmesniemi, Screen printed cotton, 46 x 46 in. (116.8 x 116.8 cm), Museum of Arts and Design; gift of the American Craft Council, 1990, Photo by Eva Heyd.
14. Mary Kretsinger Kansas-born Mary Kretsinger, who died in 2001, is known for her experimental metalwork and enameling. In her own words: "I work in precious metals, enamels, and precious stones to create unique pieces of jewelry. I do not mass produce. I am interested in the sculptural approach to jewelry and hope eventually to produce sculpture using, silver, gold, and enamel." She also notably created interchangeable ear pendants that could be attached to a number of different earrings.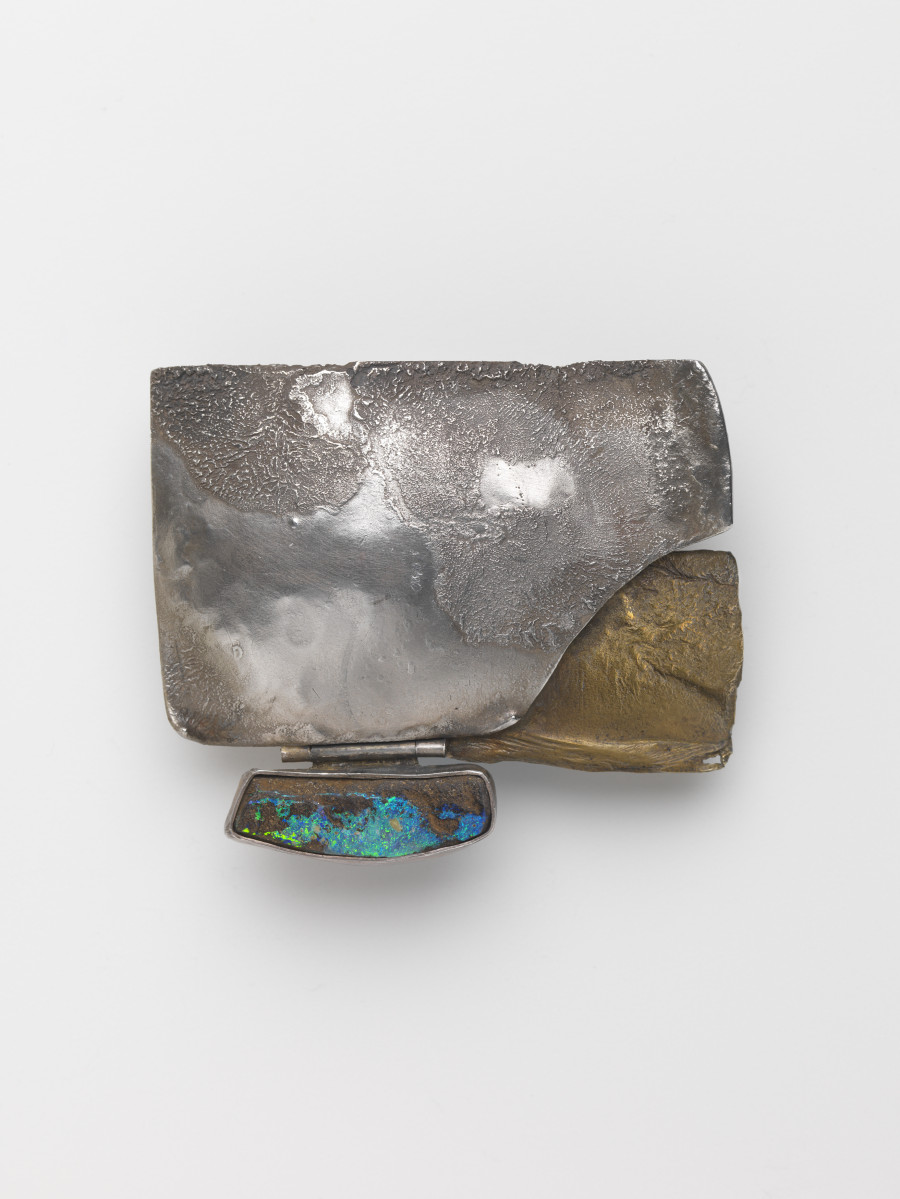 Sketch in Metal, 1969, Mary Kretsinger, Silver, brass, opal; forged, cast, assembled, 2 5/8 x 2 1/4 x 3/4 in. (6.7 x 5.7 x 1.9 cm), Museum of Arts and Design; gift of the Johnson Wax Company, through the American Craft Council, 1977, Photo by John Bigelow Taylor.
Support HuffPost
The Stakes Have Never Been Higher
Related
Before You Go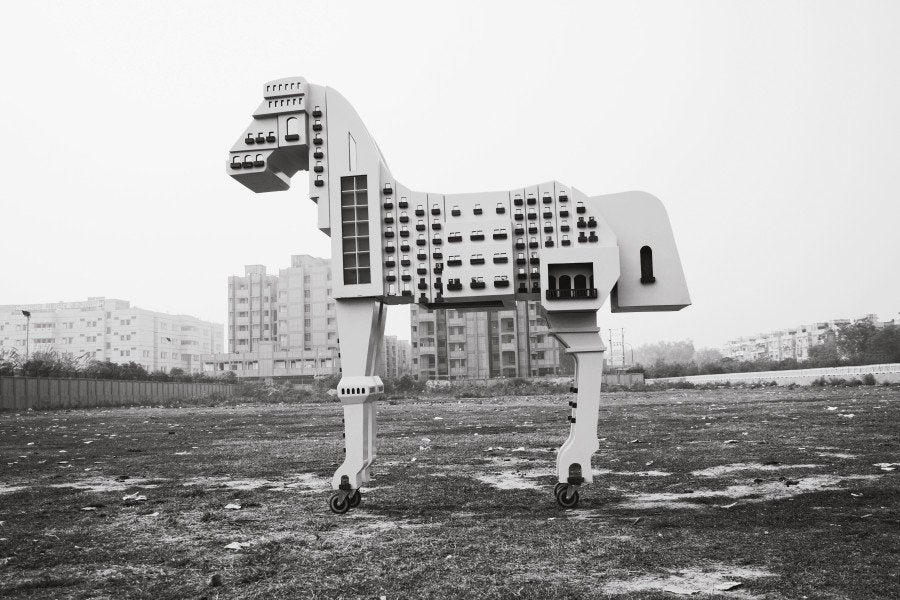 Here Are The 12 Cities That Will Shake Up The Art World In The 21st Century
Popular in the Community