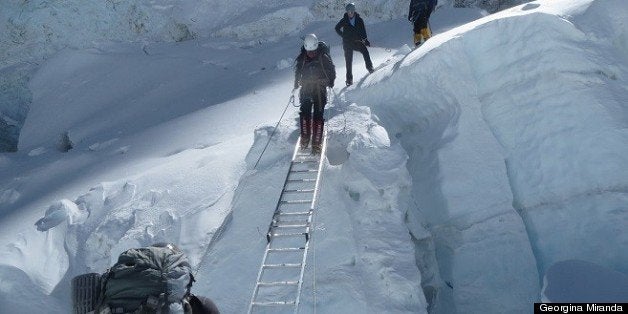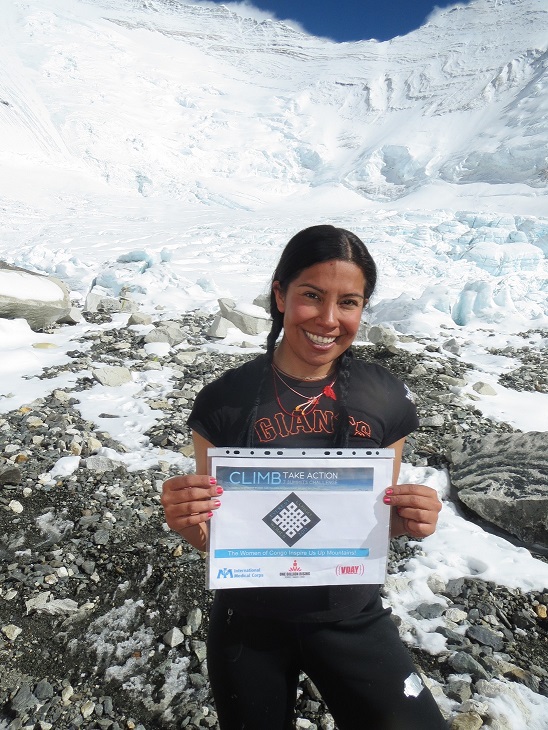 It is near the final stretch of my Everest for Congo Women Climb and time to put the 6 plus weeks of living on the mountain and preparation to the test! In just a few days I will begin the journey from Everest Base Camp, 17,500 feet, to hopefully the top of the world, 29,028 feet. Letting go of the outcome in order to enjoy the journey is not always easy to do in many aspects of life, but definitely in this case. As the date readily approaches for my Everest summit bid, it is a mixed bag of emotions. Patience, hope and faith are playing a key role. I often say ignorance can be bliss here in this environment when you are not 100 percent sure what you are up against. In my case, I was here in 2011 and made it just 1500 feet before having to turn around due to hypoxia and I know much of what this mountain can possibly have in store for me. Climbers and Sherpas have had their first summits on Everest as of May 10 and more and more are moving up the mountain and getting ready for that final push! We patiently wait, for the most ideal weather window to make our attempt.
Everest in 2011 taught me so many lessons and gave me new perspectives as I have mentioned before. It taught me in the power of trying and failing, in pursing your dreams and aiming high, in following your heart and a new regained gratitude for life and living that life to the fullest. On this journey so many new lessons are forming and perspectives still developing.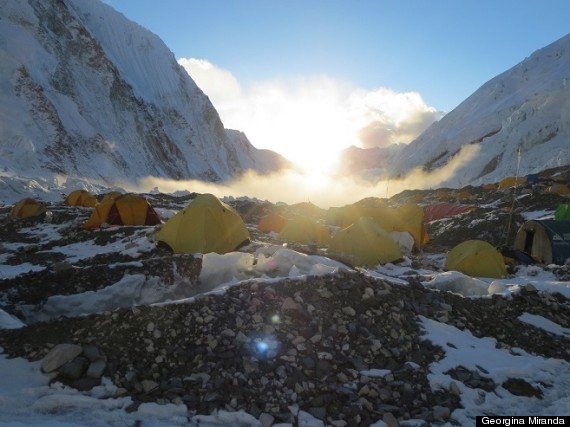 Patience has been a critical part of the entire climb, and even more so in these final weeks, as you must wait for the best possible combination of weather and conditions in order to make your final move. Living on a mountain for 2 months is not an easy feat, even when some comforts are available. Eventually you grow tired of the freezing cold, your body is worn down by the altitude day by day and it's more than natural to miss the ones you love at home. You have to have patience with yourself and the mountain in order to climb up it multiple times and give your body the opportunity to adjust to living at times in such an inhospitable place. Also there is a patience required in allowing your body to move up this mountain at a pace much slower than you would ever like, but the trick is that one foot in front of the other is what gets you up. You can read the details of the climb and rotations here.
Hope is a beautiful thing as it can keep dreams alive and your spirit joyous and free. At each stage of the climb as I reached major milestones, I was filled with hope, and that gave me the encouragement and mental strength to push through to the next stage or milestone. So as I approach this final push I am filled with hope from knowing my little body has gotten as high as the balcony (27,500 feet) in 2011, and that I only have to make it 1,500 feet higher or 500 meters higher this time. I also have had two successful rotations and made it to 7000m or 24,000 feet without illness or major strain, which helps boost confidence. In my time away I have also had time to reevaluate my own personal limits, bucket lists and passions. Daily testing physical and mental personal limits on this climb can pleasantly surprise you of how much more you are really capable of and open your heart and mind to new horizons. Being without, also provides a new level of gratitude for the little joys in life. These little joys, which up here can be a hot shower or a slice of cake, can bring hope of the goodness to come and realization that little joys can introduce a new welcomed kind of happiness. Then there is a hope in your purpose and in making a difference, which I strongly hold onto in my Climb Take Action Campaign for women in Congo that have endured gender-based violence. My motto has been for many years that, "The extraordinary is always possible. .. Never limit yourself or life's potential." This experience helped reinforce that message two years ago and continues to do so today. To live with the hope in the beauty of your dreams and vision is an awesome thing.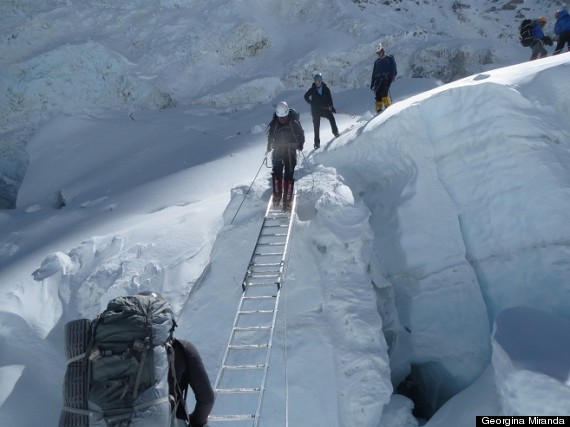 Faith brings a kind of centering and calmness and allows me to let go of the outcome and hold on to and enjoy the journey. This is perhaps the hardest part to do not only on this climb, but life in general. Yet, I know that as I leave Base Camp for that final time, I have to go with calmness and faith that I did all that I could to prepare, and now it is up to elements out of my control as to how things go on this final push. Also, I have to go with a faith in knowing that everything happens for a reason, and I was meant to come back here and try again. All I can do is my best, climb like it is just me and the mountain, and have my heart and mind in a good place. Of course, I will be saying many prayers along the way.
The butterflies are beginning in the tummy, as the thought of the physical and mental strength it will take to potentially reach the top of the world is about to begin. I am incredibly grateful to Adventures Global and our Sherpa team for their guidance and care. I will hold on to my patience, hope, and faith with each step up the mountain. All the best to all the climbers and sherpas on Everest this season; wishing everyone a safe return.
To support our efforts for women in Congo that have endured gender-based violence please visit www.climbtakeaction.com. All donations are tax deductible and 100% of funds benefit International Medical Corps and V-DAY, no donations go to any of the climbing expenses.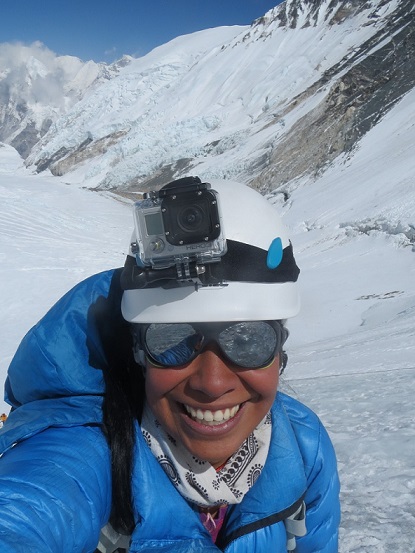 REAL LIFE. REAL NEWS. REAL VOICES.
Help us tell more of the stories that matter from voices that too often remain unheard.