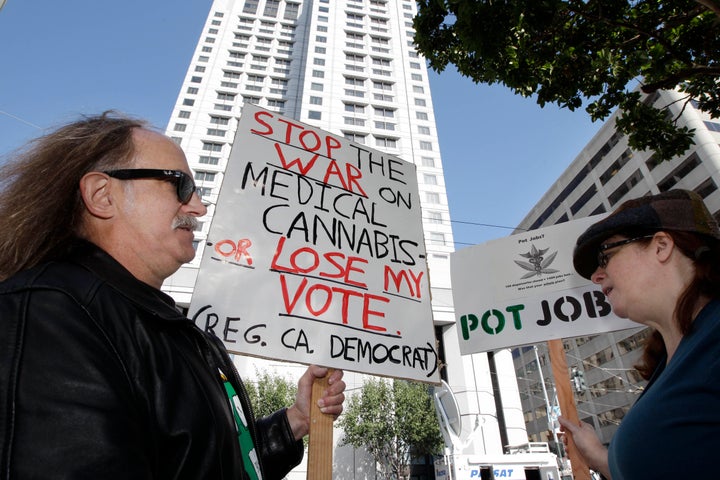 WASHINGTON -- Medical marijuana advocates in California are suing the federal government in the latest development in a larger effort to deter federal prosecutors' crackdown on medical pot establishments in the Golden State.
In the lawsuit, plaintiffs Americans for Safe Access, the country's largest medical marijuana advocacy organization, claim that the Department of Justice has overstepped its constitutional authority in policing local medical marijuana laws within the state of California.
"Although the Obama Administration is entitled to enforce federal marijuana laws, the Tenth Amendment forbids it from using coercive tactics to commandeer the law-making functions of the State," said ASA Chief Counsel Joe Elford, who filed the lawsuit Thursday in San Francisco's federal District Court. "This case is aimed at restoring California's sovereign and constitutional right to establish its own public health laws based on this country's federalist principles."
The ASA lawsuit was filed on behalf of the tens of thousands of residents in California who have been directly affected by the Justice Department's actions. Federal prosecutors on Oct. 7 launched an attack on medical marijuana dispensary owners in California, vowing to shutter state-licensed businesses and threatening landlords with property seizures.
Obama as a candidate promised to maintain a hands-off approach toward pot clinics that adhered to state law, with Attorney General Eric Holder publicly asserting that federal prosecutors would not initiate enforcement actions against any patients or providers in compliance with state law, deeming it an inefficient use of scarce government resources. Now advocates want him to make good on those promises.
"I think the President, who I support, really needs to exercise some leadership on this issue," Assemblyman Tom Ammiano (D-San Francisco) said Tuesday in an interview with The Huffington Post.
On Tuesday hundreds of marijuana activists gathered in downtown San Francisco, where Obama was attending a fundraising luncheon, to protest the federal crackdown on California's pot industry. The president did not stop to acknowledge the protesters or their message.
Jim Cole, the Justice official who authored the federal government's medical marijuana memo, has declined to discuss the federal government's position on the recent efforts.
REAL LIFE. REAL NEWS. REAL VOICES.
Help us tell more of the stories that matter from voices that too often remain unheard.