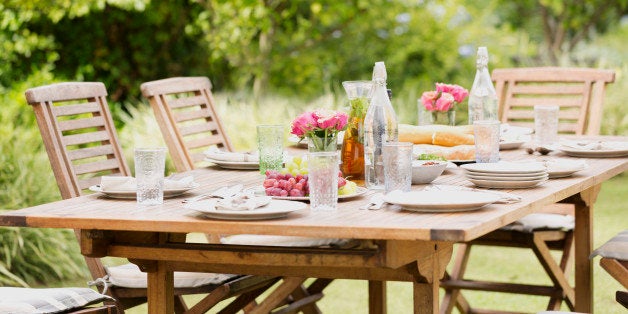 There are so many reasons summer is our favorite time of the year, with its long days and balmy nights and subliminal promptings to have another drink. And while we do have a few months to enjoy it, we happily welcome an opportunity to spend one sitting indulging in all the season has to offer. And by "one sitting" we mean: a patio party.
From low-maintenance outdoor decor (potted plants and pretty paper plates are just fine) to cocktails that bring out the best in our favorite seasonal fruit, we're certain patio parties are really the best kinds of parties there are. If you think otherwise, we're here with 14 reasons to convince you.
Cooler temps are just a quick dip away.
And there's nothing like a string of lights to set the mood.
Because it's worlds away from that heap of laundry you've been meaning to wash.
And if you've got plants, your decorating is pretty much done.
Because where else can you rock a kaftan without judgement (except maybe a beach...on the French Riviera)?
Because seating this comfy means you can avoid the awkward after-dinner transition to another room.
And when the chairs are all full, guests can grab a pillow and hit the deck.
And, really, no one cares if your place-settings don't match.
Because the only thing better than this watermelon agua fresca, is this watermelon agua fresca, on your patio, with friends.
And when guests bail for a day at the beach, you'll still have plenty of company.
Because #hammocklife sounds much more fabulous than #sofalife.
Check out more entertaining ideas we love on Pinterest!
Are you an architect, designer or blogger and would like to get your work seen on HuffPost Home? Reach out to us at homesubmissions@huffingtonpost.com with the subject line "Project submission." (All PR pitches sent to this address will be ignored.)
Related