The Patio Theater, with its twinkling "night sky" ceiling and detailed Spanish and Italian architecture, is a unique Chicago landmark.
Opened in 1927, the theater, located at 6008 W. Irving Park Rd. in the city's Portage Park neighborhood, is one of the few remaining movie houses of its kind in the city. Reopened for business last year after nearly a decade-long hiatus, the theater, which projects the soon-to-be-obsolete 35 mm prints of films, may be forced to close again unless it is able to raise funds to purchase a digital projector.
But Demetri Kouvalis, owner of the Patio, is not going down without a fight. In order to raise the funds he needs to keep the doors of his historic theater open, he has launched a Kickstater campaign.
With about three weeks of funding time left and about $20,000 to go, The Huffington Post recently spoke with Kouvalis about the Patio.
The Huffington Post: What prompted you to launch this Kickstarter fundraising effort for the Patio at this time, about a year after it reopened to the public?
Demetri Kouvalis: When we opened last year, about this time, we knew that this digital projection upgrade would be necessary if we wanted to continue to show newer Hollywood films to the neighborhood, but I didn't think it was going to be this quick. Being open a year has helped us grow a fan base and let people know in and around Chicago that we're open and we're serious about staying open. It's also given us a better chance to promote this Kickstarter and reach out to people who either enjoy our theater or enjoy keeping vintage Chicago buildings open.
We don't want to turn this into a theater where they they only show old films on the weekends. We want to keep it open as a new Hollywood film theater and in order to do that, we need to do what Hollywood says, which is that digital is the future.
(Scroll down to view photos of Chicago's historic Patio Theater.)
HP: There's a lot of interest right now in Chicago in preserving and celebrating the city's historical movie houses -- and your campaign is coming right in the middle of all of that. Not bad timing!
DK: There's a small renaissance in Chicago of people either opening up old movie theaters or restoring them and bringing them into the digital age rather than tearing them down or selling them off to somebody else. We're seeing that with the Music Box, the Logan, the Portage and us. It's been really nice to see that people care about the old-style movie theaters in Chicago.
HP: What makes the Patio unique from those spaces and what impact will going digital have on the theater going forward?
DK: Hollywood has changed how they're doing business. I'm fortunate to be in Chicago which is heavily populated, but for indie theater in smaller towns, out in the middle of nowhere, they're really suffering. The Patio Theater is a 1927 movie theater that was built since day one as a movie theater for the public. We want to keep it as original as possible, but unique as well. It is one huge auditorium with one huge screen -- with nothing taken away or added that wasn't original to the space.
By switching to a digital projection system, we'll be able to do a lot more things, rather than showing just Hollywood films and some classics like "Jurassic Park" and "Blues Brothers." A wider library of films can be rented to show. I want to entice people to come out as a community to enjoy films in a really great, unique place that isn't just another grease-filled auditorium in a megaplex. Lots of people don't have the opportunity to watch a movie in this way anymore, so I want to keep that alive.
We'll also be able to offer private screenings, field trips and company outings with this system, and can also be a part of film festivals. This will open up a lot of doors and give people more options about what the future can provide them.
HP: How do you think the Kickstarter campaign is going? $50,000 is a large amount of money to be raised in this way.
DK: I knew going in that I'd have a challenge with this Kickstarter campaign, because the only people who can really benefit from the incentives are people living in and around Chicago. It's more location-based than somebody making a CD or documentary or invention. It's really hard to gauge how responsive people were going to be, and, in that sense, we set a realistic goal on Kickstarter of $50,000. It's an all-or-nothing deal and, though I'd have liked to set the goal at $40,000, it wasn't going to be enough.
We had a really good start with the campaign and I'm pretty confident we're going to reach our goal, but it is nerve racking every day when the number of remaining days goes down, but we're really trying to push and ask for people to continue to help spread the word about this.
HP: Should you raise the funds, what can people expect to see next from the Patio?
DK: They're going to see another revitalization of a theater that will keep it open for many years to come. I think it's great what the Logan, Music Box and the Portage are trying to do and we should try to keep all of them in Chicago. They each have their own type of niche and scheduling to bring to their own type of audience and those multiple options bring a cultural aspect that's very important to our city. If even 1,000 people make a small pledge of $10, we could all save a 1927 theater from closing down or turning into something completely different.
As of Wednesday, the Patio Theater Kickstarter campaign has raised over $30,100 of their $50,000 fundraising goal -- with 23 days to go in the campaign. Click here to learn more about the theater and to contribute toward its continued success.
Get in touch with us at chicago@huffingtonpost.com if you have a Chicago area-based Kickstarter or IndieGoGo project that you'd like to see featured in our "Can They Kick It?" series.
Check out photos of Chicago's Patio Theater:
Before You Go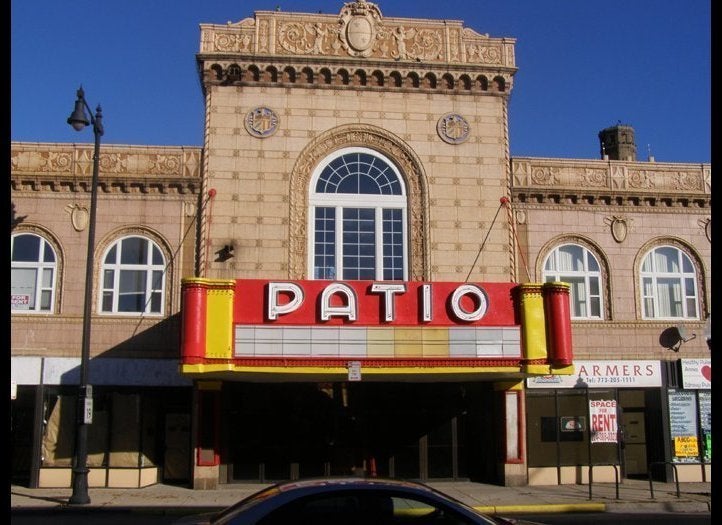 Gallery
Popular in the Community