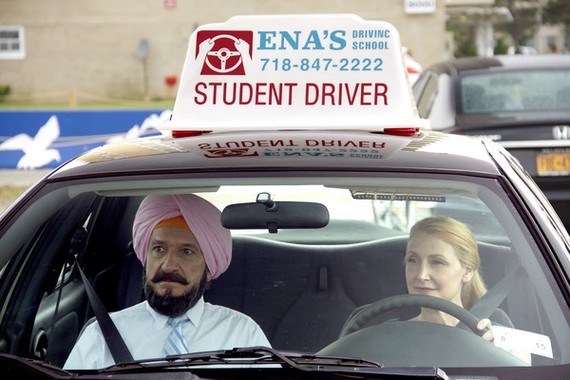 It is unmistakably Patricia Clarkson on the phone, that husky, honeyed purr and laugh too distinctive not to recognize.
"I'm a New Orleans native, so I know 100-percent humidity," she says, as she discusses shooting her latest film, Learning to Drive. "But filming in that car -- with the windows up in the middle of summer -- that was brutal. And I wasn't in a turban and long pants, like Sir Ben. I was lucky."
"Sir Ben" is Ben Kingsley, her co-star in Isabel Coixet's film, Learning to Drive, which has been building audiences each time it expands its run since it opened in mid-August. Clarkson plays a literary critic whose husband leaves her for another woman; a New Yorker who is reliant on others for transportation, she takes her mobility into her own hands and signs up for behind-the-wheel training with a Sikh emigre played by Kingsley. Life lessons ensue.
"She's a character who's of my generation, and we have had it all," Clarkson, 55, says. "We've taken huge strides. We have jobs and partners and spouses and children. I mean, I have a career and a very good life. But sometimes we forget to look up and don't realize what we have.
This interview continues on my website.
Calling all HuffPost superfans!
Sign up for membership to become a founding member and help shape HuffPost's next chapter