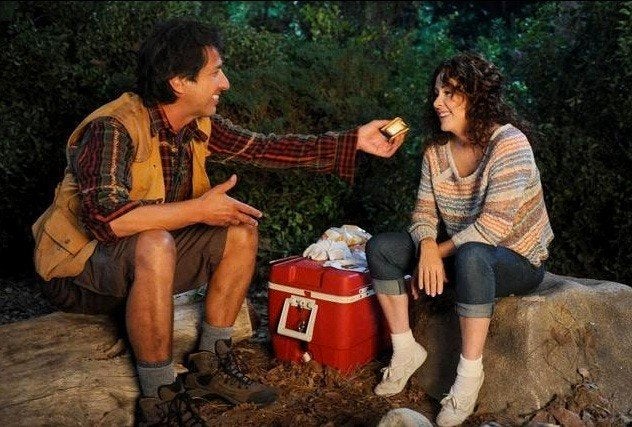 Some people refer to "The Middle" as "Modern Family's" less attractive cousin. You know, the one that doesn't win all of the awards, gets significantly less attention but is actually the funnier of the two?
The headline guest star on "The Middle" this fall is Ray Romano, who's reuniting with his "Everybody Loves Raymond" co-star Patricia Heaton, who plays the matriarch of the Heck family. But he's not the only one guest starring in the ABC comedy this year.
Romano appears in Wednesday night's (Sept. 21) hour-long season premiere, which flashes back to Frankie (Heaton) and Mike's (Neil Flynn) honeymoon. Romano plays Nicky, a friend of Mike's ends up interrupting Frankie and Mike's romantic plans.
"We have so many fans from 'Raymond' who are now fans of 'The Middle,' and so it was fun for everybody," Heaton told The Huffington Post, "And I think it will be huge fun for the audience to see Ray and I back together, and in this way, where he plays Mike's high school friend and we see him in a flashback as he crashes our honeymoon, which is just hilarious. There's also a few winks to the fact that Ray and I did a show together before in some of the lines. I've never worked with Ray in that setting where it was single-camera. He came in one day, there was no rehearsal time, we got rained on, and we just had to do it."
But don't worry Mike fans, Ray doesn't steal the show. "Neil is really very funny, and he's such a hilarious guy on set, so it was really fun to have them together," said Heaton. "I have to say, it was a little bit weird, it was like this 'Back to the Future' moment that could only happen in Hollywood."
The one-hour premiere will follows the Hecks on a "fun" family camping trip. However, Frankie's not too keen on camping -- and neither are the kids. So what's her solution? Boardgames, obviously.
"I loved the part where Frankie brings Monopoly, and when she opens it up -- it's so like our house -- and none of the right pieces are there and vital pieces of the game are missing. You open any game in my house, and that's exactly what it's like."
"He's going to be very different than Doris' character," revealed Heaton. He's very young and ambitious, and Mike has to deal with him this year, instead of Frankie, so we'll see how that goes."
Molly Shannon, from "Saturday Night Live" fame, will also make her return to television as Frankie's sister Janet.
"Molly lives in my neighbor, and I ran into her one afternoon, and I said, you know what, you would be so great as my sister, would you ever do that? And she was like, yes, of course. So I pitched it to the producers and they thought that it would be great casting, and fortunately Molly was able to do it. They've got a really great character for her."
Coming up this season, you can also expect a lot of growing pains for the Heck children -- and Frankie. Brick finally makes it to the fourth grade, Sue's (Eden Sher) a freshman in high school, and her older brother Axl (Charlie McDermott) is going to make sure that's it's not an easy ride for poor Sue.
"Axl hates that Sue is now in high school and following him around, so there are going to be a lot of issues around that and also Brick's new teacher and Mike have a great storyline," revealed Heaton. "There's one episode where Frankie has a complete meltdown after Axl causes something so disgusting and gross that it makes her literally run away from home -- it's that disgusting."
"The Middle" premieres at 8PM ET on Wednesday, Sept. 21 on ABC.
Calling all HuffPost superfans!
Sign up for membership to become a founding member and help shape HuffPost's next chapter