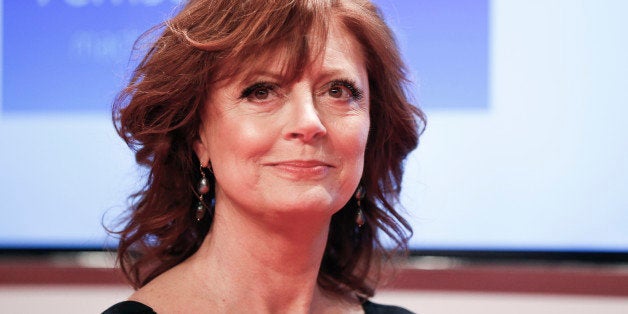 Patricia Jannuzzi, a religion teacher at Somerville's Immaculata High School, made headlines last week after she argued that gays "want to reengineer western civ (sic) into a slow extinction" as part of their "agenda" in a post on her now-deleted Facebook profile, MyCentralJersey reported.
"We need healthy families with a mother and a father for the sake of the children and humanity!!!!!" she wrote alongside a Young Conservatives article about lesbian, gay, bisexual and transgender (LGBT) rights advocate Dan Savage urging Republican presidential hopeful Ben Carson to prove that homosexuality is a choice.
Meanwhile, an online petition arguing against Jannuzzi's statements had drawn over 1,000 signatures at the time this story was first published.
Sarandon's openly gay nephew, Scott Lyons, is an alumni of Immaculata High School, and wrote a letter to Jannuzzi, stating:
While I respect the fact that people have different opinions on the matter what I can tell you from my heart is that I urge you to be careful with your words and the messaging you are putting out there. You have a responsibility as a teacher to lead by example and the words that you have been throwing out there are detrimental to the well being and health of the youth that you inspire.
Similarly, "Real Housewives of New Jersey" cast member Greg Bennett, who attended Immaculata, took to Twitter to express his thoughts along with a screenshot of Jannuzzi's Facebook remarks:
Of course, Jannuzzi has some supporters, too.
In a First Things blog, Matthew J. Franck argued that the teacher was experiencing "an outrageous assault" after speaking "with what some (but by no means all) would call an intemperate passion, in favor of the Church's teaching."
He added, "If she is threatened with being fired for what she said, then her job is on the line because she is a devoted Catholic. If she is under the gun for how she said it—and the fact that the Sensitivity Police are offended by it—then she has lots of company, and in high places too."
Calling all HuffPost superfans!
Sign up for membership to become a founding member and help shape HuffPost's next chapter
BEFORE YOU GO
PHOTO GALLERY
Homophobic Tweets By Celebs