Once the love letter dominated the scene for writing your lover. But these days, nothing gets the blood pumping like a good sext. Like "Come over baby" ... or "I need you tonight" ... or "I am a living male turtleneck..." (Don't you dare judge us!)
Poet Patricia Lockwood, whose work has been published in the New Yorker and The Awl creates poems that operate with the shocking and true bizzarre revelations of a genius joke.
And then she discovered Twitter. As you will soon see, magic happened as a result of this fortuitous encounter. Her 'sexts' are X-rated scenarios that bring cartoon characters, inanimate objects, rappers and politicians into the love den. If you were looking for an entertaining entrance into the realm of sweet prose, we urge you to start here.
via Rhizome, who has a whole different but equally LOLworthy collection of sexy and weird texts.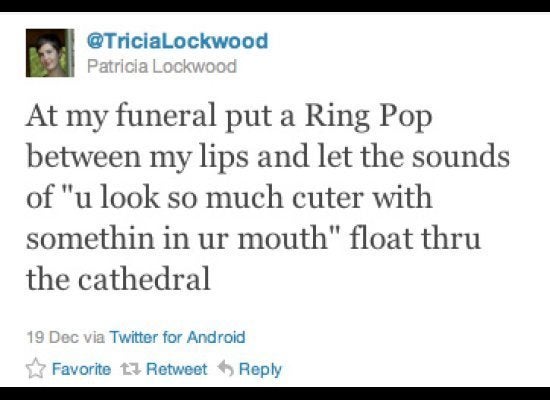 Patricia Lockwood's Sexts
Popular in the Community