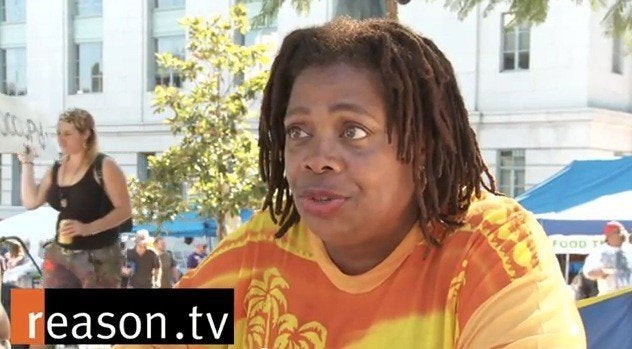 A substitute teacher no longer has a job with the Los Angeles Unified School District (LAUSD) after footage of her anti-semitic views surfaced.
In an interview given last Wednesday to Reason TV during an Occupy LA protest, Patricia McAllister identified herself as a teacher with the LAUSD. She then said, "the Zionist Jews who are running these big banks and our federal reserve -- which is not run by the federal government -- they need to be run out of this country."
She re-iterated this sentiment during a later interview with Fox11, in which she said "Jews have been run out of 109 countries throughout history, and we need to run them out of this one."
The following Tuesday, she was fired from her post as a substitute teacher. LAUSD superintendent John Deasy released a statement yesterday that emphasized the district's condemnation of McAllister's remarks and announced her dismissal.
In the release, Deasy acknowledged her right as a citizen to air her views but emphasized a teacher's responsibility to serve as a role model for students.:
Her comments, made during non-work time at a recent protest rally, were her private opinions and were not made in the context of District services. At LAUSD, we recognize that the law is very protective of the freedom of speech rights of public employees when they are speaking as private citizens during non-working time.

I further emphasize to our students, who watch us and look to us for guidance, to be role models and to represent the ideals by which LAUSD lives, that we will never stand for behavior that is disrespectful, intolerant or discriminatory.
UPDATE: The Anti-Defamation league released a statement on Wednesday applauding Superintendent Deasy and the LAUSD for taking a stand against McAllister's anti-semitic remarks. While the ADL acknowledges that McAllister's views represent just a tiny fraction of the Occupy Los Angeles movement, Los Angeles regional director Amanda Susskind notes, "regardless of how 'fringe' these statements may seem, they have found a large audience on the Internet, and should be denounced as loudly as possible as unacceptable expressions of anti-Semitism."
Related
Popular in the Community