We first met Patricia Perry Donovan several years ago when she won our Pitchapalooza event (think American Idol for books, only much gentler and much kinder) down at the Jersey Shore. She had a great success with her first book, and At Wave's End, her second novel, dropped this week. So we thought we'd pick her brain about books, writing, and how—when it comes to novels—it's different the second time around.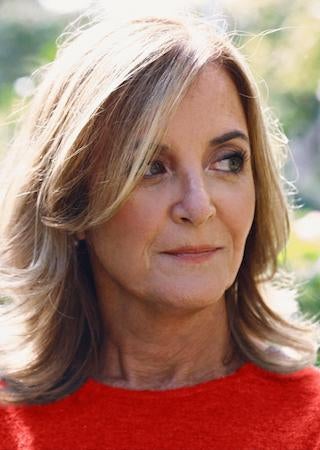 The Book Doctors: Many congratulations on the publication of your second book. Tell us about At Wave's End.
Patricia Perry Donovan: I'm delighted to. Inspired by Hurricane Sandy, At Wave's End is the story of Connie Sterling, an impulsive woman who wins a ramshackle bed and breakfast at the Jersey Shore. When a deadly hurricane hits, Connie finds herself in over her head, requiring her adult daughter Faith, a Manhattan chef, to bail her out. Once Faith comes to Connie's rescue, the storm's aftermath dredges up deceptions and emotional debris that threaten to destroy the inn's future and their fragile mother-daughter bond.
TBD: Do you do research for your books? Were there any other books that influenced your writing of this book? Do you outline before you start writing?
PPD: I'm also a journalist, so research is second nature. However, in this case, having lived through a coastal superstorm, I could mostly write from experience. I did research Hurricane Sandy's actual timeline to lend authenticity to the book's fictional Hurricane Nadine.
Influence-wise, At Wave's End began as a series of short stories I penned in the storm's aftermath. I had hoped to entwine these stories in a novel, a la Elizabeth Strout's faultless Olive Kitteridge. That didn't exactly happen, but I still wrangled a fairly large cast of characters in this book. I'd still like to one day write a novel comprised of linked stories.
And on the question of 'pants-ing' versus 'planning,' I'm a card-carrying 'seat of the pants' writer. However, I surrendered that luxury in order to meet my publisher's deadline.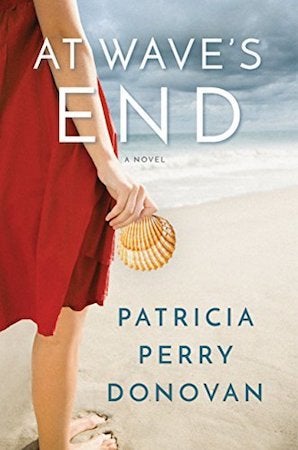 TBD: Were you worried about the dreaded sophomore jinx? Did this affect you in any way?
PPD: Gee, I didn't really think about a 'jinx' until you mentioned it! But yes, it's terribly daunting to write a second book during the launch and review of your first. On the one hand, my writing felt stronger the second time out. On the other hand, I needed to make a concerted effort to close myself off from all Deliver Her feedback (both glowing and gut-wrenching) in order to complete book two.
TBD: What did you learn from writing your first book that you could apply to your second?
PPD: SO much. First, in terms of process, I tapped into the trove of guidance from my gifted team of Deliver Her editors. I could hear these 'book whisperers' in my head as I wrote At Wave's End.
Second, I discovered a delightful community of readers, who love to interact and share snippets of their lives, and immersed myself in the world of book reviews. My skin is thicker as a result! Here, I must acknowledge my amazing tribe of fellow Lake Union authors, who welcomed a newcomer with open arms. As a group, we shake off (and laugh off) the more distasteful aspects of publishing and savor the favorable ones.
The entire experience reinforced my desire to write the kind of stories I enjoy reading: family dramas with a dollop of dysfunction, but also a glimmer of optimism.
TBD: What did you learn from your first book that you could apply to your second in terms of promotion and marketing?
PPD: I've improved my advance game this time around, investing many more pre-release hours attempting to put At Wave's End in influencers' hands. As a debut novelist, I didn't grasp the importance of this.
Also, I'm trying to rein in my time on social media, which, if I'm not careful, quickly consumes my writing window. I can't avoid it right now during At Wave's End's launch. The other day, my first waking thought was the edit of a tweet I'd sent the night before. If that's not a warning I need to cut back, I don't know what is!
My goal is to create a balance. While I'm thrilled with my success as a novelist, I miss those early days of writing in the dark only for myself.
TBD: Do you have an agent representing you on these books? What was your experience working with your publisher like?
PPD: I am represented by the fabulous Elisabeth Weed of The Book Group. And working with my Lake Union Publishing team is heavenly. They are responsive, supportive and attuned to writers' needs.
TBD: Congratulations on the Writers Digest award. How did that come about?
PPD: Thank you! My short story "Still Life" won an Honorable Mention in the 84th Annual Writer's Digest Writing Competition in 2015. That story resurrected Mia, a darling from Deliver Her, and also won an Honorable Mention that year in the Lorian Hemingway Short Story Competition. Who knows? We may see Mia in longer form one day.
TBD: Journalism tends to be short-form writing. How did you learn to tell a story that keeps going for 300 or so pages?
PPD: My fiction generally starts out in short form as a short story. Then, the best stories beg to keep going; in fact, they pretty much tell themselves. My job is just to keep up and capture them on the page.
I suppose I 'learned' to tell longer stories by participating in NaNoWrMo's online novel writing competition. I would encourage anyone who thinks they can't write a book to try it. There are no prizes, other than attaining a personal goal of writing 50,000 words in a single month. NaNoWriMo is a lot of fun, and taught me that with daily discipline, I could complete a book—a very rough one, but a book nonetheless.
TBD: Why would you write a book inspired by a natural disaster that impacted your own community, as well as thousands of others?
PPD: I read once that every novel is a love letter to someone. In this case, perhaps At Wave's End is a love letter to my community. While Sandy spared my home, hundreds of thousands of storm survivors, including many friends and neighbors, weren't as fortunate.
I actually organized this book into six parts, each named for a stage in a community Disaster Recovery model. I learned about the model in post-Sandy volunteer training. It's similar to the stages of grief experienced after a death. The Reconstruction phase continues today, which is why I included this Afterword in my book:
This story is a work of fiction. However, in 2012, a storm of similar magnitude devastated the East Coast, killing thirty-seven people and destroying close to 350,000 homes. Although Hurricane Sandy forever altered the topography of countless neighborhoods, the destruction also triggered an extraordinary surge of community and compassion. With reconstruction ongoing at the superstorm's five-year mark, this story is intended to honor Sandy's survivors for their resilience and determination to rise above disaster.
TBD: We hate to ask you this, but now that you have two books under your belt, what advice do you have for writers?
PPD: Going back to my earlier comment about zealously guarding my writing time, I would advise aspiring writers to avoid becoming so consumed by the business of writing that you forget to get down to the business of writing.
Patricia Perry Donovan is an American journalist who writes about healthcare. Her fiction has appeared at Gravel Literary, Flash Fiction Magazine, Bethlehem Writers Roundtable and in other literary journals. The mother of two grown daughters, she lives at the Jersey shore with her husband, with whom she has fond memories of raising their young family abroad in France. Connect with her on Facebook @PatriciaPerryDonovanBooks and on Twitter @PatPDonovan. Learn more at www.patriciaperrydonovan.com.
Popular in the Community