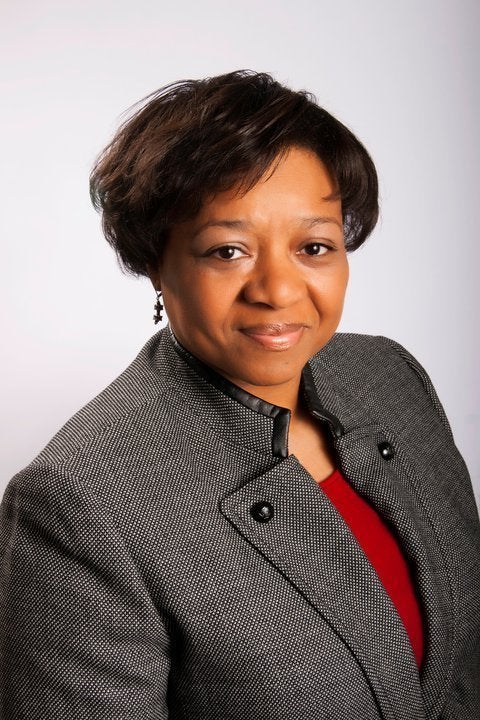 But there are six other people on the ballot, including another African-American woman who's building another sort of consensus around her candidacy. Her name is Dr. Patricia Van Pelt Watkins, and while you may not know her name now, she believes that you'll know it well by February 22.
Far from the no-stone-unturned scrutiny that Emanuel has faced in his run, Dr. Watkins' story is all but entirely unexplored in the Chicago media. In fact, one has to dig all the way back to a six-year-old Chicago Tribune profile to find the community organizer's captivating story.
But Don Terry's piece on Watkins seems somewhat dated now. True, the remarkable details of her life haven't changed: Dr. Watkins was born poor and raised hard, moving from row house to tiny apartment until her family settled in the infamous Cabrini-Green housing project when she was seven. Young Trish turned to drugs and alcohol before her 13th birthday, and at age 17 became addicted to cocaine. By age 21, she was strung out and alone, but for her baby son and signing over her paychecks from the steel mill directly to her drug dealer.
Then, at the behest of her sister Melody, she went to the Liberty Tabernacle church in Englewood, and everything changed. With some setbacks along the way, she was able to turn her life around, founding the burgeoning Ambassadors for Christ church, organizing development projects, and building coalitions to lobby the city and state for more resources and better policies for the poor and underserved.
None of that has changed. What's different now, though, is Dr. Watkins' demeanor. Terry's profile opens with Watkins preaching fire and brimstone from the pulpit at her church. No doubt she can still turn on the heat, but when she walked into her West Side campaign office on Thursday, she was the picture of a politician, greeting her aides with a smile while she wrapped up a businesslike phone call. The room was occupied with eight young staffers making phone calls, and glowing images of Watkins' face.
We spoke with Dr. Watkins at her office on 2312 W. Harrison Street.
Huffington Post Chicago: Dozens of candidates filed petitions to be on the ballot for Chicago mayor. What made you want to throw your hat in the already-crowded ring?
Patricia Watkins: Looking at the conditions of Chicago, I feel a sense of responsibility. I've worked in the community for years to improve the lives of Chicagoans, first as a housing developer, and then dealing with the issues on the streets. People are afraid to come out of their homes, with the gang activity and drug trafficking, then we we went to criminal justice reform, education reform. We saw how all these things are connected: the housing needs, the safety need, it's all connected. Disorganized communities, chaos, and nobody looking after the needs of the taxpayers. Since we pay the bills I think that what we think should be at the forefront of city planning, and I haven't seen that in decades in Chicago. I see Chicago looking to the business sector for solutions to our problems. I think that we made a mistake by doing that, and I think we really have to open it back up.
Tell us about your background in Chicago.
I've worked on two housing developments in the city, one on the South Side and one on the West Side. The one in West Garfield Park is called St. Sheba's Place -- my daughter was killed in a plane crash in 1997, and I named it after her.
I'm so sorry. What happened?
My daughter was a student pilot. She would never drive because she was afraid of having a crash. This particular day one of the girls in her church wanted to go up with her. And Sheba's best friend who was living with me wanted to go. I had recently gone though a divorce and it was just me and the two girls living in Austin. They went up that day, they had a bigger plane to hold the extra girls, but because my daughter was a student pilot the instructor had to fly it. There were a couple of planes circling over Meigs Field, one guy didn't know if he had is landing gear out, so the traffic controller had his binoculars out looking at that plane, and lost track of the other two. It was a mid-air crash. Seven of them died in that plane crash.
I was by myself at that point, my divorce had been final two months before that. I knew that it was important to keep going and to remember what my purpose is on earth and that is to help people. So when I started working on the housing developments, I named one for my daughter, Sheba, and the one on the South Side for her friend Taici.
I look at it like this: she was a gift to me for 18 years, and I have to appreciate it. I try not to think of myself; I think about her and the people that's still around.
Your roots are in the South and West sides; what makes you think that you'll be able to transcend neighborhood lines and attract a citywide following?
It didn't just start with this mayor's contest. I've set up several coalitions: the Developing Justice coalition that worked to improve criminal justice outcomes, reforming the criminal justice system so that people who come back to their neighborhoods have access to getting their records sealed or expunged. And also the Grow Your Own Teacher Program, it's a pipeline for nontraditional educators to become teachers. ... So I have strong relationships across ethnic lines, religious lines, neighborhood lines.
There was a great deal of talk about a "consensus candidate" for the black community. We're told that the community has settled on Carol Moseley Braun as that candidate. Were you involved in those discussions? How do you feel about the idea?
I was definitely involved from the beginning. But I think the group that came together had already made decisions about the who the few would be that they were going to look at. They were looking for household names, because we've got to win this for the black community. So they failed to look beyond what they already thought they had. When I came in there, I had $250,000, I had a coalition of support across communities in Chicago, and I had this base out getting me these signatures. But they didn't think of me as a candidate they'd consider.
I think the process is largely disconnected from the grassroots. I don't think that consensus resonated across the board in the African American community.
To some policy questions: Should City Hall keep charge of the Chicago Public Schools? Who would you like to see running the school system?
I think we need an educator to be responsible for the schools. We need an elected school board. We need to start putting responsibility back in the hands of the people, with leadership from the city.
I support charters and I support turnarounds, because some time you have to start from scratch...we need options. We can't just tell parents "Fenger's your high school." ... We have to have options for these kids now, while we correct the system. Bringing in evidence-based models to help improve schools, to bring the kind change in schools that we can measure.
We need equity across the board in funding for public schools, I'm for fair and equitable funding, but I'm not convinced that funding will solve the problem. It needs to be tied to performance, and that performance needs to be communicated to the parents. You're trying to get your child into a good school, and it feels good and smells good and everybody is smiling, and you think, oh, this is the place. But you don't know how well the teachers are doing.
It's probably kind of dangerous to let people know how poorly the schools are doing because people will rush in and want to change [schools] at 9 a.m. tomorrow, but we may have to get there, and I'm not afraid of that. We can't wait for someone to come riding in on a white horse and save us. We have to save ourselves, and that's what made America what it is, people saving ourselves.
Should Jody Weis keep his job?
I've heard the other candidates say he shouldn't keep it. I know that violence is down in Chicago. I'm open to a conversation about it. I'm not just sold on "he's gotta go."
I will tell you this. I feel [that any] legitimate public safety plan [must] address the fact that we have hundreds of thoudsands of ex-offenders coming back to our neighborhoods -- every single year, we have 24,000 new ones coming back to join the hundreds of thousands already there, and these people are disconnected from the community and need our help. Other candidates have their public safety plans; any plan that doesn't address that is an illegitimate plan.
What can be done to address the city's dire fiscal straits?
Everybody's going to say the same thing: we need a forensic audit to get rid of all the cheating we can find (although some of it's so slick, I'm sure we won't see it for years). We need to try and take opportunities to cut down on expenses, and we need to try and generate new revenues in the system.
According to [UIC political science professor and former alderman] Dick Simpson, the cost of corruption in Chicago is $500 million a year. I believe we're gonna save some money right there. We'll have a better opportunity with me as mayor because I don't owe all those people money, I don't have all those long-term relationships that I have to feed going forward. For 20, 30 years I've been laboring in our neighborhoods, with no corruption or cronyism.
I think that the tax base is too high already. I go into restaurants, go shopping, I get angry, paying all these taxes. We have to find new ways to use the money that we already have to benefit us, and that may mean cutting off some stuff. That's why I want to have an open and transparent government, because I want people to see what we're doing. There are going to be some tough decisions, and I want the taxpayers to be involved. Everybody's been spending taxpayer money, but hasn't been talking to the taxpayers.
What's one fact about you that voters might not find on your resume, but that your close friends all know about you?
I'm a survivor of breast cancer. My grandmother had breast cancer, and two of my aunts had breast cancer, and I had breast cancer too. And I'm a survivor, I'm happy about it. Fortunately, they found it really early, before it had spread.
Related
Popular in the Community