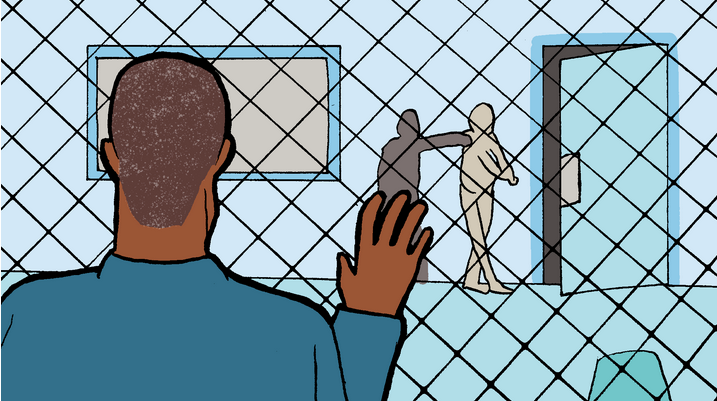 Narratively and the Vera Institute of Justice recently published a story in comic book form, about a man named Patrick Burke (at the subject's request, his name was changed). Twenty years ago he was sent to Rikers to await trial. The process of waiting and the trial itself left him at Rikers for eighteen months. Eventually he was sentenced to Attica where he spent 20 years. The comic strip tells the story of how he went back to Rikers to visit his son. The Huffington Post interviewed the editor Brendan Spiegel and the writer W.M. Akers, as well as the illustrator Josh Kramer, to learn about how the story came together.

Why use the comic form?

Spiegel: We publish a lot of comics journalism on Narratively. Sometimes it feels like the right medium for a piece. When Patrick started telling his story and how his experience and his son's experience were so similar we thought about how we could let readers see how the story repeats itself. Comics allow us to see the past and the present at the same time. The comic form is also a good solution for helping Patrick stay anonymous.
Patrick's story was epic. A couple of decades in prison, three kids, a wife, and then his son ending up at Rikers. What was the process like to edit his story down to a comic book script?

Akers: Because the Vera Institute project has this focus on jails, it helped inform how I should structure the story. It wasn't necessarily the angle I would have taken. l usually write narrative nonfiction. But for this piece I only used his words. It was closer to what you'd do with a documentary film. You have your subject's words and you rearrange them to tell the story as clearly as possible. It was all about taking his powerful words and editing them to maintain his voice.
I've done radio work. And what I've learned is it is better to tell the least amount of story as possible. You have to try and not cram too much in each panel. It's not the Decline and Fall of the Roman Empire.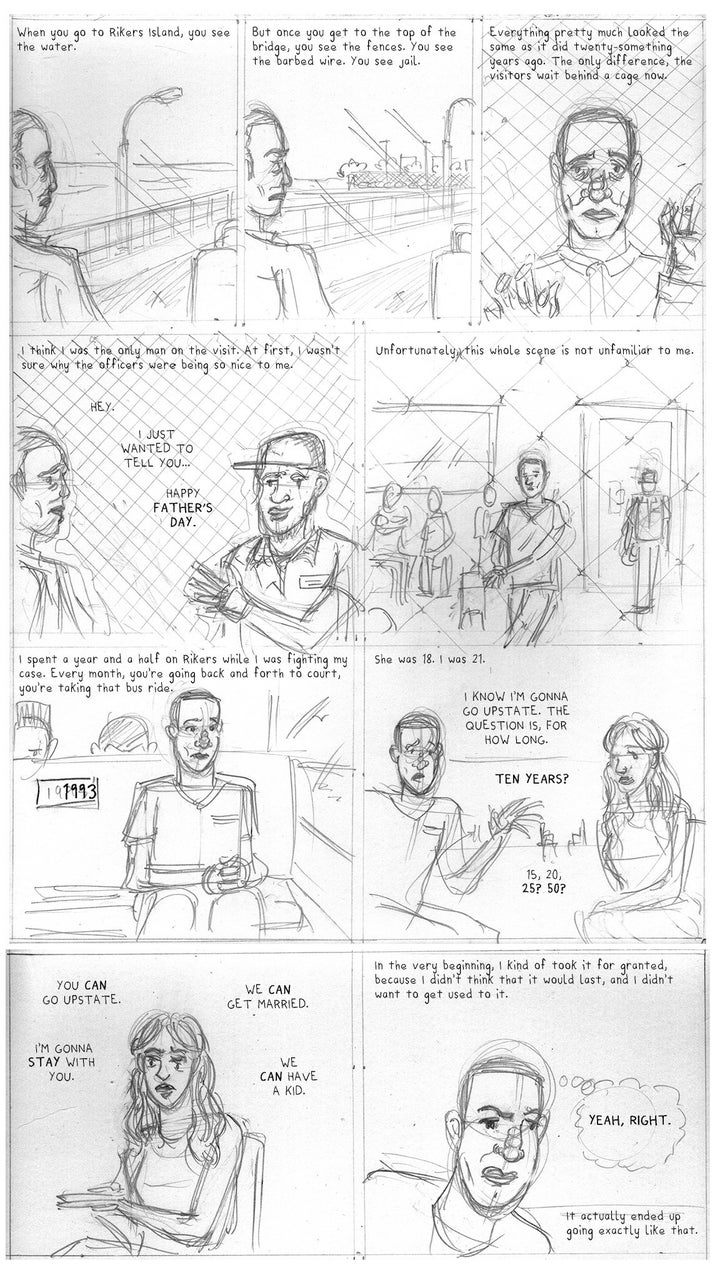 What were some of the challenges of illustrating this comic?
Kramer: I wanted all the people to look like real people. I never saw photos of the main character, but I used real people to cast the comic. One resource was a Tumblr called humanae. The whole site has portraits of people with a diversity of skin color and age. It's a really good reference for authentic skin tones. I wanted to avoid creating a caricature of any one person. Instead I used the site as inspiration to create a jumping off point.

The story is told over two decades. How were you able to move around in time visually?

Kramer: I had practical considerations: There was older Patrick and younger Patrick. I gave him the same hair and same nose, but when he is older his hair is gray and when he is younger his face is less lined. I also used a color scheme for past and present, most notably when he is talking to his son in 2012. That panel was blue.

"Return to Rikers" is one of a series of stories on the human toll of jails. Tell us about the other ones.

Spiegel: There are so many people affected by the jail system besides the people being held there. There are also the families on the outside. Then there are the wide range of people who work in jail system including judges, prosecutors, public defenders as well as mental health councilors. We created stories to represent all the different people in the system.

The Human Toll of Jails is a storytelling project supported by the John D. and Catherine T. MacArthur Foundation as part of the Safety and Justice Challenge.
This article first appeared in the Must Reads newsletter. Sign up!
Popular in the Community